As luck - and the Vikings' football schedule - would have it, Augustana College's opening- weekend performances of The Taming of the Shrew coincided with the school's homecoming weekend, which allowed me the chance to reconnect with some fellow theatre-department alumni both before and after Saturday night's show. At several points during the evening, we laughed 'til we cried at stories of shared friends and past Augie productions, and it wasn't until the next day that I realized why this version of Shakespeare's comedy felt like the perfect play for my mood that night: Just like college, it was all about the joy of getting up in front of people and acting like a first-class goof.
Many stage actors will tell you that they frequently prefer a rehearsal process to actual performances, as rehearsals are where you get to experiment and play - where it's impossible to do anything "wrong." The delight of Augustana's Taming of the Shrew is that it frequently feels like a rehearsal-in-progress, and I mean that in the best possible way; the relaxed, playful portrayals suggest actors wholly unconcerned about doing anything wrong. There's an adventurous comedic spirit revealed in both Jeff Coussens' staging and his cast's invention, and while some performers are obviously more fluent in Shakespeare's tongue than others, hardly anyone seems uncomfortable with the poetry, and a few seem to positively revel in it.
As Petruchio, Brian Bengtson scores about 80 percent of his laughs with his supreme confidence and vocal dexterity; he embraces the musicality of his cad's dialogue and times its rhythm for maximum comic impact. (The other 20 percent of Bengtson's laughs comes courtesy of his left eyebrow, which appears built for insinuating arching.) Bengtson gave one of the most hysterical collegiate performances I've ever seen in 2006's The Miser, and the actor has moments here when he produces similar levels of hilarity; he's particularly inspired when Jennifer Altenbernd's Katherina is riding his back and cutting off his air supply, and on Saturday, Bengtson's reading of "I tell you, 'tis incredible to believe how much she loves me" provided a theatre-wide cackle.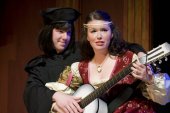 But while Bengtson is a commanding lead, his performance never feels overly practiced, and the characterizations by Jeff LaRocque and Kevin Wender are similarly fresh. LaRocque appears to be having a ball as the elderly suitor Gremio. His readings - Shakespeare as re-interpreted by Gabby Hayes - have energy and surprise, and LaRocque's dirty-old-man shtick is wonderfully enjoyable for being so bold; he's a fearlessly funny stereotype.
And Wender, playing Hortensio as a foppish, somewhat swishy dandy, is better than I've ever seen him; sporting a jet-black wig and, on occasion, an amusing porno moustache seems to liberate something in the actor. Alternating between a prissy tenor and a rich baritone, Wender finds enormous shadings in his dialogue, and emerges as a loose, terrifically likable comedian.
This trio provides the majority of Taming of the Shrew's vocal enjoyment, but they're hardly alone in appearing fully connected to their material, and happily willing to supplement that material with off-handedly nutty grace notes. David Cocks, as the suitor Lucentio, plays romantic yearning with fervor and romantic conquest with sly serenity, and Jessica Benson makes a sweetly daffy Bianca - the actress' ingénue always seems about two beats behind the other characters, as if slightly dizzy from the pressures of being constantly wooed.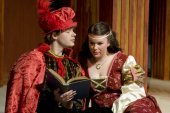 Liz Stigler, performing admirably in male drag, is entertainingly grave as Baptista - though she gets her biggest laugh by abandoning gravity, with her hugely relieved reaction to daughter Katherina's engagement - while Danielle Suits is a snippily aggrieved Tailor and Rolf Koos a (literally) free-wheeling Biondello. Altenbernd's Katherina, meanwhile, is ferocious fun when hurling insults and fists, and blazes through her violent tantrums with gusto. If her Katherina inevitably becomes less interesting when Shakespeare softens the character toward the end, it's hardly Altenbernd's fault; the actress is such a stitch as a shrew that we don't necessarily want her to be tamed.
With its beautifully simple, functional set by Mike Heather (he provides great columns for hiding behind) and a series of sublime costumes by Ellen Dixon (Petruchio's bridegroom ensemble is a marvel of patched-together tackiness), Augustana's production is always eye-catching, and director Coussens strikes exactly the right balance between propriety and insouciance. I loved the sense of determination with which Petruchio entered town on horseback. I loved even more that he and his servants rode in on hobby horses. (I also adored Eliza Bockstahler's handling of the hobby horses, who were subtly alert to surrounding conversations.) And I especially loved that my returning friends got to see that our old stomping grounds are in excellent shape; Taming of the Shrew is supremely, superbly silly.
For tickets, call (309) 794-7306.