"Moron!" "Putz!"
As suggested by those on-stage insults, the Circa '21 Dinner Playhouse's new offering Grumpy Old Men: The Musical has a plot that's basically the title.
It's about two grumpy old men, as well as their conflicts regarding love: past and newfound, romantic and platonic. Taking place in Wabasha, Minnesota, the show follows John Gustafson and Max Goldman and their small-town bickering, antics, relationships, and tragedies.
Although the movie version of Grumpy Old Men debuted in 1993, I was surprised to learn just how new this musical was, having premiered in 2018. The songs weren't the greatest, and overall, the experience was a bit underwhelming. And while the story was okay, some of the more "serious moments" fell flat for me. I'm all for variation in a season, though, and maybe my disappointment just stems from my most recent Circa '21 experience being We Will Rock You – a very high-caliber show. That being said, the performers at Sunday's performance of director Curt Wollan's production shined, as they most always do at this theatre, and the jokes – most of them innuendos and phallic allusions – were actually pretty funny, and delivered well.
Playing John Gustafson and Max Goldman, respectively, Brad Hauskins and Tom Walljasper were on top of things the whole time. The ease of delivery and banter from these two was entertaining, especially in their spewing of dumb insults. Moreover, the show featured more touching scenes in which both characters loosened up and the audience was able to see softer sides to them.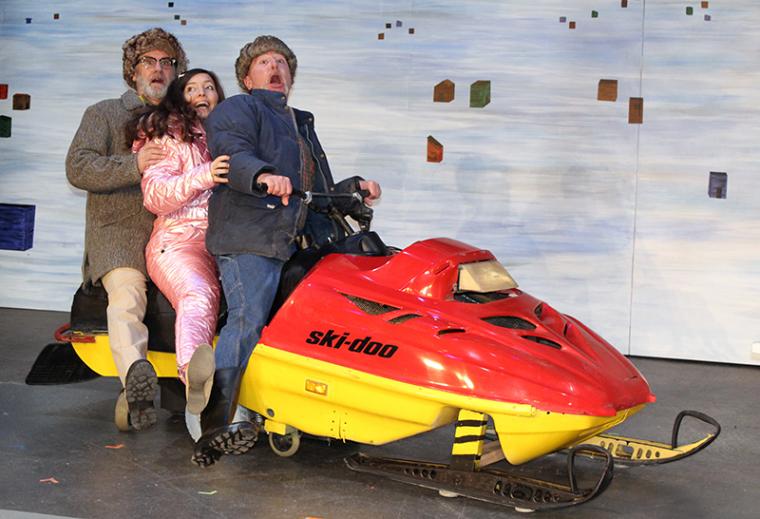 One of many instances of this multi-dimensionality came during scenes with Ariel Truax (Kim Vanderginst). Ariel is an eclectic professor who relocated to Wabasha and, near the start of the show, enters on a snowmobile. It was glorious. Vanderginst's performance was genuine, charismatic, and full of energy, and her interactions with Hauskins and Walljasper were both fun and warm. Although a knockout area-theatre veteran [Editor's note: She has also performed as Kim Kurtenbach and Kim Furness], I had never seen Vanderginst perform before, and am glad I was able to see her here.
Ariel's house was my favorite element of Erica Zaffarano's production design. It featured colorful walls, mismatched furniture, and a great sculpture piece that featured a recurring gag throughout. Outside of Ariel's house and the grand snowmobile entrance, however, the scenic design was a bit underwhelming. It's my understanding, though, that Wollan's team re-used pieces from the last time they did this show in 2019, which makes sense. It was built and painted well, but left me wanting a bit more visually, especially since the musical's design seems relatively simple.
Most of the Grumpy supporting characters carried some part of the more heartfelt material. Jacob Goldman (Tristan Tapscott), son of Max Goldman, and Melanie Norton (Savannah Bay Strandin), daughter of John Gustafson, were both caring toward their grumpy parents. Their subplot was kind of corny, but their performances were genuine. One of my favorite songs from the show was "Parents & Paradise," in which they sung about their dreams and current circumstances. Another supporting pair is Chuck and Punky Barrels (John Payonk and Kim Bogus), who run the local ice-fishing and bait-and-tackle shop. These two gave wonderful, heartfelt performances, with Payonk's performance of "An Angel," in particular, sung absolutely beautifully and operatically.
There were also a few other supporting characters who brought some fun comedic dynamics to the story. Sandra Snyder is a cruel IRS agent whose change of heart was an unexpected plot twist at the musical's end, and Shelley Walljasper's Sandra Snyder was played with just enough cruelty and campiness. Another character saddled with a huge amount of those aforementioned phallic jokes was Grandpa Gustafson, and Janos Horvath's portrayal was spot-on: the comedic timing of the bad (in a mostly good way) jokes, his physicality, and some heartfelt moments made this character stand out. (His "Life Is All About Livin'" was ridiculous and full of innuendos, and one of the more memorable songs of the evening.)
But my favorite bit character was Wabasha's mail person Harriet, played by Sydney Dexter. She was a recurring walk-on (hobble-on?) character throughout, and her recurring joke involved her getting hit with things – including various heavy items dropped on her – that didn't prevent Harriet from keeping up her enthusiasm akin to the Black Knight's "'Tis but a scratch!" proclamation. On top of that funny recurring bit, Dexter had a comically thick Minnesotan accent, and kept the enthusiastic character acting steady throughout the show.
Rounding out the Grumpy Old Men: The Musical characters, all of whom supported the Wabahsa energy, is the town's reverend Tim, whom Doug Kutzli played with a lot of charm and down-to-earthiness; and townspeople Fran (Andrea Moore), Karla/Nurse (Elsa Belser), Bo (Bradley Heinrichs), Lo (Derrick Bertram), and Stan (Anthony Milfelt, whose additions to the innuendos on "Life Is All About Livin'" were great). Further supporting Wabasha's vibes were the costumes by Bradley Robert Jensen, who designed pieces that were clean, believable, and properly outfitted for the cold Minnesotan landscape.
Content-wise, this musical wasn't one of my favorites. But it was still an entertaining night of musical-theatre fun, and I found myself chuckling and grinning quite a lot at some rather bad jokes. Ultimately, I appreciated the story and character interactions, which actually said a lot about small-town relationships and life, and the generational interactions these people have. If you're feeling grumpy, and don't want the cold of winter to go away quite yet, check out Grumpy Old Men: The Musical and enjoy a lighthearted, laid back night of entertainment performed by a great cast.
Grumpy Old Men: The Musical runs at the Circa '21 Dinner Playhouse (1828 Third Avenue, Rock Island IL) through May 6, and more information and tickets are available hy caling (309)786-7733 extension 2 and visiting Circa21.com.