Attending the theatre is typically a form of escapism, a chance to get lost in the magic of the staging and performances. And then there's Moon Over Buffalo, one of those shows that doesn't just let you escape into it, but lets you in on the antics of what's going on off stage. It's a show about actors and their messed up, dramatic lives.
Central to Moon Over Buffalo are George (Stephen Baldridge) and Charlotte Hay (Diane Greenwood), two actors who have yet to enjoy the fame that they believe they so richly deserve. Relegated to repertory theater in Buffalo, New York, they're left performing either Edmond Rostand's Cyrano de Bergerac or Noël Coward's Private Lives. (While many an actor would consider it an honor to be part of either play, the problem here is that the productions are in Buffalo. As one character puts it, if it didn't have an animal for a name, it would have nothing going for it.) It is not, however, these plays that we are privy to; instead, the focus here is on the actors' off-stage lives, which are filled with slapstick, mistaken identities, and a chance to star in Frank Capra's The Twilight of the Scarlet Pimpernel - the ultimate goal of the Hays.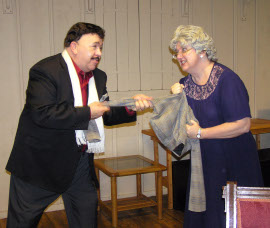 With its so-so script populated by writer Ken Ludwig's obvious punchlines and barely chuckle-worthy gags, Moon Over Buffalo could easily be a mediocre production, garnering more groans than laughs. In this case, however, director Jeff Shields pulled together a cast capable of strengthening the humor with a mixture of overly grand and nicely subtle performances. James Bleecker and Cari Downing (Brad and Janet in the Harrison Hilltop Theatre's The Rocky Horror Show) combine sincere portrayals with moments of over-the-top physical humor that remains within the realm of believability. Pat Flaherty and Maggie Woolley, though cast in the smallest roles, are arguably the strongest actors in this production; Flaherty brings a subdued awkwardness in his creation of a simple, intentionally boring character, while Woolley holds nothing back as she wails and screams across the stage. Greenwood and Patti Flaherty play it appropriately big, setting off waves of laughter through the audience. (On opening night, Flaherty drew laughs so loud, I missed several lines of dialogue.)
And then there's Paul Workman. Every role I've seen him bring to life offers a peek at his acting strengths, but leaves me eager to see him in a meatier, more substantial part, knowing he is a big actor in all-too-often small roles. The same can be said of Workman's Howard in Moon Over Buffalo. It's a part he handles quite well, but there's something seemingly greater underneath the actor's surface that I can't wait to see unleashed in a much more interesting character.
It's Baldridge, however, who pushes Playcrafters' production into must-see territory. With a solid cast of actors behind him, Baldridge is still able to stand out with his perfectly overscaled performance. (He is, after all, playing a mediocre actor who overestimates his own talent.) From his loud voice to his enunciation to his physical demeanor and movement, Baldridge's performance is perfectly suited to the role of George Hay, and a true crowd-pleaser.
Playcrafters' set, designed by Rich Riggelman, is simpler than the bombastic performances of the actors, but no less interesting. The thrust stage is split in two, with the upstage being backstage, and downstage area being the stage of the theatre in which the characters perform. Add lighting by Donna Weeks and sound by the director, and Moon Over Buffalo has its full complement of elements contributing nicely to the overall effect.
Moon Over Buffalo could've been a passable production. Fortunately, it's so well-cast that this is a Playcrafters show that's not to miss, especially for Stephen Baldridge's performance; he and his co-stars prove capable of rising above the weaknesses of the script to deliver a night filled with laughter.
For more information, call (309)762-0330 or visit Playcrafters.com.

Thom White appears every Thursday on WQAD's News 8 @ 6:30, and every Friday on Good Morning Quad Cities.