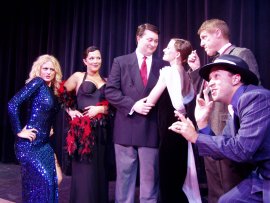 There are actors in the Quad City Music Guild's current production of Anything Goes that are behaving like total idiots.
Thank God.
Cole Porter's musical comedy, a sort of Love Boat on helium, is one of the most gloriously zany in the theatrical canon; it's not every show that finds its American hero (played here by J. Adam Lounsberry) disguising himself as a Cockney, a Chinese man, an elderly woman, and - in this production, at least - Mickey Mouse. The silliness reaches such exquisite heights that you don't want to come down from them, and blessedly, several Music Guild participants won't let you; their inspired delirium, under the bright, continually active direction of Wayne Hess, stays with you long after leaving the theatre.
As Moonface Martin, frustratingly stuck at number 13 on the FBI's most-wanted list, Jason Platt is sublime. (The actor has been so consistently good in recent productions that I was tempted to follow that sentence with: "Duh.") A fearless physical comedian, Platt can make the simplest of stage directions laugh-out-loud hysterical - his frenzied run from one cabin to another, here, is classic slapstick - and his nervous-wreck-tough-guy deliveries are perfection; Platt's Moonface is like the love child of Edward G. Robinson and Bert Lahr.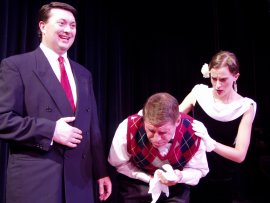 James Driscoll plays the stuffy twerp Evelyn Oakleigh, giggling at his presumed, nonexistent suavity and, in his priceless solo routine "The Gypsy in Me," dancing with hilariously elastic abandon. (He's Ed Grimley as a British boob.) John VanDeWoestyne - whose Elisha Whitney exists in a barely ambulatory pickled stupor - doesn't give even one reading that could be called predictable; his dementedly slurred dialogue spilling out as if trying to escape the character's breath, VanDeWoetsyne is unfailingly funny.
And, in a fantastic surprise, a young actress named Heather Herkelman steals the show away from all of them. Portraying Moonface's sweetly slutty associate Erma (called "Bonnie" in other Anything Goes incarnations), Herkelman boasts a 100-megawatt smile and a confidence to match. She's so transfixing a stage presence, and such a graceful comic, that when she finally gets a solo - Act II's "Buddy, Beware" - the performer more than rewards your patience; revealing a beautiful voice to match her bearing, Herkelman is simply stunning. (And she's just as strong in her fringe moments - her bit involving a handwritten note and a lot of toilet paper brought the house down.)
In general, the nuttier the cast members get to be, the happier they appear to be. You can sense the haughty fun Jane Schmidt is having as Erma's mother, and there's an infectious spirit in the portrayals of Eric Reyes and Alex Ryser, playing two understandably confused Chinese passengers. (Although - not to get all PC or anything - I kind of wish that exaggerated Asian stereotypes didn't figure so prominently in two of Music Guild's three productions this summer.) And when Lounsberry gets to dress up and act a little loco, his Billy Crocker is an absolute stitch.
He appears less comfortable when Billy is required to be a generic leading man, and while her singing and stage presence are divine, I wish Sarah Walker's role as love interest Hope Harcourt wasn't so blandly conceived. (Walker's vocal gifts, though, are not to be undersold; at one point in her "Easy to Love" solo, the actress makes an effortless leap up an entire octave, and the audience swoons.)
Yet the only major character here that truly suffers from this rather rote quality is Paula Perez's Reno Sweeney. When, at Thursday's preview performance, Perez sang her introductory "I Get a Kick Out of You" with Broadway-belter pizazz, I grinned from ear to ear. I grinned less the fourth or fifth time she belted out a number. Perez delivers all her solos at top volume - it felt like we were being shouted at as opposed to sung to - and her overly practiced readings are often accompanied by quick, distracting takes to the audience that suggest, "Can you believe how naughty I am?" She does, however, look spectacular in Peggy Freeman's costumes, all of which, for the entire show, are damn near miraculous; they should be lined up on a rack and given their own curtain call.
Hess gives you numerous opportunities to admire Freeman's work, as his staging is ingenious; the ensemble is constantly seen walking the decks and in and out of doors on C.W. Howard's impressive cruise-ship design. (Erma, bless her randy heart, walks into a lot of them.) Hess orchestrates the movement of - and composes stage pictures for - more than two dozen figures with relaxing ease.
There may, in truth, be too much ease on display; Act I's tap-happy "Anything Goes" finale was a little slow for choreographer Carol Jamison's movements, and the comedic escapades were so breathless that they made the romantic ballads and sentimental asides feel more lethargic than they otherwise might've seemed. (Overall, Anything Goes' orchestra sounded sharp and unusually subdued, which couldn't be said for the quality of Thursday night's sound - there were a series of bothersome body-mic problems.) Qualms aside, however, this Anything Goes emerges as an indestructible good time, and oftentimes, an unexpectedly fresh one. Seventy-plus years later, we still get a kick out of it.
For tickets, call (309) 762-6610.