Friday's performance of the Center for Living Arts' Spring Awakening wasn't perfect. But it was in the production's imperfections that its main strengths were revealed, because the earnestness in the actors' portrayals wound up overshadowing the pitch problems, and the enthusiasm of director Dino Hayz's young-adult cast - who performed the hell out of the piece - proved so infectious and stirring that the show still proved effective.
It helps, too, that Hayz has such beautiful, poetic lyrics and melodies with which to work. Composer Duncan Sheik's music and Steven Slater's lyrics are hauntingly sad, and make the Broadway cast recording of Spring Awakening one of my go-to soundtracks when I want to wallow in melancholy. With their themes involving sexual discovery amongst late-19th Century German teens, struggles with schoolwork, newly experienced lustful thoughts, and rebellion against overbearing teachers and parents, Slater's and Sheik's songs clearly express adolescent angst, loneliness, and, at times, self-importance, and Hayz's version of the show is an interesting blend of period piece and rock concert.
Costumer designers Tina Hayz's and Julie Ross' wardrobe choices are clearly late-19th Century in their simplicity, silhouettes (particularly in the girls' outfits), and muted colors. However, Tina Hayz's energetic, bouncy choreography combined with Dino Hayz's flashing, color-embellished lighting gives the impression of a modern-rock performance. The use of hand-held microphones also adds to the concert feel, though I found them considerably distracting for their large sizes, unwelcome amplification of imperfections, and inconsistent employment. (Some performers used a mic on one song, but needed no help with volume in others.) And while they're obviously also having fun, the emotion that the cast members bring to their performances gave me goosebumps during some of the songs - and in one particularly poignant scene that I won't spoil here.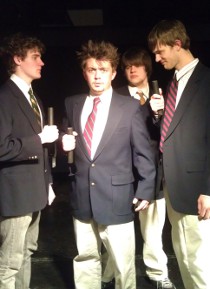 Garrin Jost tackles the show's main character, Melchior, with the right amount of adolescent turmoil. An intelligent, free-thinking atheist, Melchior is the driving force behind much of his town's youthful rebellion, and with his impressive (though sometimes strained) vocals, Jost's effort to create this character doesn't show, which is to say that he wholly becomes Melchior, without a hint of pretending. And Aaron Lord - whose Moritz is Melchior's school-flunking friend - is a pleasure to watch every moment he's on stage. While it helps that his hair, which is styled to stick straight up in a loose mess of spikes, demands attention for its oddity, Lord follows through with a characterization that's touchingly nervous and uncertain, with a wide-eyed mix of hope and fear that I found endearing. I liked Jost's Melchior, but I was actively rooting for Lord's Moritz to pass his exams and get the girl (Becca Meumann) who's fighting for his attention.
If anyone here manages to navigate his or her way clearly through Sheik's melodies, it's Haley Nellis. While her love interest Wendla is less nuanced than happily agreeable in tone (though arguments could be made that a limited emotional range is fitting for the character), her vocals are beautiful, boasting a richness worthy of Sheik's music. And Nellis does manage to show dramatic fire during a scene in which Wendla begs Melchior to hit her with a switch, scrunching her face with a concentrated preparedness for pain, and releasing an appropriately disturbing blend of want and fear in her voice.
Doug Johnson portrays multiple roles as all of the town's adult men, and it surprised me to read in the program that this is only his second stage performance; Johnson seems so confident, so certain in his interpretations, that I can't believe his theatrical experience is so minimal. His acting ability, however, is not, and the actor offers a number of clearly defined characterizations here, from an overly stern teacher to a grieving father to a soft-spoken clergyman. Meanwhile, in her role as Martha - a girl regularly beaten by her father - there's a consistent desperation in Myka Walljasper's voice, both when speaking and singing. And while, on Friday, she started her "The Dark I Know Well" song on the wrong pitch and was off during the number's first two phrases, at no point did she miss an emotional beat; Walljasper overcame her vocal mistake, found the proper key by the third line, and continued on with delightful emotional abandon.
It's this kind of similar, seemingly wholehearted commitment to the material that makes the Center for Living Arts' Spring Awakening worth seeing. It was easy for me to overlook missed notes and harmonies, or the rare bits of overacting here and there, thanks to the impassioned work of the actors, and Hayz's direction ringing true to the emotional intent of Slater's and Sheik's show.
Spring Awakening runs at the Center for Living Arts (2008 Fourth Avenue, Rock Island) through April 7. For tickets and information, call (309)788-5433 or visit Center4Living.com.