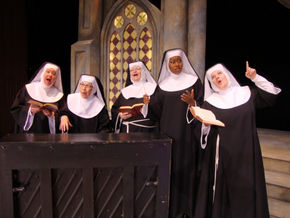 Miss Manners dictates that in social settings one should not bring up religion. But can I just say that when I was a shy child of six, seeing a Catholic nun in full habit scared the bejeezus out of me? Nuns were mysterious. You never saw them eat or drink or sweat. Never did I see a nun dance. And they were always worried about the soul. But the nuns in the Circa '21 Dinner Playhouse's musical comedy Sister Act know soul – as in soul music, sung with such energy that it had me clapping and swaying in my seat. And could those nuns dance! This joyful musical based on the 1992 film was a crowd-pleaser on opening night, and I predict the same for future performances.
Set in Philadelphia in the 1970s, aspiring nightclub singer Deloris Van Cartier accidentally witnesses a killing by her mobster boyfriend, who then orders a hit on her. After going to the police, Deloris is forced into hiding – and what better place to hide than a convent? Deloris dons a nun's habit and proceeds to transform the off-key choir into a harmonious unit whose Sunday-morning performances start filling the pews of the money-strapped church. But when her ex-boyfriend discovers where she is, her life and the lives of her "sisters" are put in jeopardy.
Director/choreographer Jim Hesselman made some brief comments before the performance expressing how joy is made up of appreciation, and that he appreciated everyone in the cast and crew. This theme of joy resonated throughout the production. Although Sister Act's plot is sentimental and light, with 15 songs plus six reprises, the show runs long. But who can resist singing nuns who get their groove on with R&B and roof-raising gospel, with gyrating dance moves to match?
Leading the flock as Deloris is Davenport's own Antoinette Holman, whose strong performance as the sassy disco diva who forms a bond with the sisters is Broadway-worthy. With her exuberance in the hand-raising gospel numbers and her tender treatment of the ballads, she embraced her character flawlessly – the Quad Cities has a new star.
Although the entire cast gave strong performances, certain actors stood out. Mother Superior Autumn O'Ryan was superb. Although called upon to be stern, her solos such as "Here Within These Walls" and "I Haven't Got a Prayer" revealed her tender side (not to mention O'Ryan's impressive voice), and she delivered some of the show's best lines with wicked comedic timing. Kristin Gilbert as the feisty, energetic Sister Mary Patrick and Kay Francis as the sarcastic Sister Mary Lazarus exhibited great comic flair. Molly McGuire, making her Circa '21 debut, showed her vocal range along with the sincerity with which she played the naïve Sister Mary Robert.
As Deloris' boyfriend, Brandon Godfrey has the unfortunate task of singing the rather distasteful song "When I Find My Baby," whose lyrics concern how he'll kill Deloris. Sung along with his three henchmen, with Temptations-style dance moves incorporated, Godfrey delivers the song with a baritone voice that adds a darkness and seals the deal that he is one bad dude. However, lightness is always present when Cedric J. Paige is on stage. As Eddie, the likable cop with a crush on Deloris, his solo "I Could Be That Guy" featured some initially off-key notes. But when the tune changed from smooth groove to disco, Paige ended strong and displayed notable vocal power – and be on alert for his clever costume change.
Speaking of costumes, designer Gregory Hiatt outdid himself. (Without giving too much away, just be ready to see bling and more bling!) Praise also goes to scenic and lighting designers Kathy Voecks and Ronnie Breedlove, respectively, for their dramatically lit arched church interior. Framed by massive columns and stained-glass windows, it would at times be magically transformed into a disco, police station, or apartment. And even the over-the-top chase scenes were aided by a movable doorway that made those scenes more palatable.
After an evening with the sisters, I must confess, Sister Act will bring you to your knees. It is sinfully good and you will have a devil of a good time, and it's Mass appeal may surprise you. (Okay, I'm done with the religious wordplay.) Circa '21's latest is a fun, well-preformed, entertaining romp with a most rousing gospel number titled "Raise Your Voice" (my personal favorite number), and spending an evening at Sister Act proved good for my soul, musically and otherwise.
Sister Act runs at the Circa '21 Dinner Playhouse (1828 Third Avenue, Rock Island) through July 2, and more information and tickets are available by calling (309)786-7733 extension 2 or visiting Circa21.com.