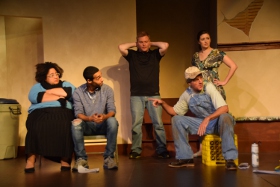 New Ground Theatre's Clybourne Park, written by Bruce Norris as a sequel, of sorts, to Lorraine Hansberry's classic play A Raisin in the Sun, takes quite a bit of time to get rolling. But once it does, this exploration of racial tensions at different points in American history is wickedly hilarious. Director Chris Jansen effectively employs a slow, nearly dull pacing to build to a significant payoff, particularly in the second act, when the purposefully bland tone fits the play's scene of a neighborhood-association meeting. Following Friday's performance, I was amused at how, during the presentation, I went from being almost bored to laughing heartily.
Jansen's staging is strengthened by her cast of mostly newcomers to the Village Theatre stage. Even better, with Clybourne Park's first act taking place in 1959 and the second act in 2009, and the actors playing different characters in each, we're privy to their generally notable performance range. This is especially true of Caciona Bernstrom and Kelly Thompson. In Act I, Bernstrom plays Francine, the housekeeper of Shana Kulhavy's poised yet outspoken Bev, who sports a stunning period hairdo and tea-length dress - and who, thanks to Kulhavy, drops sharply funny lines with adept comic delivery. Bernstrom's Francine is every bit the quiet, unassuming servant who makes an effort to be as unobtrusive as possible.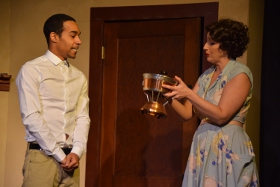 That is, until her husband Albert (Chris Page) arrives and she unleashes her true nature on him, berating and belittling him while beating him out the door with her purse. Prior to that, the delicate way Francine attempts to traverse the discussions the white people are having in her presence effectively demonstrates the conditions for black men and woman in the 1950s. As those around her argue about whether Bev and Mark McGinn's Russ should sell their house to a black person - which Ryan Mauritz's forthright, barely controlled Karl insists will lower the neighborhood's property values - Francine must stay to the side, her eyes cast down in an effort to avoid attention in the midst of this insulting conversation.
Then, after intermission, 2009 hits, and Bernstrom's Lena is in power, impatiently sitting through a meeting regarding the demolition and redevelopment of the same house in which the 1959 segment took place. The gradually gentrifying neighborhood is now populated mostly with black men and women, yet a white couple wants to move in, tear down the house, and build a larger home that goes beyond the neighborhood association's rules. Here, Bernstrom offers no pretense in her character. Lena is bored and annoyed with the constant flow of distracting conversations that have nothing to do with the point of the meeting, and when she speaks her mind, you know her exact intent by her vocal tone. (She also delivers a deliciously vicious "Why is a white woman like a tampon?" joke in the midst of an exchange of such jokes, one meant to theoretically prove her lack of racism while also carrying a threatening undertone.) Meanwhile, Lena's husband Kevin (Chris Page again) is trying to play nice in his nonchalant manner, and attempts to make conversation with Mauritz's accidentally offensive Steve, the man who wants to redevelop the property.
As for Thompson, her Act I character Betsy is a deaf woman, and Thompson speaks so effectively in the voice of a person that's never heard sound before that I initially wondered if the actor was, indeed, deaf. In Act II, however, playing Steve's wife Lindsey, she's a woman of strong character, but one with an accepting, politically correct worldview. Each role, as portrayed by Thompson, is distinct and utterly believable.
In the second half of the play, Kulhavy continues her laugh-inducing one-liners as Karl's and Lindsey's lawyer Kathy, a woman who has to always interject with her empathy for those speaking. ("My sister was raped!") McGinn, who plays Act I's Russ with a rehearsed earnestness, enacts a more believably sincere simpleton in Act II's Dan, a sort of handyman handling the preparation of the house for demolition. Tyler Henning's Act I clergyman Jim and his Act II lawyer for Lena and Kevin are not as varied as McGinn's portrayals - but his characters are distinctly different from the bold, self-confident roles I'm used to seeing him in with Genesius Guild.
Also noteworthy are Jansen's selections for pre-show and intermission music, with songs selected to depict the time periods in each act. Scenic designer Patty Koenigsaecker's set is a simple one that lends itself to an effective switch of time periods, especially with Act II's addition of a hole in the plaster on the wall. I enjoyed New Ground's Clybourne Park perhaps more than I should have considering its study of racial tensions. Then again, that reaction is probably Norris' intent, and I'm still laughing about the uncomfortably humorous way he handles the play's issues.
Clybourne Park runs at the Village Theatre (2113 East 11th Street, Davenport) through November 16, and more information and tickets are available by calling (563)326-7529 or visiting NewGroundTheatre.org.