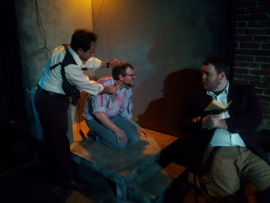 On Thursday, the District Theatre debuted a most admirable, impressive production of Martin McDonagh's The Pillowman, a play boasting numerous surprises both major and minor. Yet if the reactions of a few of the evening's audience members are to be trusted, it might be necessary to spoil a few right off the bat.
To begin with, while this dramatic thriller could also be accurately described as the darkest of dark comedies, it's not so much "ha ha" funny as "heh heh heh heh heh ... " funny. There are punchlines (and they're beauties) in McDonagh's tale of a writer being interrogated for the murders of two local youths - horrific killings that mirror the stories told in a pair of the author's gruesome children's fables. But those punchlines are incidental to the sick-joke narrative twists and the escalating sense that as bad as things get for The Pillowman's tortured lead, they're gonna get worse; generally speaking, your laughter here is nervous laughter ... a point that would've perhaps been useful to Thursday's front-row patrons who occasionally cackled at inappropriate times and left during the show's first intermission.
Which brings us to the fact that there is a first intermission, with another landing roughly an hour later. Running two hours and 45 minutes in director James Fairchild's presentation, McDonagh's outstanding four-man play actually requires that length, given its constant, chilling reversals of character and expectation and lengthy, beautifully written recitations. But considering the understandable paucity of movement and the intentionally (and persuasively) grim, oppressive set design and lighting by scenic artists Susan Holgersson and Charles T. Knudsen, nearly three hours can be a long haul. Especially if patrons are put off by grotesque descriptions and/or on-stage acts of violence and/or spiky language ... as, apparently, were the Pillowman attendees who left during the show's second intermission.
Add to Thursday's gradually diminished audience a couple of coughing fits during quietly intense monologues and a patron (not, to my knowledge, a reviewer) who flipped and tore pieces of notebook paper with unbecoming aggression, and Fairchild's cast deserved major props for pulling through, and emerging victorious, under less-than-ideal circumstances. My guess is that the evening's annoyances, in all likelihood, did take their toll; despite giving strong performances, the actors stumbled over too many lines for it to be ignored, and a few important moments - primarily the kicker to abused author Katurian's rendezvous with his brother Michal - felt unduly rushed, and as a result were less gut-wrenching than they should've been. Yet this remained a rather terrific telling of The Pillowman, with Fairchild handling McDonagh's eloquent, punchy script with exceptional sensitivity and faithfulness, and the performers clearly relishing the chance to play figures of such richly drawn, sometimes shocking complexity.
As Tapuski, the (usually) soft-spoken interrogator whose role as the professed "good cop" is convincing for all of 15 seconds, Matt Mercer is fabulously reptilian, tossing off his insinuations and threats with a comically blasé nonchalance that hints at the reservoirs of disgust and sadism lurking beneath. (When those reservoirs spill over, though, watch out: So often cast as friendly and genial types, Mercer delivers an incensed outburst here to shake the ceiling.) Playing Tupolski's opposite number - the hotheaded bad-ass Ariel, whose exterior ferocity masks a levelheaded and fundamentally decent soul - Jason Platt demonstrates his trademark nuance and emotional accessibility, and his inspiring ability to express reams of character detail sometimes through a mere sentence, or even a mere look. (My one caveat regarding Platt's superb work here - one that only comes from my familiarity with the script - lies in his tendency to break up Ariel's lines with added vocal pauses such as "um" and "uh," which effectively demonstrates thought and makes his deliveries sound naturalistic, but also significantly alters McDonagh's text and rhythms.)
Portraying the damaged, childlike Michal with lovely simplicity, Ed Villarreal has a faraway sadness about him, yet manages to suggest a deep, and deeply troubling, inner peace during his more nightmarish confessions. (Michal also delivers much of The Pillowman's less discomforting humor, though Fairchild's staging of Villarreal's "itchy ass" routines feels like an attempt to insert broad laughs into a production that really shouldn't have any.) And he develops a touching rapport with Dexter Brigham, who gives an intensely intelligent, forceful performance as Katurian - empathetic, pitiful, resourceful, cagey - and whose wickedly macabre fables, delivered directly to the audience with the hypnotic grace of a master orator, are the highlights of the show. The District Theatre's The Pillowman is a more-than-respectable take on supremely challenging material. During Brigham's fiendishly entertaining asides, it's the stage equivalent of sitting around a campfire as a little kid, and listening to ghost stories that creep the bejeezus out of you.
The Pillowman runs at the District Theatre (1611 Second Avenue, Rock Island) through May 12, and more information and tickets are available by calling (309)235-1654 or visiting DistrictTheatre.com.