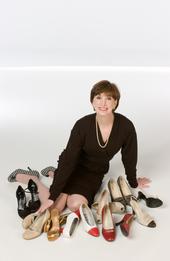 There's a scene in Theresa Rebeck's one-woman comedy Bad Dates - currently being produced by New Ground Theatre - in which our protagonist, Haley, is seen trying on clothes. Actually, nearly every scene features Haley trying on clothes, but I'm referring to the opening sequence, in which she's preparing for the first date she's had since ditching her good-for-nothing husband in Texas and moving to New York. With the audience cast as Haley's confidantes, this single mom and restauranteur tells us of her divorce and her 13-year-old daughter and her recent experiences at a Tibetan Buddhist book benefit, and all the while she tries on skirts, blouses, and lots and lots of shoes; no ensemble, it seems, is working for her.
Finally, Haley finds an outfit to her liking - complete with a shoulder wrap that looks vaguely like a piñata - and steps in front of the (imaginary) full-length mirror to gauge the effect. "This," she states, "is a total disaster."
It's the first - and not the last - big laugh in the show, but it's not the line itself that tickles you; it's Lora Adams' reading of it. After more than 10 minutes of breathless, nearly stream-of-consciousness anecdotes, Adams takes only the slightest of pauses before delivering a mildly dejected "Thisisatotaldisaster" and preparing Haley's wardrobe anew. You laugh because, in about two seconds of stage time, Adams reveals her character's flightiness, her ability to switch thought patterns on a dime, her charming self-deprecation, and - by realizing that her outfit is a disaster - her basic good sense. Rebeck deserves praise for creating such an endearingly vivid protagonist, but it's Lora Adams, and her inspired director, Patti Flaherty, who turn New Ground's Bad Dates into the best kind of 90-minute monologue: one that truly succeeds as a play.
Flaherty's success at this, in particular, shouldn't be undervalued, as solo performances of this sort can often feel static; with only one figure to focus on, directors - in an attempt to vary the stage picture - will frequently resort to aimless pacing or meandering on the part of their protagonists, and that's when the characters are moving at all. Yet until the play's final, contemplative scene, Flaherty directs Adams as if she were a one-woman bedroom farce. Continually traversing between her closet and her bed and the mirror and the off-stage hallway - where she occasionally shouts out to her daughter in the next room - Haley is in almost constant motion. Yet the movement always feels purposeful; the character's incessant wardrobe changes don't appear intended as distraction, but rather as a physical representation of Haley's inner (comedic) chaos.
And the timing in these sequences is spectacular. Not only does Haley rarely stop moving; she rarely stops talking. Yet there's nothing artificial about the way Flaherty choreographs the character's dialogue with her movement; it never feels as if Adams has to hit a particular beat at a particular time in the script - she just does. There's a freshness and spontaneity to this production that could easily go unnoticed. Haley's (one-sided) conversations with the audience, and her unselfconscious attempts to find the ideal outfit, feel no more or less dramatic than real life, and they unfurl with the occasionally sloppy, fascinating ease of real life; Flaherty's presentation, like the show's character, doesn't feel the least bit forced. It takes enormous skill to make such a carefully orchestrated piece look so relaxed, and while Bad Dates is a minor, mostly lighthearted play, it has been crafted with the utmost care.
The director's superb work, though, wouldn't mean much without a performer as committed, and as wonderfully engaging, as Lora Adams. Speaking in a feather-light, musical Texan accent, Adams barrels through Haley's tales with girlish exuberance; the character's giddiness is like a natural intoxicant. (The only times when Adams' avid performance feels too avid are when Haley speaks to characters on the phone, as her pauses don't feel long enough for those on the other end of the conversation to get a word in.) And the hilariously off-handed way that Adams recalls Haley's romantic woes, casually tossing off her disappointment while still enabling you to understand her frustration, makes you like the character - and the actress - all the more. (She's especially funny when recounting how one particularly miserable date began with the man asking her age; "What kind of shit is that?" Haley asks, bewildered.)
Yet Adams has far more to play here than the show's No Sex & the City storyline would indicate. Rebeck provides, for Haley, as many contrasts as the frequently sitcom-y material can sustain - Bad Dates' subplot involving Romanian money-launderers is an unconvincing attempt at upping the play's ante - and Adams effortlessly nails her character's eventual panic and heartbreak; by the finale, you're really hoping that Haley finds the Happy Ending she deserves.
In the last two productions I've seen her in - 2003's Catch Me If You Can at Circa '21 and New Ground's Scotland Road in 2005 - Adams was cast in roles that didn't give the actress much breathing room, and it's exhilarating seeing her in one with such a colorful spectrum of emotions, and one that so often allows her to be so happy. (Anyone with a smile this effervescent shouldn't be asked to hide it.) During the curtain call for last Thursday's matinée performance, Adams performed two quick curtsies and scooted off-stage. Here's hoping the actress subsequently took longer bows, as she deserves to bask in the audience's appreciation. Adams and her director have turned Bad Dates into an awfully good time.
For tickets, call (563) 326-7529.