The strength of playwright Neil LaBute's writing skills was on full display in the District Theatre's equally stunning, Friday-night presentation of reasons to be pretty. LaBute's gritty drama about the demise of a couple after the guy is overheard describing his girl as having a "regular"-looking face is loaded with sharp banter and realistic relationships that are less than perfect, and the show's dark humor is not lost on director Bryan Tank's cast. The comicality is clear as the characters scream obscenities at each other, stab each other verbally, and behave in seriously ugly ways.
Pairing Kelly Lohrenz and Chris Causer as leading couple Steph and Greg was a smart choice, as they share a sincere chemistry that lends a believability to their stage relationship. Lohrenz, whose effectively ADHD-ish prattling suggests that commas don't exist for Steph, matches her quick tongue with small, fast head nods and hand gestures, and she seems like the yin to the yang of Causer's even-toned, passive-aggressive, charming, and deceptively cruel Greg. While his get-the-last-word-in lines during each of Greg's arguments with Steph are brimming with meanness, the actor's charisma goes a long way toward softening their blows; despite his flaws, Causer is so appealing that it's easy to forgive Greg's verbally abusive treatment of Steph.
Whereas Causer's Greg is likable, Eugene Pavinato's Kent - Greg's best friend and coworker - is anything but, and the actor effectively reveals the hidden ugliness possessed by some beautiful people. Kent is obviously aware of his striking good looks, and his self-important perspective bleeds into everything about him; condescending in that "I'm prettier than everyone" way reminiscent of stereotypically jerky jocks or entitled frat boys, Pavinato's Kent, though beautiful to behold, is in truth the most unattractive of this bunch.
Cara Chumbley's Carly starts off as an unlikable young woman, as she casts cruel looks and cutting barbs Greg's way after the "regular face" incident so hurts her best friend Steph. However, Chumbley's initially two-dimensional performance morphs into a movingly nuanced one as her now-pregnant Carly pleads with Greg to tell her if Kent, her husband, is cheating on her. There's desperation in her voice that transitions into a giggly, "I must be crazy" tone, which then shifts dangerously close to a breaking point of complete emotional destruction. In this one conversation, Chumbley earns a sympathy for her Carly that overshadows all of the foulness previously on display.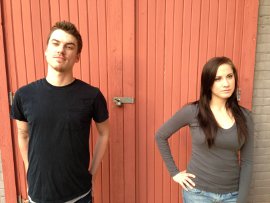 For me, the only glaring negatives regarding the District Theatre's production of reasons to be pretty were the all-too-long scene changes as actors carried set pieces on and off the stage. The results were worth it, though, as the set (which I assume is Tank's design, as no other scenic designer is listed in the program) dramatically changes from a bedroom to a factory break room to a mall's food court to the lobby of a fancy restaurant, each locale strikingly flanked by a wall of mirrors of various shapes and sizes on the left and stacks of cardboard boxes on the right. It's also difficult to determine whether the strength of the production is a result of Tank's direction of it or if Tank merely trusted the ample talents of his cast, but either way, this production is remarkable, and deserves a repeat viewing to take in its exceptional performances.
reasons to be pretty runs at the District Theatre (1611 Second Avenue, Rock Island) through July 7, and tickets and more information are available by calling (309)235-1654 or visiting DistrictTheatre.com.