It doesn't happen often, thank heavens. But I occasionally leave a theatrical production less disappointed than pissed off, as I'm occasionally forced into watching talented people dedicate their energies to a show that's clearly beneath them. Such is the case, sadly, with the Richmond Hill Barn Theatre's Moonlight & Magnolias, playwright Ron Hutchinson's comedy about the (imagined) farcical re-writing of the Gone with the Wind screenplay, and a work so confused and offensive that it all but completely nullifies the enthusiasm with which it's being produced.
Richmond Hill's latest is directed by Jennifer Kingry, who also serves as technical director, set designer, and (with Jean Melillo) co-costume designer, and if she'd been given a crack at re-writing the script, too, the results would no doubt have been far more entertaining. Moonlight & Magnolias opens with Gone with the Wind producer David O. Selznick (Jason Platt) begging dialogue whiz Ben Hecht (Don Faust) to re-tool his thus far unworkable dream project, and coercing director Victor Fleming (Chris White) into taking the reins from the recently fired George Cukor; Selznick's (or rather Hutchinson's) idea is that by locking the three of them in his office for five days, and feasting on a steady diet of bananas and peanuts, they'll eventually churn out a masterpiece.
Where to begin in describing how irredeemably awful this setup is? Forget, for a minute, that Selznick's plan makes the mogul appear almost criminally deranged, and that the seemingly level-headed Hecht and Fleming look like half-witted patsies for complying; Moonlight & Magnolias is a farce, so we go with it. But from minute one, Hutchinson displays such blatant disregard, and even contempt, for both Gone with the Wind and the artistic process itself that I detested the show long before it devolved into The Three Stooges Go to Atlanta. (This is clearly a minority opinion, as Thursday's opening-night audience, bless their hearts, gave the production a standing ovation.)
As presented here, Hecht has not only never read Gone with the Wind, but seems never to have heard of Scarlett O'Hara and Rhett Butler (in 1939!), and consequently, much of the play is dedicated to Selznick and Fleming explaining or enacting the book's plot to the screenwriter, who rolls his eyes and makes snarky comments about the ludicrousness of it all. (Selznick agrees that it's swill, but keeps reminding Hecht that it's hugely popular swill.) Yet you don't have to be a fan of the source material - I haven't read it - to be put off by Hutchinson's hatefulness toward Margaret Mitchell's creation.
We're continually told of Gone with the Wind's convoluted plotting, its lousy dialogue, its melodramatic characters, its unsatisfying ending - Moonlight & Magnolias' playwright isn't merely derisive toward the work, but toward the millions of suckers who fell for it. (Hutchinson is also a Hollywood screenwriter, and those who co-scripted 1996's The Island of Dr. Moreau should not cast stones.) And how are we to take the notion that Selznick, Hecht, and Fleming - reduced, after five days trapped together, to sweaty, punchy wrecks - save this supposedly wretched material by condensing the Southern pulp into a more manageable form? What Hutchinson is doing here is really low; he's dismissive of Mitchell yet suggests that the film's eventual artistic and financial success stemmed directly from Mitchell, as it merely took a trio of sleep-deprived oafs to save the good stuff and toss out the rest. (Throw a monkey a banana and watch him type.)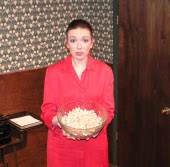 Space is running short, so let me just sketch out a few of the script's other irritants: the glaringly anachronistic dialogue ("Suck it up," "You must have mistaken me for someone who gives a crap"); the borderline sexism and racism - oftentimes in the same breath - of the Gone with the Wind "re-creations" (Butterfly McQueen should sue from the grave); the maudlin, unconvincing attempts at Real Emotion (Selznick and Hecht frequently interrupt the wackiness with didactic diatribes on the pressures of being a Jew in Hollywood).
No actors could make sense of these senseless proceedings, but as God as my witness, the cast gives it a good shot. Platt, who may be incapable of falseness on stage, attacks his role with ferocious focus and determination, Faust grows more enjoyable as Hecht grows more harried, and White, to his enormous credit, is believable as both a macho jerk - he rationalizes smacking young Judy Garland by saying he did it "just once" - and the whining mess that Hutchinson's plotting forces him to become. (The play's standout portrayal, though, is given by that divine comedienne Ryan Mosher-Ohr, mostly because she has the fewest number of humiliating routines; with her secretary given little to do besides deliver variations on "Yes, Mr. Selznick," the performer's gradually ruffled deadpan is blissfully funny.) Richmond Hill's production isn't without scattered laughs, yet when they do come it's despite the material, not because of it; Moonlight & Magnolias' actors are working overtime here, and unfortunately, they're stuck with a script that's nothing but Tara bull.
For tickets, call (309) 944-2244.