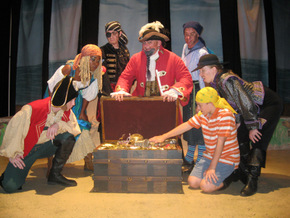 How long does it take for an area production to become legendary? In the case of the Circa '21 Dinner Playhouse's How I Became a Pirate, I'd say about one week, because after the show's debut staging in 2013, that's how long it took four adult patrons, individually, to tell me it was maybe the best family musical they'd ever seen.
Sadly, I missed that particular presentation, which, like the new version that opened this past weekend, was directed by Marc Ciemiewicz and featured castmates Janos Horvath, Antoinette Holman, and Brad Hauskins. But it's hard to imagine having more fun then than I had on Saturday, because this How I Became a Pirate is every bit the wacky delight its reputation promised, with the added benefit of being almost alarmingly well-sung. If the theatre's current production of The Sound of Music weren't as superb as it is, I would've suggested that Circa '21 consider swapping the shows' schedules, as no one could've conceivably complained about Ciemiewicz's swashbuckling slapstick running four evenings (and one matinee) per week. As it stands, however, the venue's audiences this summer are in for major treats day and night.
Circa '21 has a long history of delivering topnotch musical comedies for kids. But on more than a few occasions over my past 21 years of exposure to them (and sometimes in them), it's because casts and directors have had to do a lot of heavy lifting to overcome fundamentally blah material. This is absolutely not the case with How I Became a Pirate. Based on Melinda Long's illustrated storybook, this hour-long tale of a young boy's imaginary beachfront play date with six amusingly crusty buccaneers features a solid premise buoyed by inventive action and agreeably silly dialogue, and in a lovely rarity, its songs are perhaps even more enjoyable than its script. (Mark Friedman and Janet Yates Vogt are responsible for the music, lyrics, and book.) The impressively, but not overly, wordy tunes boast frequently funny lyrics and catchy melodies, but what makes them wonderful en masse is their inspiring variety. With a rousing sea shanty leading to a groovy calypso leading to a peppy call-and-response leading to a brilliant parody of pop-ballad melancholia - more on that one eventually - the show is practically Joseph & the Amazing Black-&-White Pirate Flag. (Kudos, by the way, to designer Susan Holgersson for her terrifically functional set pieces and imaginative scenic decoration, including outsize pirate flag, that successfully mask the Sound of Music set.)
But this is a Circa '21 kids' show - one directed by that irresistible comic Marc Ciemiewicz, no less - so you should definitely expect many of Pirate's chief pleasures to be production-specific. They include costumer Gregory Hiatt's detailed, gorgeously extravagant pirate outfits, and designer Heather Beck's fine employment of lighting effects, especially the Pulp Fiction-y glow that accompanies the opening of a treasure chest. (When viewed, the contents' majesty is accentuated by Hauskins' pirate Swill crooning a falsetto verse of "Climb Every Mountain." Talk about specificity.) Andrea Moore continues to prove she's one of the most gifted, reliable in-house choreographers Circa '21 has ever had; her energetic routines are complex enough to appear demanding yet simple enough for children to look forward to re-enacting them at home.
And while Ben Klocke - like the others, a first-rate singer - is an unwaveringly cheerful presence as youthful protagonist Jeremy Jacob, Ciemiewicz's show is, rightfully, stolen by the pirates. Deanna Collins (as the French Pierre) and Cody King (as the German Seymour Braunschwagger - a fitting role for the actor currently playing Sound of Music's Rolf) aren't given quite as much to do as the others, although Collins has a great gag in which she pronounces "thinking" as "sinking," and King responds to a "Move stealthily" directive with uncomprehending loudness. But they're certainly no less welcome than those peerless goofballs Horvath and Hauskins, the former of whom kills with his Braid Beard's "Aarrgghh!"-ing command and Annie worship, and the latter of whom kills with ... well, just about everything, really. (Swill's giggly reactions to "poop deck" and "booty" made Hauskins, as you'd guess, a particular favorite with the kids.)
Holman, who portrayed Jeremy Jacob in 2013, does spirited, hunched-over character comedy as the Jamaican Max, always careful to attend to the stuffed plush parrot on her shoulder that she thinks is alive - and that the others, out of sensitivity, pretend is, too. The consistently excellent Chris Galván, meanwhile, is in stunningly strong voice as the secretly tender ruffian Sharktooth, who cradles an eyepatch-wearing teddy bear and gets the best number in the show: the Spamalot-worthy sad-bastard riot "I'm Really Just a Sensitive Guy." (The song is a priceless reminder of how hysterical Galván was as Sir Robin in St. Ambrose University's actual production of Spamalot in 2013.) For those wondering, How I Became a Pirate landed on Circa '21's docket after the rights for a previously scheduled show became unavailable. Based on this über-winning production, let's hope a similar kerfuffle occurs in 2017.
How I Became a Pirate runs at the Circa '21 Dinner Playhouse (1828 Third Avenue, Rock Island) through July 11, and more information and tickets are available by calling (309)786-7733 extension 2 or visiting Circa21.com.