Playwright Patrick Hamilton's Angel Street, the season-closing presentation at the Richmond Hill Barn Theatre, was the stage inspiration for George Cukor's mystery/thriller Gaslight, so it's kind of appropriate that the production's gas lights are perhaps its cleverest touch. I'm often remiss in praising the design for Richmond Hill shows, especially given the inherent (and considerable) challenges of theatre-in-the-round. But Angel Street is so technically assured and aesthetically pleasing that I found myself grinning in the first mood-setting seconds of director Tom Morrow's Victorian drama. (I'm calling it a drama rather than a mystery and/or thriller because the show isn't really much of either. But more on that later.)
Set in late-19th Century London, Angel Street concerns a possible murderer who may be inspiring his wife's insanity, and its prelude could almost be a how-to guide on imparting theatrical information and exposition nonverbally. The faraway clack-clack-clacking of a horse-drawn carriage effectively establishes a haunted atmosphere (Jennifer Kingry provides expert sound design), and with a bare minimum of set pieces, we quickly glean how dour and uninviting the play's central dwelling is, clued in by the silence, the intentionally gloomy lighting (more Kingry design, equally expert), and Rebecca May's Bella Manningham costume, which can rightfully be called scene-stealing, if not show-stealing.
It's a shame that Angel Street only grants its actors one outfit apiece, as costumer Jean Melillo's wardrobe selections reveal status, personality, and temperament so subtly that you wish there were more of them to appreciate. The formalwear donned by Tom Naab's sinister Jack Manningham, a dandy gone to seed, suggests a grubby soul projecting a wealth and privilege he doesn't possess, which makes him a perfect visual counterpart for James V. Driscoll's benevolent Inspector Rough, whose eye-catching brocade vest hints at the mischief beneath his business-minded exterior.
Bella's gown, though, is really something. Outfitted in a floor-length, form-fitting, brick-red dress with black lace, May wears it with such stiff-backed poise that her character is clear even before she speaks: This isn't a dress; it's an exquisitely detailed straightjacket, which is just what the tortured Bella should be wearing. Even the servants' outfits are just right, with Lisa Kahn's courteous drudge Elizabeth in standard maid attire while her opposite number, Molly McLaughlin's flirtatious Nancy, is decked out in playful green and white stripes; Melillo's contributions, as they oftentimes are, are beautiful, but better still, they're smart.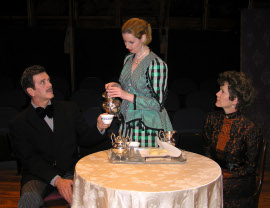 Angel Street's design and tech elements are smart throughout; it's the show itself I found underwhelming. Naab is engaging and impressively focused, yet his character is so overtly menacing from minute one - he's just a mustache-twirl away from Snidely Whiplash - that we miss out on much of the tale's subtlety and mystery. And while May looks stunning, she doesn't seem at all confident about playing her character's psychoses; the earnest actress gives the role an admirable shot, but May's hesitant delivery makes Bella seem less crazed than merely confused, and even a little simple-minded. (You can hear Bella's madness in the script - "It's behind the cupboard, I suppose... ?" - but not in the readings.)
Driscoll enlivens the proceedings with his expected wit and energy - and has a terrific near-running gag in which the inspector apologetically retrieves his misplaced hat - and Kahn's beleaguered rationality and McLaughlin's sauciness are entertaining in their limited doses. Yet I found too many of Angel Street's scenes rife with dead air (when one character in a two-person scene leaves the room, the other is given nothing to do but stare at the doorway and wait for his or her return) and too much of its action dawdling, which hurts a play in which so little actually occurs; Hamilton's script is really only dramatic psychologically, and psychological complexity is exactly what's missing here.
Thankfully, though, the show is a pleasure to look at, which returns us to the gas lights. Four wall lamps hang on the set's corners, and we watch as Nancy lights them with a match, their weak orange glow achieving the radiance of a fully lit candle ... and it might not be until much later that you realize the lamps aren't lit at all - or rather, are lit electrically. I have no idea how Kingry pulled off this effect, but it's a sensational one, and the ruse might've been completely successful on Thursday had Naab, during Act II, not attempted to increase the illumination on one lamp only to have the brightness on its neighboring lamp increase instead.
The moment elicited a big laugh, but it was a good-natured, appreciative laugh - the kind that occurs when an audience is already having a great time and is less bothered than hugely amused by a technical faux pas - and this positive vibe was felt in Richmond Hill's theatre all evening long. (During his curtain call, people actually booed Naab for his villainy, causing the actor, and the audience, to laugh.) The production may have been missing some magic, but happily, Angel Street's designers - and Thursday's crowd - provided plenty of their own.
For tickets, call (309) 944-2244.