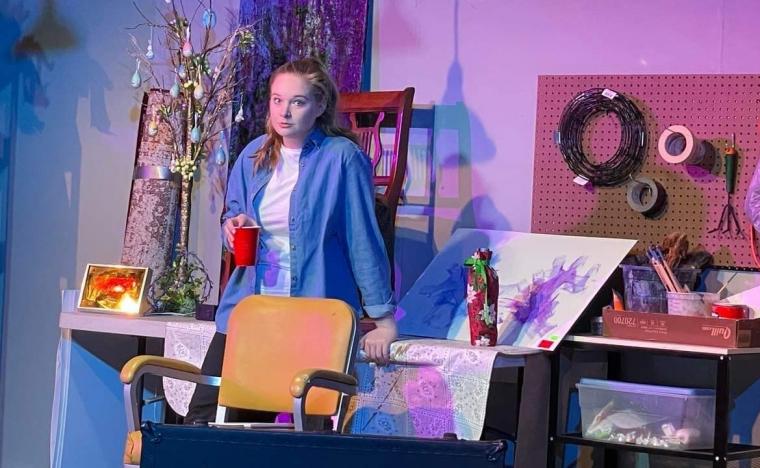 I'm often impressed upon my first glance at the set when I enter the Black Box Theatre: the opulent, creepy one of The Turn of the Screw; the enigmatic jumble of portraits and ripped flags for Assassins; the varying, multiple-locale settings for Little Women: The Musical. (This venue's crews find the most wonderful furniture and set dressing, too.) However, the set for playwright Lauren Gunderson's Natural Shocks, the Black Box's current production, blows them all away. I think I actually froze in astonishment.
Somehow, before Thursday's opening-night performance, I'd stepped through a wormhole and was looking at an actual, real-life basement somewhere in Tornado Alley complete with accoutrements – water heater, utility sink, breaker box, storage shelves awash in a familiar flotsam of tools, once-a-year gear and projects in progress – on a recently (and hastily) swept concrete floor, with everything pinned under stark white light. As the perfect finishing touch, the ambient sound, already running when we enter, evokes residential tranquility with the calls of songbirds, crows, and dogs outside. The room occupies about half of the stage's width, rather than sprawling across the whole thing, with black walls bracketing it – this basement is a concealment, as well as a refuge and catch-all space.
Designed by theatre co-owner and co-star Lora Adams, built by Michael Kopriva, with lighting design by director (and local actor, and fellow Reader reviewer) Roger Pavey Jr. and sound design by Ryan J. Hurdle, Natural Shocks' hyper-realistic mise-en-scène served well as a foil to house the surreal, fourth-wall leakage that I suspected was coming. (The Black Box previously staged three other Gunderson works, making me a staunch fan of the author's theatrical devices and layered, unpredictable plots.) This production marks Pavey's directorial debut, and he's done a superlative job giving the script life and assembling so many elements into a cohesive, tight theatrical experience.
Natural Shocks' original subtitle is A One-Woman Play in a Tornado, and, as you'd imagine, one woman originally played the protagonist Angela. However, this production finds four actors portraying the role in succession, and this adds a wrinkle – a deep one – to the existing fabric of Gunderson's script, which consists of skilled comedic embroidery sewn into a sturdy, sober cloth of reality and hard truths.
Pavey's cast has solid acting skills, the performers remained fully in character throughout, and I heard almost every word. (It was only a struggle when the soundscape was competing with a voice). The actors use the space well, and the blocking feels organic, rather than just following a list of instructions to "go here; now go there." And each actor employs a similar physical style for her version of the character. One notable bit was the arm-flinging "Ta da!" gesture, which Angela sometimes deploys after punchlines. This clowning around is typical of someone who feels vulnerable – a tactic to gloss over uncomfortable truths and shut down any discussion. (Yes, I'm familiar with this behavior.)
Adams opens the play as the first Angela, and provides a contemporary skew on the nervous, unfocused energy she exhibited as Marie Antoinette in Gunderson's The Revolutionists at the Black Box last year. In this role, Adams was similarly comic and endearing in her low-grade-panic fluttering; she made me want to jump onstage and calm Angela down. Next we get Patricia Foster's portrayal of Angela. Foster, who is fairly new to the area and returning to acting after a long hiatus, crafts an Angela who seems a good ol' gal, earnest and excited, and someone who engages with the world while also letting her mask slip, now and then, for a glimpse of secrets beneath the exterior.
I've had the pleasure of seeing Kira Rangel in a few of her many roles on local stages. This time, I was able to experience her performance close up, and she's as extraordinary as ever. In Rangel's segment, we see that although Angela can still work some wry humor into the narrative, life is actually weighing her down, and the performer made a strong connection with me. This Natural Shocks' final Angela, Noel Jean Huntley, is one of my favorite area actors (though my list gets longer with every show I see). As expected, she is phenomenal, playing Angela's revelations at the end with a shattering blend of anger and desperation.
Natural Shocks' title is taken from one of Shakespeare's most famous soliloquies: the one from Hamlet that begins with "To be, or not to be." Angela quotes other sections from time to time, and while Gunderson's whole play is indeed a soliloquy, it's not based on Hamlet's ruminations, despite the author stating as such on her Web site. (Because, clearly, I know better than the playwright.). If you know Shakespeare's classic, however, you will recognize other aspects of Hamlet here. This first-rate production left me sorrowful that people sometimes refuse to give others shelter from the storm – and if those people do take action, it's sometimes too late.
Natural Shocks runs at the Black Box Theatre (1623 Fifth Avenue, Moline IL) through February 11, and more information and tickets are available by calling (563)284-2350 and visiting TheBlackBoxTheatre.com.