When Neil Simon's name is on a production, you tend to expect sentimentality and humor, and the Playcrafters Barn Theatre's opening-night performance of Simon's little-known Proposals was certainly humorous. But you probably don't know the show for good reason, although director Phil Cathoir does his best with what little substance Simon gave him.
Proposals is presented as a memory told by housekeeper Clemma (Teresa Moore), and set during the last afternoon of a 1953 summer vacation in the Poconos. Even though the health problems of Clemma's employer Burt Hines (Jim Driscoll) make it unlikely that they will ever return to the family cabin, no one wants to face that issue head-on. Instead, the focus is on Burt's only child Josie (Vickie Underwood) calling off her wedding to Ken (Aaron J. Lord) amongst a slew of visitors both invited and unexpected.
As the play's narrator, Moore broke the fourth wall with ease and made the audience feel right at home in the backyard. Moore was endearing as Clemma, and even given a few trips of the tongue on Friday, she found the right balance of sweetness and sass. When Clemma's estranged husband Lewis (Renaud Haymon) arrived, it was the most tender moment in the show, and I'm eager to see Moore again – hopefully in a role that lets her personality shine.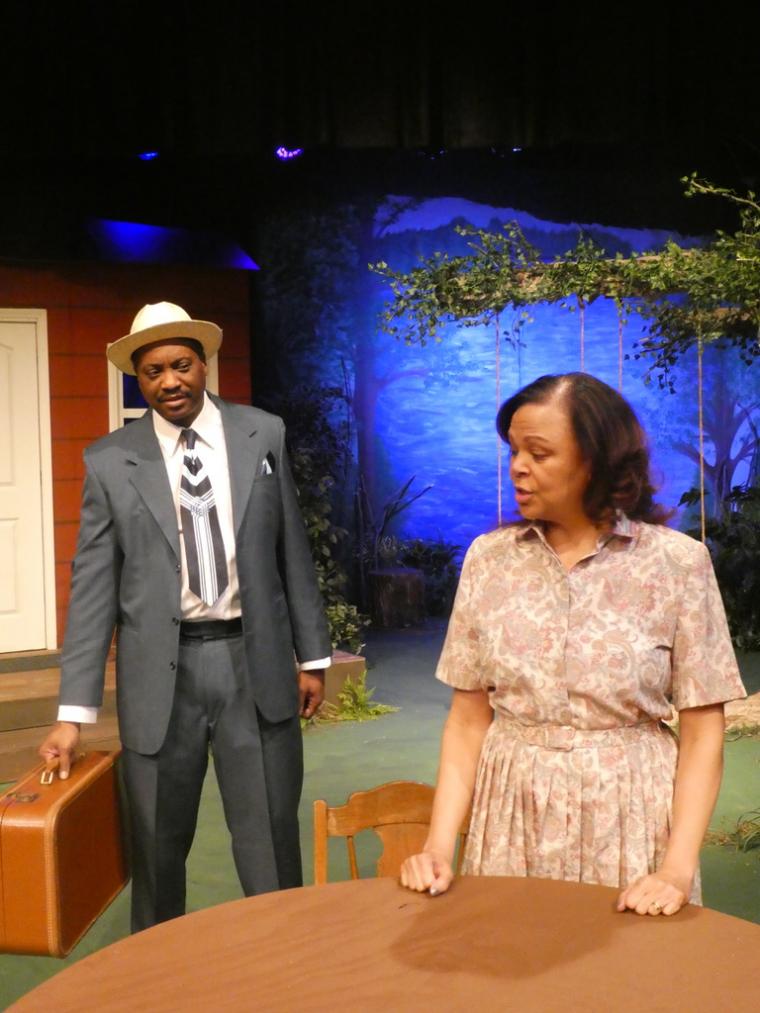 Driscoll had a big job with his character, as Burt is battling a broken heart both physically and emotionally. That said, after the actor originally cast as Burt broke his arm, Driscoll stepped into his role late in the game – which, thanks to Driscoll's performance, I wouldn't have known without reading about it in the program! Burt is a guy who still loves his recently remarried ex-wife Annie (Sondra Karben) and is trying to enjoy every second he can with his daughter. However, Josie doesn't make that easy for him. She's too wrapped up in her own relationship drama, trying figure out how to get back together with a boy from last summer (Victor Angelo's Ray), and unfortunately, Underwood fails to add much to her one-dimensional character.
Josie's scenes were highly contrasted by the larger-than-life stage presence of Tyler Henning as the superfluous Vinnie Bavasi, a misspeaking gangster from Florida. Henning was hysterical, and along with Elle Winchester's fashion model Sammii, he brought much comic relief to the stage. Vinnie speaks almost completely in malapropisms and that's enough to make the character endearing, but it's the honesty Henning brings to the table that makes him so memorable.
Also memorable is the funeral. (No spoilers on whose it is.) As Playcrafters provides general-admission seating, I lucked out and had a seat from which I could see the faces of both the bereaved and the disbelieving Ken, and Lord's facial expressions were over the top in the best possible way, making Ken completely captivating. The poor guy gets the short end of the stick (literally) in Proposals, yet is one of the best things about the production.
Cathoir doubled as the show's scenic designer and brought the outside in, the set's highlight being a large mature tree with two swings. The stage was nicely accented by nature – although late in the first act, when Annie was concerned about the untidy yard and walked around picking up the weeds, it seemed unlikely that she would then deposit them in a random pile that remained on stage until they were presumably reset for the next performance. And while Cathoir made sure his actors used the whole space and generally did a good job of it, I was a bit confused when five of the characters arrived at the cabin to visit and appeared from completely opposing directions.
The devil is in those small details, and that's where Proposals had some trouble, the biggest problem being the rocks. Props supervisor Marcia Templeman definitely had her work cut out for her with this show, but it needs to be said: A sponge is not a rock. It required a challenging suspension of disbelief when the rock/sponge went rolling silently across the stage before it was introduced to the audience as a rock.
Smaller details were also hit and miss when it came to the costumes, as some pieces didn't seem to fit, such as Vinnie's hat that was several sizes too small. (It may have been intended to get a laugh, but few of the costumes spoke to the affluence implied by the script.) Yet some other pieces were gorgeous, and Annie's dresses, in particular, were stunning. I wish I looked that good after a transatlantic flight!
Proposals is a little cheesy, it doesn't have a lot of heart or drama, and there are no surprises – Clemma tells you exactly what's going to happen from the get-go. There's also no great moral takeaway. But this production at least owns the cheese and serves up a solid night of entertainment. If you're in the mood for a few laughs, and a very funny funeral, Proposals will be right up your alley.
Proposals runs at the Playcrafters Barn Theatre (4950 35th Avenue, Moline) through March 18, and more information and tickets are available by calling (309)762-0330 or visiting Playcrafters.com.