Saturday night's performance of Thesmophoriazusae was a bit like the talent show at the end of summer camp. Featuring a lot of inside jokes, jabs at society as a whole, and many familiar faces, director Bob Hanske's production serves as the wacky capstone to Genesius Guild's summer of entertainment in Lincoln Park.
Thesmophoriazusae, originally written by Aristophanes and here rewritten in a contemporary style by Don Wooten, is based on the festival of Thesmophoria, where only women are allowed to gather and celebrate. And Genesius Guild's season-ender finds Mnesilochus (George Cornelius), at the urging of playwright Euripides (Merlin Nelson), agreeing to dress like a woman in order to to sneak in and see what the assembly is all about.
Jacob Lund's Agathon appeared early on wearing a dress of his own to help Mnesilochus get into disguise – a wonderful bit that not only involved the more lowbrow comedy of men-dressed-as-women, but also some truly excellent wordplay. And whereas Cornelius stood strong and bold, Lund embraced the silly, so the combination of the pair made for some fun moments. Being Genesius Guild veterans, both Lund and Cornelius were easy to hear, and an incredibly enjoyable pair to watch. Whenever the duo was on-stage together, this foolish comedy didn't seem so foolish.
As the plot's instigator, Nelson's Euripides tries to stay far away from the Chorus who want to assassinate him, and Nelson and Lund joined Cornelius for a "double-secret aside" – a Wooten-invented plot device that serves no purpose other than to be funny – and scheme a plan. Unfortunately, in this case, the plan seems to unravel.
Choreographer Susie Carsell-Schaechter brought the Chorus in marching and smiling with various signs stating their intentions for Euripides. The women, funnily enough, arrive in stereotypical dresses and aprons, and basically prepare to take down the patriarchy of society, starting with Euripides. But after the Chorus members discover that Mnesilochus is actually a man, the plot switches gears, basically disintegrating into absurdity.
The funniest bits of Hanske's Thesmophoriazusae – from the decision to call Cornelius "Prometheus," referencing the actor's titular role earlier this summer and stating it was "easier to pronounce" than "Mnesilochus," to the speech that managed to work in the titles of all the daytime soap operas – came from the Chorus. The seven women playing this ensemble stayed strong, emerging as the glue that held the production together.
A multitude of other characters join in the fun, including Philip Tunnicliff as a bumbling British Bobby who promptly falls asleep and the Prone Stranger (Pierce Howard) and Pronto (Doug Adkins) who appear to aid Mnesilochus. Howard was completely invested in the absolute ridiculousness of his role, but the real hero here was Adkins. While there were many mentions of Prone Stanger being a Method actor, Pronto's scripted exasperation was the most honest acting on stage, because Howard's character went past funny and, in Pronto's opinion (and mine), trended more toward annoying.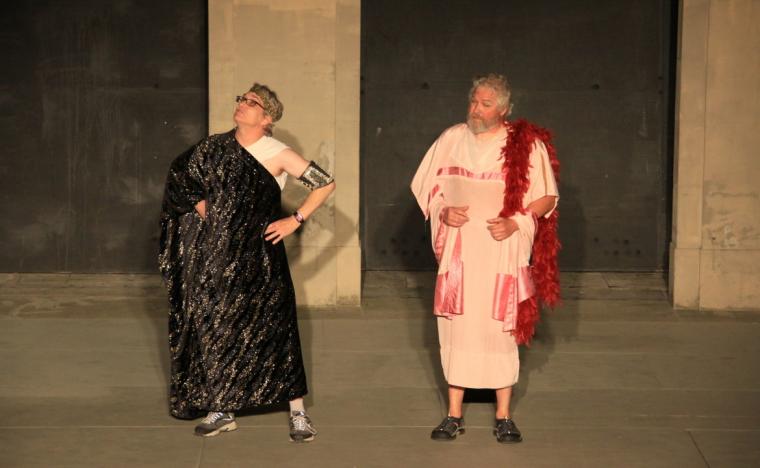 Costume designer Ellen Dixon, according to the script, "quit" prior to the first performance, leaving Adkins with an outfit more suitable for Bollywood than the more traditional Native American garb you would expect from a Pronto. But for what it's worth, this production's costumes ran the gamut from modernized tunics to a propeller hat to several pairs of really interesting knee socks. Given this show and the other Genesius Guild productions she's costumed this summer, I say, frankly, that if Dixon wants to disappear, she's earned the break!
The actors made many references to the apparent lack of set, and they weren't wrong, as Thesmophoriazusae has essentially a bare stage with a sign and two small topiary trees. But, again, you can't blame scenic designer Kathryn Wherry, as she was also a member of the Chorus, and the open space worked well for this particular production.
I'm not exactly sure how childhood literary icons Dick (Scott Tunnicliff) and Jane (Sue Staley) defended Mnesilochus, but at least they were funny. And also curious, if amusing, was the appearance of Sarah Huckleberry Flanders (Andrea Brady), who brought to the stage a song about social media that found a bulk of the cast on their phones – a point at which, even given the admittedly funny lyrics, I found myself wondering, "How much longer of this nonsense?" Occasionally, it felt that Wooten's script was trying so hard to be relevant and funny that the audience wasn't given a chance to figure out what was relevant or funny.
Hanske's production lacked polish, but that seemed to be intentional here, rather than due to lack of effort; the characters kept checking their scripts to stay on track, and while, at times, it felt like watching a bad cartoon, for the most part the evening was enjoyable. Whether you're a die-hard Genesius Guild supporter or this is your very first time out, there should be something for you to appreciate about Thesmophoriazusae.
Thesmophoriazusae runs at Lincoln Park (11th Avenue and 38th Street, Rock Island) through August 5, and more information is available by visiting Genesius.org.