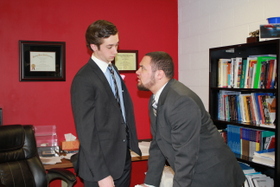 Glengarry Glen Ross was my introduction to the writing of David Mamet, with the 1992 film version of his play marking my first exposure to his work. Awestruck, I fell in love with Mamet's vulgar, layered, verbose style, which made it difficult for me to go into St. Ambrose University's new production without high expectations. Fortunately, though, director Corinne Johnson and her cast and crew - particularly set designer Kris Eitrheim - get it mostly right.
 Among the cast members, there's a definite sense of respect for Mamet's Pulitzer Prize-winner about Chicago real-estate agents hocking less-than-desirable properties using less-than-ethical means. The fast-paced lines roll off the actors' tongues with obvious undertones of pride in presenting such a respected piece; they are, after all, likely now part of a small number of Catholic-university students who can list a collegiate Mamet production on their acting résumés. These seven young men (and one young woman, Amelia Fischer, who plays a silent waitress) should be proud of their achievement, which they perform with gusto, never missing a beat in their exchanges. (During Wednesday's dress rehearsal, that included when mistakes were made, as when Sam Jones flubbed a line but corrected it in a way that made it seem as though the mistake was the way the line was actually written.)
This strength of delivery with its clear sense of pride, however, was also an occasional weakness, because rarely was I not aware that the cast seemed aware of their fantastic theatrical opportunity. They acted with gusto and true ability, but the students' evident satisfaction in their work may be the very thing that prevented them from sincerely connecting with their roles. During Wednesday's rehearsal, there was a constant sense that those on-stage were performing, rather than plumbing the depths of Mamet's characters.
However, this isn't to say that anyone here is bad, and a few of the actors demonstrate notable talent. As we watch Glengarry's salesmen jockey for promising sales leads from Jordan Webster-Moore's prim, by-the-book office manager John, we see Jonathan Johnson, as the once highly-successful salesman Shelly, shape his character as a fast-talker who still isn't polished in his repartee - as if Shelly believes that fast-talking and smooth-talking are one and the same. In contrast, the new top salesman Richard is a true smoothie, buoyed by his demand for admiration and, here, by Sam Jones' impressive bravado.
As the salesmen's desperation grows, Jordan McGinnis' dismissive, angry Dave enlists Chris Galván's conscientious and under-confident (and slightly over-rehearsed) George to help him break into the office and steal the prime leads so they can sell them to a competitor. This crime, consequently, leads to the reveal of Eitrheim's impressive design for the sales office, with its abundant water stains on the tops and seams of the wallpaper panels, a blend of older-style metal desks, and papers strewn across the floor. There's also a grid hanging at an angle above the set that looks like a drop ceiling without the tiles in place, with its askew angles providing an artistic impression of a ceiling rather than a literal one. (Almost lost in this chaos, both physically and relationally, are Nick Pearce's James - a timid, easily-influenced sales prospect who is attempting to get his money back because his wife told him to - and Max Moline's gruff Baylen, a police officer who seems more like a security guard insistent on over-emphasizing his authority.)
Sound designer Matt Elliott punctuates Johnson's staging - which boasts a Mamet-worthy quick pace and mounting energy from beginning to end - with (perhaps overly loud) hard-rock music between scenes, marking the start of each segment with two strong beats in which lighting designer Robert Poston coordinates a lighting escalation. Elliott illuminates the stage partly on the first beat and fully on the second, and the volume rises with the lights, and the blaring percussion fits, given that St. Ambrose's Glengarry Glen Ross is, itself, a boisterous, brassy presentation of Mamet's masterpiece.
Glengarry Glen Ross runs at St. Ambrose University's Galvin Fine Arts Center (2101 Gaines Street, Davenport) through February 22, and more information and tickets are available by calling (563)333-6251 or visiting SAU.edu/theatre.