Christmas can be magical. It's a time for love, cheer, and miracles. And all three of those holiday attributes are currently being dished up at the Black Box Theatre in its production of It Had to Be You.
Written by comedy duo Renée Taylor and Joseph Bologna, It Had to Be You is the unlikely story of Theda Blau (Lora Adams), an out-of-work actress who, while auditioning for a commercial, serendipitously meets producer Vito Pignoli (Jason Platt). After she cajoles Vito back to her apartment, Theda forces him into helping her rewrite her play on Christmas Eve. It sounds a little cheesy and schmaltzy, and make no mistake about it, it absolutely is. But director Patti Flaherty's production is like a cup of hot cocoa for the soul; you probably don't need it, but you want it.
As Theda stumbles through her audition screen test facilitated by the smooth voice of Greg Kerr, the contrast between his control and Theda's off-kilter demeanor becomes our first real introduction to the character with whom we will spend the evening. And Adams is hilariously committed to her performance as the eccentric Theda. As we delve further into the depths of this health-food nut and wannabe-playwright, it soon becomes evident that every time Theda opens her mouth there's potential for what she's saying to be a punchline, and it very often is. Adams and Flaherty clearly took great care, though, in making sure Theda was heard and not just continuously laughed at, and as it happens, Adams turned Theda into someone quite endearing.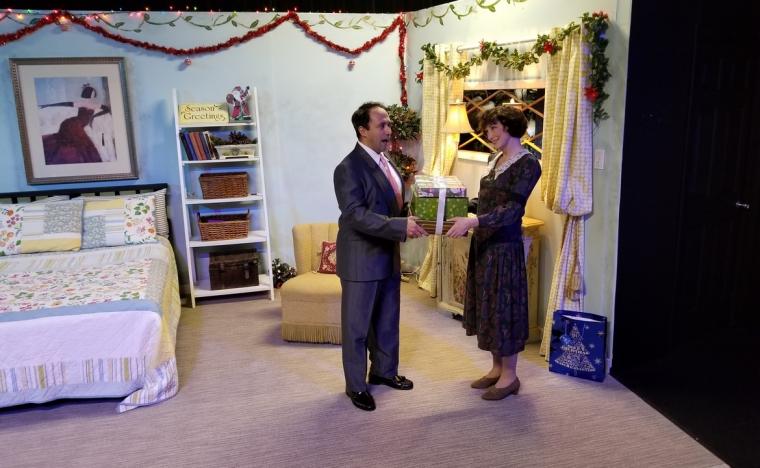 Playing opposite Adams, Platt is able to shine with his masterful reactions to the absurdity of what Vito was experiencing. For every strangely funny thing Theda said, Vito was there with a positively hysterical reaction. At the November 23 performance, Platt's diverse facial expressions rivaled Adams' deliveries in a competition for laughs. The comedic stress his body was being put through was evident, and you could tell when Platt was really getting into it because his forehead often became a deeper shade of red. Platt's Vito was almost unbelievably kind, though, as he walked a fine line between wanting to escape the apartment and satisfying his morbid curiosity of what exactly Theda would do next.
Together, Platt and Adams found a comfortable rhythm between getting along and getting upset with each other, and although Platt and Adams worked extremely well together, there was a definite friend-zone vibe between the two that made the script's inevitable pairing seemed unlikely at best. Their romantic interludes felt awkward, but they were easy to overlook, especially when Vito was trapped with Theda and forced to listen to draft after draft of Theda's amusingly awful play. (Who is hiding behind the harpsichord?) Vito's suggestions for bettering the script included a strategically placed rubber chicken, so the two make quite a team.
David Miller's lighting design was kept simple, but enhanced the set (constructed by Michael Kopriva) in its transformation of the Black Box space into a small New York tenement building, which was extremely well done. (Theda's home, and Flaherty's entire production, was the ultimate throwback to the '80s, because this story could never really work if set in contemporary time.) Kopriva let loose with pastels and even a painted border on the wall, and combined with some low-budget holiday decorations, the entire home really was the embodiment of Theda – that is to say charming, a little weird, and a lot funny. Flaherty's direction was especially clever in her impeccable use of space, as when Platt was all but stuck on a bed due to a back spasm, giving Adams a lot of work to do in keeping the show from feeling stagnant. I do wish the moment of Theda fixing Vito's back had more flourish, but this production wasn't lacking because of its absence.
Vito and Theda push each other to grow and change all in the span of one Christmas Eve, and while their deep and soulful connection kind of comes out of nowhere by my estimation, it somehow still makes sense – that's just how Christmas magic works. (If you've ever seen a Hallmark Christmas movie, you know exactly what I'm saying.) On opening night, as Vito tripped over the bed, somehow Platt's shoe came flying off his foot and over his head. It was a practically perfect moment, and while I'm 99-percent sure that it was the sort of fluke only live theatre can produce, I don't believe this show would've been lacking without it. Platt and Adams bring such contagious joy to the stage that I feel certain the magic will show up in other ways.
It Had to Be You is a little saccharine and fluffy, but that doesn't preclude this production from also being laugh-out-loud funny and delightful. While it may not be a life-changing story by any means, this Black Box Theatre presentation delivers a cozy holiday escape of unapologetic fun and amusing warmth that will not disappoint.
It Had to Be You runs at the Black Box Theatre (1623 Fifth Avenue, Moline) through December 2, and more information and tickets are available by calling (563)284-2350 or visiting TheBlackBoxTheatre.com.