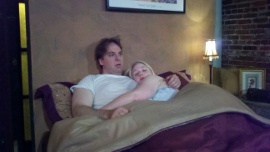 My enjoyment of the Harrison Hilltop Theatre company's Same Time, Next Year was inhibited by the moral issues at the core of the play.
For two hours, we're watching two people meet up, year after year, for sex and conversation (well, we're not actually watching the sex part, since that's not staged), expressing frustration with their spouses but also making it clear that they love their partners and their children. Personally, though, I had trouble getting past the fact that while the play's Doris and George have good family lives, they're willing to turn their backs on them - risking losing or hurting those they care for deeply - all for a weekend of lovemaking. (I even cringe at using the word "lovemaking" because, while they are making love, they're also potentially destroying the love they have at home.) I'm not a prude, but I find playwright Bernard Slade's central concept unsettling.
Still, while it took until the second-to-last scene of the play for them to do it, Cari Downing and Adam Michael Lewis slowly melted my heart with their remarkable chemistry. Director James Fairchild capitalizes on their onstage rapport, creating an organic relationship that builds during the course of the play. And his actors have no trouble portraying the emotional closeness that's developed between their characters after years of physical and emotional intimacy, if only for one weekend a year.
What I do like about Slade's script is the way in which the author makes Doris' and George's families, particularly their spouses, a part of the play even though they're never seen or heard. As George and Doris get to know each other's partners through their annual "something good" and "something bad" stories about Doris' husband and George's wife, so, too, does the audience. Slade also brings the plot to a satisfying close with two deeply touching final scenes. Even though I was bothered by the adulterous direction in which this couple travels, moral issues aside, I left satisfied with the place where they arrive.
Aided by costume designer Sara Pethoud's notable era- and age-appropriate clothing and wig choices - the play spans 24 years - Downing manages to portray the aging of her Doris fairly well. While the youngest incarnation of Downing's Doris falls on the side of caricature, more ditzy than youthful, she proceeds to add touches of maturity in each scene. I'm not so sure that Downing captures middle age adequately, but her age progression is clear and laudable for its variances.
Lewis, on the other hand, doesn't even attempt to show his character's signs of aging. With the exception of one scene in which his George is uptight and overwhelmed by his well-paying work, in terms of mannerisms and emotional maturity, he's pretty much the same guy in the last scene that he was in the first. This I don't mind. While this production doesn't indicate whether or not Lewis could effectively portray the aging process, I prefer seeing no attempt at aging a character to seeing it poorly executed, and he does create a likable, nuanced guy, shading him with guilt, concern, care, infatuation, and love.
Surprisingly, both actors are somewhat ineffective in bringing out the comedic side of this romantic comedy. Sure, there are funny moments, but at Friday's performance, I thought Downing and Lewis missed multiple opportunities to elicit laughter from the audience. (Other than the show's staff, I laughed more than anyone else, and I didn't laugh all that much.) This baffles me, as comedy is each of these performers' main strength. Downing, with her humorous deliveries, was the highlight of Harrison Hilltop's I Love You, You're Perfect, Now Change earlier this year, and Lewis, last year, was laugh-out-loud funny in his silly portrayal for Circa 21's Squabbles and his subtler, no less effective comedic turn in the Curtainbox Theatre Company's Art. Here, though, they're amusing in their roles, but never downright funny.
On the other hand, their Same Time, Next Year performances are emotionally compelling, perhaps because Fairchild chose to focus more so on the "romantic" in romantic comedy. That he and his cast managed to break into my heart with a plot that I didn't care for, leaving me choking back tears at the end, is commendable.
Same Time, Next Year is being performed in the Harrison Hilltop's new location at the District Theatre, located at 1611 Second Avenue in Rock Island. For tickets and information, call (309)235-1654 or visit HarrisonHilltop.com.