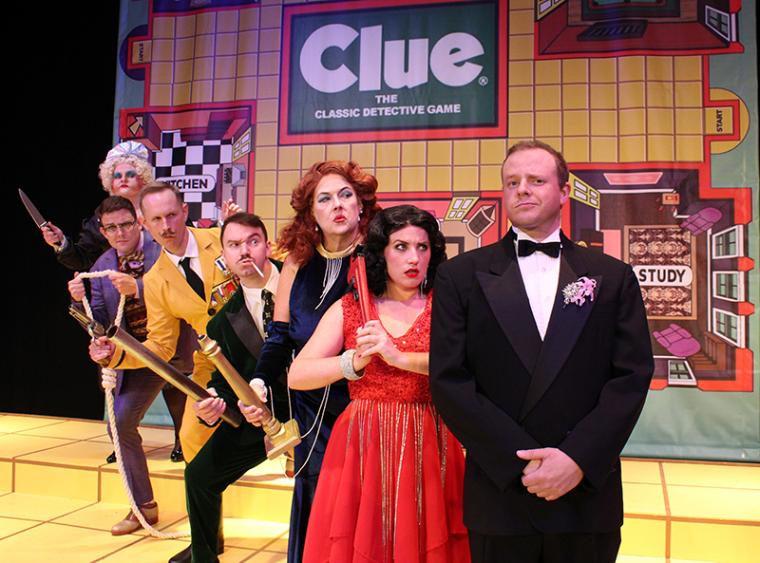 I've lamented (and maybe you have, too) the poverty of imagination evidenced by the increasing number of adaptations. Poems becoming plays; books becoming movies; movies becoming Broadway shows; video games becoming TV shows. Even Clue, the classic board game, has had new incarnations. The American version of the English game Cluedo (first released in 1949), it became a 1985 film and 2018's Clue: On Stage, which was based on the film. Cluedo also became a TV game show in various European countries starting in 1990. And, as you've no doubt deduced by the headline, it's also a musical.
Clue: The Musical was first performed in Baltimore in 1995. Its book is by mystery playwright Peter DePietro, with lyrics by another mystery playwright, Tom Chiodo, and music by creative gadder-about Galen Blum, composer Wayne Barker (of Peter & the Starcatcher fame), and musician Vinnie Martucci. It has found many appreciative audiences since then – including at the Thursday preview performance I attended at the Circa '21 Dinner Playhouse. Venue veteran director M. Seth Reines, accomplished music director Ron May, and the supremely talented cast and on-point crew are dedicated professionals. Unfortunately, the quality of this material did not approach the level of their talents.
I've never played Clue. (At my house, it was occasionally Monopoly, and lots of Scrabble.) I knew the premise, but have no warm memories associated with the game, which is maybe one reason the musical didn't thrill me. The show's characters and backstories are based on the old-school Parker Brothers ones (current game-maker Hasbro updated them about 15 years ago), and I bet it was lots of fun writing this show. For me, though, as a spectator, the fun did not come through.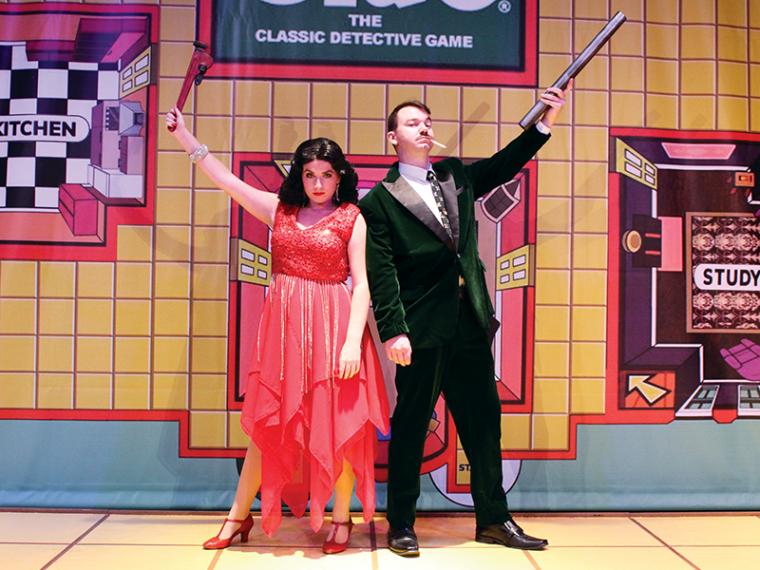 Clue: The Musical's creators got it right establishing that this show is still a game. The backdrop is a modified Clue board (on it, the original nine-roomed mansion has just six) with giant dice placed before it. Versatile scenic designer/actor Becky Meissen completed the look with "tiled" levels, as well as café chairs that the cast occasionally occupies or dances with. And future corpse Mr. Boddy (played by Tristan Layne Tapscott) is not only the fateful dinner-party host, but also the game-show host, propelling the action and dropping hints. Yes: There are real (giant) game cards, and audience members get evidence sheets to play along. There are even real prizes!
During the murder portions of the show, Tapscott as the eminently killable Mr. Boddy is appropriately despicable toward the others, but outside that character, is sanguine about his incessant deaths. In one bit, he dances a nonchalant soft-shoe, his back to the audience, during another's song. Jonathan Chisolm as the disgruntled domestic, Mrs. White, delivers a smashing "Life is a Bowl of Pits" while pummeling beef for dinner with a lead pipe. Olivia Elyse Bleak, as the slinky Miss Scarlet, tarts happily about, like a younger version of Regina Harbour's self-satisfied black widow Mrs. Peacock (my pick as the killer – but the answer is all down to the cards, not logic, so it's different for each performance).
I particularly enjoyed John Pickup's low-key, idiosyncratic characterization of Colonel Mustard. (Pickup is also the show's choreographer). Mustard is one of the three English suspects, the other three being American – an appropriate decision, as the board game debuted in both countries simultaneously. Kyle DeFauw, as the skeevy Mr. Green, handles his mixed metaphors as deftly as his omnipresent cigarettes. I adored him as Harold Hill in Countryside Community Theatre's The Music Man last year, and was pleased that this con man was a new creation. Sam Forgie plays Professor Plum's awkward ivory-tower intelligence well, making his Act II "Seduction Deduction" duet with the detective, portrayed by Sydney Dexter, an amusing contrast. In Act I, Dexter assists Mr. Boddy with the game-show aspect, playing the role of "Nanna Black." (Get it? It took me a while.) I also liked that Emmett Boedeker provides the accompaniment onstage at a piano, and is given occasional dialogue.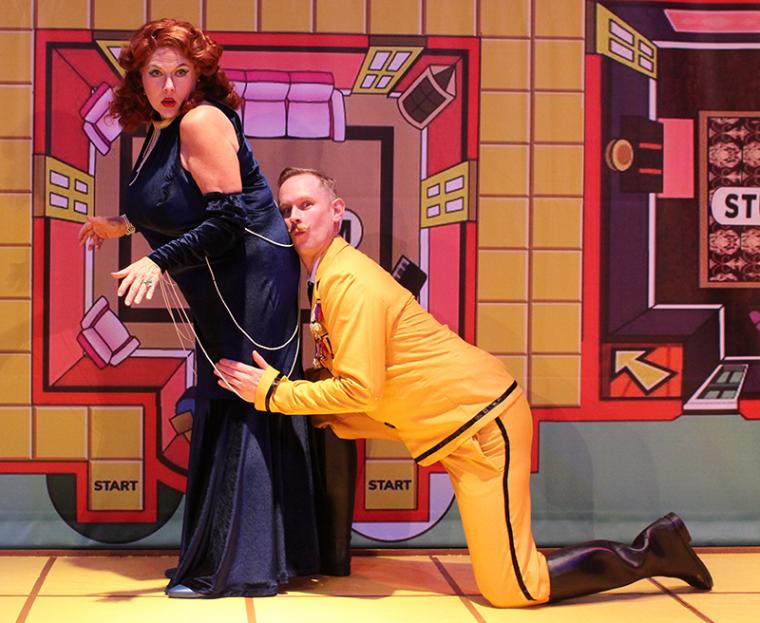 The cast's voices are amazingly powerful, and they easily handle the wide vocal range required. They can dance a fair treat, too – some while wearing treacherous heels. They look wonderful in Bradley Robert Jensen's stunning costumes, with his indigo gown festooned with strands of pearls – worn by Harbour's Peacock – my personal favorite. During the show, I mused that if it was performed in a language I didn't understand, I might have appreciated it more. But the script and lyrics were wordy and pedestrian, and characters saying "one in the same" instead of "one and the same" irritated me. (Yes, a minor point, but for me it underscored the writers' ineptitude with the language.) Also, the music was unremarkable, and the innuendo and farcical gags underwhelmed me, though many others in the audience howled.
You may well love this show – it has enjoyable moments, and the folks who put it together are very good at what they do. But I'd jump at the chance to take a red pen to that script and, you know, change it. Make it a … graphic novel. Yeah! That just might work!
Also, I gotta say: My dinner selection of Tuscan chicken and wild-rice fusion was out of this world.
Clue: The Musical runs at the Circa '21 Dinner Playhouse (1828 Third Avenue, Rock Island IL) through November 5, and more information and tickets are available by calling (309)786-7733, extension 2, and visiting Circa21.com.