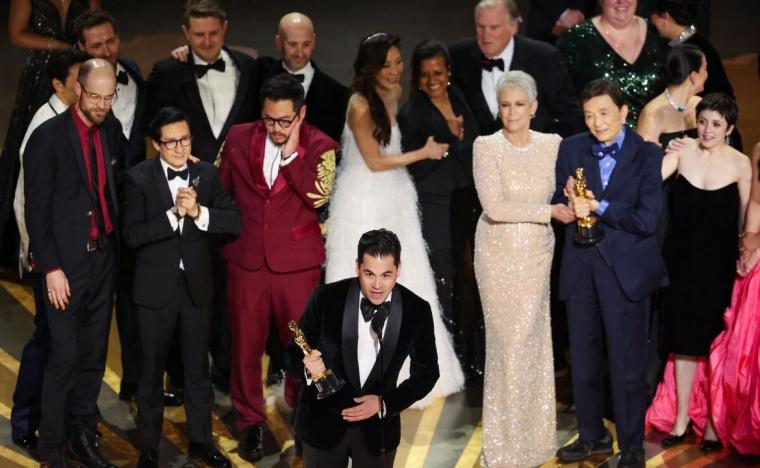 Before getting to the awards – and one particular movie gave us loads to talk about on that front – let me begin by addressing the event itself, because last night's 95th Annual Oscars telecast was a little boring. Intentionally, gloriously, blessedly boring. [Scroll past the commentary for the full list of winners.]
Running three hours and 40 minutes, making it almost a half-hour lengthier than the latest Avatar, the show was certainly long. But it was long in a confident, even confrontational "Yeah, and what're you gonna do about it?!" way that I totally appreciated – and I'm betting that among fellow Oscars fans, I'm not alone. Those eight categories that producers and ABC scooted off the air last year? They were all back. That aiming-for-chic-and-speedy cinematic style that Steven Soderbergh tried initiating in 2021? Ancient history. A broadcast theoretically made quicker by the complete absence of a host? Ladies and gentlemen … Jimmy Kimmel!
In short, it was back to business as usual for the 2023 Academy Awards, with the program produced by live-television veterans Ricky Kirshner (a Tony Awards executive producer since 2004) and Glenn Weiss (a seven-time veteran of this annual shindig), the latter of whom also directed. And beyond being one of the longer TV ceremonies we've experienced in years, this year's telecast boasted everything that detractors tend to despise about the Oscars. The opening monologue was hit-or-miss, and usually miss. The seemingly improvised bits weren't noticeably stronger. A number of presenters appeared uncomfortable and their banter was generally lame. The orchestra seemed to arbitrarily choose which winners should be played off after their allotted 45 seconds. The "In Memoriam" segment was tacky and left out a bunch of names. A couple of the Best Original Song performances were painful. A number of outfits were hideous. Oh, and did I mention that the show was long?
These are all valid arguments. But for three hours and 40 minutes last night, I couldn't have cared less, because Kirshner and Weiss finally did what we Oscars devotees have been begging producers to do for years: Stop screwing up our show. Is there room for improvement? No question: TheRinger.com recently published a few ideas about how to make the ceremony a smoother broadcast that would likely appeal to everyone, and I'd willingly cosign every single one of those suggestions. Barring, however, such a massive overhaul, this year's creative team at least did the next-best thing, which was to simply leave the damned thing alone. Yes, the telecast is, and always has been, bloated and awkward and occasionally cringey. As last night's Oscars reminded us, it also features moments that are exciting and moving and enjoyable as all get-out. (Not for nothing do Kirshner and Weiss have 23 Emmys between them.) And if you personally can't handle that dichotomy, you realize you do have an option, right? Just don't watch. You'll have plenty of company.
For my part, I'll happily sit through inching-on-four largely tedious hours merely for the promise of the randomly sublime. As he's been in the past, Kimmel was a genial if rarely hilarious emcee, but he did have some incredibly winning bits: lauding 94-year-old legend James Hong for his acting career while chiding him for his career as a California civil engineer ("the roads are unconscionable"); acknowledging the elephant in the room by stating "Hopefully the show goes without a hitch … or at least without Hitch." (I was kind of hoping Kimmel would avoid the low-hanging fruit of Will Smith, but this was a topnotch gag, and let's face it, ignoring The Slap was never going to happen – those jokes might have been the reason some viewers tuned it at all.) Like Kimmel, the presenters didn't tend to be terribly funny, yet there were a handful of truly inspired pairings: Julia Louis-Dreyfus and Paul Dano scoring laughs before Best Costume Design; Four Weddings & a Funeral co-stars Hugh Grant and Andie MacDowell reuniting, and Grant acting really weird, in advance of Production Design; a deeply hoarse Elizabeth Banks getting tripped by her accompanying Cocaine Bear who couldn't see through his mask and stepped on the train to Banks' dress – twice! (Some viewers apparently hated the shtick, and everyone was likely concerned for Banks' health, but if there's a movement to have these two host next year, consider me on-board.)
True, several aspects of last night's telecast were simply capitalized Crummy. John Travolta's choked-up nod to Olivia Newton-John was lovely, and Lenny Kravitz sang and played the piano well, but why do award shows, all award shows, keep messing up the "In Memoriam" so badly? It's one thing for talents to be missed – even, as happened last night, significant talents such as Anne Heche, Paul Sorvino, two-time acting nominee Melinda Dillon, and, yes, Robert Blake. (Kimmel's crack about Blake potentially not being included in the salute to the deceased – the riskiest gag he attempted all evening – proved prophetic.) But why, during the segment, did Weiss' camera have to scoot around the room from afar so that home viewers could barely read the names or see the faces of those who passed? One of whom was Cocaine Bear co-star Ray Liotta? (Hopefully, he and his GoodFellas boss Sorvino are commiserating somewhere over red wine and pasta with perfectly shaved garlic slices in the sauce.)
While it's hard to fathom the depth of difficulty involved in directing a live behemoth such as the Oscars, Weiss made other questionable or downright uncomfortable gaffes. It certainly wasn't the best of looks when, during their Documentary Short win for The Elephant Whisperers, one of the two female Indian victors was played off with the music, when mere minutes later, during their Animated Short win for The Boy, the Mole, the Fox, & the Horse, both white male recipients were allowed to complete their remarks, and spoke for a longer period of time. (Nothing, however, quite topped the moment when one of the Visual Effects champs for Avatar: The Way of Water said "We need to thank our families ..." right before being cut off by the orchestra.) As for elements that were likely beyond Weiss' control, the extended commercials for the recently completed Academy Museum of Motion Pictures and the 100th anniversary of Warner Bros. were tiresome enough. Did telecast host ABC – which, of course, is owned by Disney – really need to stop the show in its tracks with that shameless plug for the forthcoming live-action reboot of The Little Mermaid?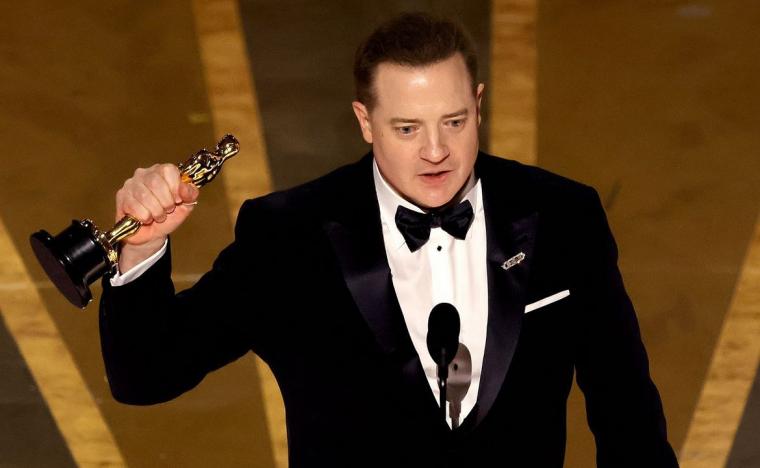 But what say we stop with the kvetching? As always, the Oscars are gonna Oscar. And this year, regarding the majority of winners, they Oscar-ed spectacularly, at least if you were a fan of Everything Everywhere All at Once. Unless they were among the film's competitors, I'm not sure that anyone in last night's Dolby Theatre audience wasn't one.
It's been an awfully long time since we could legitimately employ the word "sweep" in conjunction with a Best Picture victor. Although 2013's Gravity won seven Oscars, you'd have to go back to 2008's Slumdog Millionaire – before the expansion of the Best Picture race to more than five titles – to find the last recipient of the night's biggest prize that won that many. Yet despite its multiverse hopping, hot-dog fingers, and abundance of butt-plug jokes, EEAaO did just that, scoring a whopping seven wins including Picture; Directing and Original Screenplay for the ultra-adorable Dan Kwan and Daniel Scheinert; Film Editing for "Where'd he come from?!" Alabama hottie Paul Rogers ("This is my second film, y'all!"); and Actress, Supporting Actor, and Supporting Actress, respectively, for Michelle Yeoh, Ke Huy Quan, and Jamie Lee Curtis. That is an insane haul, and in many instances, a historic one. Let us count the ways, shall we?
The last film to win Oscars for Best Picture, Directing, Screenplay, and at least one of its performers was The King's Speech in 2011. The last one to win all those categories and the Film Editing trophy, a traditionally reliable barometer for Best Picture heat, was – are you ready? – freaking Gandhi in 1983. The last time, and only previous time, an Asian won Supporting Actor was in 1985, when Haing S. Ngor was cited for The Killing Fields. As most people are aware, the last time an Asian won Best Actress was never, and the last and only previous time a woman of color won Best Actress was Monster's Ball's Halle Berry in 2002. A few titles were screened at earlier film festivals during their years of release, but as EEAaO debuted nationally in March of 2022, no Best Picture champion has landed so early in its year since 1991's The Silence of the Lambs. Only twice before in history has a single movie won three acting Oscars: 1976's Network nabbed Actor, Actress, and Supporting Actress, and the same three performance categories that EEAaO won were also awarded to the 1951 trifle A Streetcar Named Desire.
Kwan and Scheinert, meanwhile, became only the third directing team (after West Side Story's Jerome Robbins and Robert Wise and No Country for Old Men's Joel and Ethan Coen) cited for Best Directing. Proudly unapologetic Nepo Baby Curtis, the daughter of the late Tony Curtis and Janet Leigh, became only the second child of previously nominated performers to win an Oscar (with Bruce Dern's and Diane Ladd's daughter Laura Dern being the first). Adding the Best Actor win for The Whale's Brendan Fraser, this is only the second time in the past half-century, after the 2006 race, where all four acting champs won on their first nominations. (Let's hear it for indie studio A24 for scoring trophies for Picture, Directing, the four acting races, and Screenplay.) It should probably go without saying that EEAaO is the first science-fiction/martial-arts/action-comedy release to ever score the top prize. And not for nothing, but it's also our first Best Picture to boast a character who wards off assailants with two enormous rubber dildos … not counting Ordinary People.
I kid. But seriously, folks: Wow. And also: Whew. Because as much as I admire the German anti-war film, it was looking quite possible that All Quiet on the Western Front would be the sweeper earlier in the night, especially after unexpectedly nabbing Production Design against competition that included Babylon, Elvis, and Avatar deux. But Edward Berger's World War I epic still did awfully well, also landing statuettes for International Feature, Cinematography, and Original Score, and now tying Fanny & Alexander, Crouching Tiger, Hidden Dragon, and Parasite as the foreign-language releases with the most Oscar wins. The only other movie last night to receive more than one Academy Award was The Whale, which scored a victory for Makeup & Hairstyling in addition to the one for Fraser, whose clearly overwhelmed response I would have enjoyed more if I weren't so worried that the hyperventilating guy was gonna have a heart attack. (As I mentioned in my Oscar-predictions article in which I somehow managed to accurately forecast 16 of the 23 winners – thank you, short films! – I fully expected Babylon to be this year's obligatory Oscar-cited title that I simply can't stand. But it wasn't. The Whale was.)
With Women Talking, Guillermo del Toro's Pinocchio, Navalny, RRR, and the blockbuster-sequel trio of Top Gun: Maverick, Avatar: The Way of Water, and Black Panther: Wakanda Forever being the only other feature-length works to claim Oscars, that left a lot of expectant titles and competitors in the cold. Nothing for nine-time nominee The Banshees of Inisherin or eight-time nominee Elvis or seven-time nominee The Fabelmans or six-time nominee TÁR … though Cate Blanchett, who has been a vocal supporter of Michelle Yeoh all season, has got to be feeling relieved, at least about her own loss. (Can you imagine how viciously the Internet would have turned on Blanchett had she received her third Oscar and left Yeoh with none?) Nothing, either, for fellow Best Picture nominee Triangle of Sadness, or three-time contenders Babylon and The Batman, or Marcel the Shell with Shoes On, whom they didn't even allow to present, those bastards … !
Still, I won't pretend that I didn't find last night's back-to-the-basics ceremony a considerable relief, as well as, for almost its entire length, a considerable pleasure. Clips from the acting nominees' portrayals that were expansive and wisely chosen. Genuine, ecstatic speeches by all of the Everything Everywhere All at Once victors. (Honestly: Where did Paul Rogers come from?! Can someone talk him into an acting career, please?) Harrison Ford, at the night's very end, hugging his former Temple of Doom ally Ke Huy Quan. Costume designer Ruth E. Carter, who is now two-for-two at winning Oscars for Black Panther movies, saluting her recently deceased mother who passed away at age 101. An Irish Goodbye actor James Martin, who has Down syndrome, enjoying a "Happy Birthday" serenade sung by the whole audience. (Martin turned 31 yesterday.) Co-presenters Andrew Garfield and Florence Pugh making you hope some adventurous screenwriter began immediately working on a script for them to co-star in. Lady Gaga, in a T-shirt and slacks, receiving a deserved standing ovation for a stripped-down take on her nominated song "Hold My Hand."
And speaking of standing Os, how about that "Naatu Naatu," huh? When Deepika Padukone stepped up to the podium to introduce the performance of RRR's Original Song contender, you knew something special was in store, or at least anticipated, when the crowd interrupted her speech with applause three separate times – and she barely spoke for 30 seconds! The production number itself, which garnered a roaring standing ovation, proved to be among the most thrilling the Academy Awards had ever staged, and almost singlehandedly made a successful argument for its category's continued existence. But standing O number two came after Glass Onion co-stars Janelle Monáe and Kate Hudson revealed that "Naatu Naatu" had indeed garnered its completely expected, completely deserved Oscar. And standing O number three came after composers' Chandrabose and M.M. Keeravani delivered their acceptance, with the latter revealing that, as a kid in India, he grew up listening to the music of the Carpenters, and proved it by singing his own personalized rendition of "Top of the World." Love the Oscars or hate them. At moments like that, this annually clunky, unwieldy, exhilarating ceremony can make all of us feel on top of the world.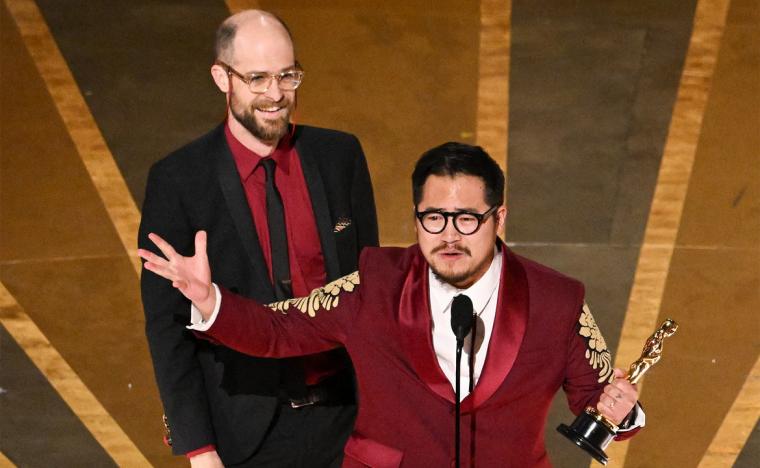 2023 Academy Award winners:
Best Picture: Everything Everywhere All at Once
Best Directing: Dan Kwan, Daniel Scheinert, Everything Everywhere All at Once
Best Actress: Michelle Yeoh, Everything Everywhere All at Once
Best Actor: Brendan Fraser, The Whale
Best Supporting Actress: Jamie Lee Curtis, Everything Everywhere All at Once
Best Supporting Actor: Ke Huy Quan, Everything Everywhere All at Once
Best Original Screenplay: Everything Everywhere All at Once, Dan Kwan, Daniel Scheinert
Best Adapted Screenplay: Women Talking, Sarah Polley
Best Animated Feature: Guillermo del Toro's Pinocchio
Best Original Song: "Naatu Naatu," RRR
Best International Feature Film: All Quiet on the Western Front, Germany
Best Documentary Feature Film: Navalny
Best Cinematography: All Quiet on the Western Front
Best Film Editing: Everything Everywhere All at Once
Best Production Design: All Quiet on the Western Front
Best Costume Design: Black Panther: Wakanda Forever
Best Sound: Top Gun: Maverick
Best Original Score: All Quiet on the Western Front
Best Visual Effects: Avatar: The Way of Water
Best Makeup & Hairstyling: The Whale
Best Documentary Short: The Elephant Whisperers
Best Live-Action Short: An Irish Goodbye
Best Animated Short: The Boy, the Mole, the Fox, & the Horse