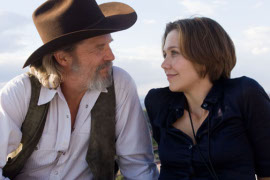 CRAZY HEART
Writer/director Scott Cooper's Crazy Heart is a character drama of gentle, lulling rhythms -- so lulling, in truth, that I momentarily dozed off halfway through the film. But I'm pretty sure that I was smiling as I slept, because the steady, deliberate pacing feels just right for the tale Cooper's telling, and because star Jeff Bridges is so masterfully assured as down-and-out country singer Bad Blake that he leaves you in a state of utter, unadulterated happiness and calm. (The actor might almost be saying, "Go ahead and nap. I'll be here when you wake up.") There may have been more exciting screen performances amidst 2009's releases, but possibly none as thoughtful, lived-in, and moving as Bridges'; in his hands, a role that easily could've been a one-note conceit is nothing short of symphonic.
Even if you don't know Crazy Heart's plot, you certainly know its story, in which a hard-drinking crooner nearing the end of his days finds salvation in the love of a good woman. (Academy Award nominee Maggie Gyllenhaal plays reporter and single mom Jean Craddock, and a better good woman would be hard to find.) Along the way, Blake shares reminiscences with an old pal (a wonderfully salty Robert Duvall), chafes at the well-meant charity of a former protégé (Colin Farrell, acting with low-key sweetness and singing not at all poorly), and bonds with his lover's young son (unforced scene-swiper Jack Nation), and it's all as conventional and preordained as any number of county ballads you could name. In the case of Crazy Heart, though, this isn't meant disparagingly, since Cooper's movie feels designed as a county ballad come to life -- unsurprising, yes, but heartfelt and sincere, and always unwaveringly honest. Based on Thomas Cobb's novel, Cooper's screenplay boasts an unfussy directness that's enormously pleasing, and even when events read as slightly contrived -- such as Blake's and Jean's disarmingly overt flirtation upon their first introduction -- they always feel true.
As for Crazy Heart's star, it should go without saying that he appears incapable of being false. The most effortlessly commanding, and one of the most gifted, of his generation of film stars, Bridges assumes his role here with fierce dedication, offering a fearless portrait of a once-promising talent waylaid by disappointment and drink. (At his most disheveled, Bridges' Blake could be a stumbling, growling version of Nick Nolte's notorious mug shot.) Yet the beauty of his work here, as always, lies in its details: the look of genuine, touched surprise when a fan offers to buy him a bottle of McClure's whiskey (which Blake can't afford); the reaction of resentful politeness when told that no, he can't smoke during his bowling-alley concert; the way his baritone voice raises an octave when chatting up a beautiful woman. With its natural ease that's just a stone's throw away from idleness, Crazy Heart could have stood to be more dramatic. (The film strongly, maybe too strongly, resembles a somewhat seedier take on 1983's Tender Mercies, for which Duvall won his Oscar.) But Bridges makes it nearly unmissable, and his inevitable Best Actor victory next month will have little to do with sentiment; by acknowledging this one-stop master's class in the art of screen acting, the Academy will finally be doing right by a man whose performances, over the course of nearly four decades in movies, have almost never gone wrong.
AN EDUCATION
It's to the great good fortune of An Education that this year's Oscar contenders for Best Picture were upped from five to 10, as this modest indie offering probably wouldn't have otherwise made the cut. And while the movie doesn't crack my own personal top 10 for 2009, or even the top 20, it's hard to begrudge this slight, charming offering its big-prize recognition; for what it is, director Lone Scherfig's endeavor is lovingly realized. A funny, lightly dramatic coming-of-age saga that finds the level-headed, 16-year-old British student Jenny (Carey Mulligan) falling for the rather unseemly attentions of the thirtysomething David (Peter Sarsgaard), Scherfig's tale is richly atmospheric without calling undue attention to its mid-1960s period design, and the dialogue is unfailingly clever without feeling at all forced. (Academy Award nominee Nick Hornby, author of High Fidelity and About a Boy, adapted Lynn Barber's memoir.) The energy seems to wane as the film nears its conclusion, and I found the film's final scenes, and unnecessary employment of a voice-over in the final seconds, a little too pat and unsatisfying; An Education doesn't end with a bang so much as a shrug. Yet the portrayal by Best Actress nominee Mulligan is a marvel of complexly structured emotional shadings -- it's a performance that can truly, and deservedly, be labeled "star-making" -- and she's supported by one of 2009's most inspired ensembles: Alfred Molina, Cara Seymour, Olivia Williams, Dominic Cooper, Emma Thompson, and a hysterical, never-better Rosamund Pike are all outstanding. Best of all, perhaps, is Sarsgaard, who navigates a fantastically tricky role with devastating skill, somehow managing to be charismatic, petulant, earnest, sinister, and about 17 other adjectives not just over the course of one film, but sometimes within the span of one sentence. It's another jaw-dropping turn from the actor who previously dropped jaws in Boys Don't Cry, Shattered Glass, Kinsey, The Dying Gaul, and plenty of others; now that wife Maggie Gyllenhaal is an Oscar nominee, and brother-in-law Jake Gyllenhaal is an Oscar nominee, isn't is well past time for the never-cited Sarsgaard to receive his due?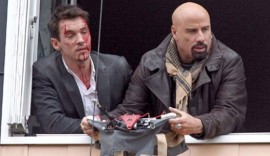 FROM PARIS WITH LOVE
Considering that it's a manically comedic action thriller from the director of Taken, and that a bald John Travolta plays a cackling gunslinger with a self-referential yen for Royales with Cheese, I guess From Paris with Love could've been a whole lot worse. As Travolta and ambassador's aide Jonathan Rhys-Meyers (losing the battle with his American accent) contend with cocaine dealers and Pakistani terrorists in the city of lights, the plotting degenerates from vague to incoherent to completely insufferable, and the leads don't exactly make for an endearing odd couple; Travolta rants, Rhys-Meyers stares blankly, and you can practically hear the spirits of hundreds of previous buddy flicks screaming, "Taxi!" Still, helmer Pierre Morel does come through with a few nifty set pieces -- there's an especially amusing one in which a series of falling bodies whiz past Rhys-Meyers on a spiral staircase -- and the ludicrous action is occasionally well-staged; I haven't quite worked out the logistics that allowed a half-dozen showers of coke to spray from the ceiling of a Chinese restaurant, but it certainly looked cool. And, truth be told, there are more chuckles in From Paris with Love than I'd anticipated, although I'm not sure that all of them are intentional ones. While discussing his fiancée's past, Rhys-Meyers -- one of modern movies' most distractingly handsome actors -- casually admits, "She never talked about her life, and I never thought to ask." How's he lookin' to you now, ladies?
AUSTRALIA: LAND BEYOND TIME
The Putnam Museum & IMAX Theatre's latest presentation, Australia: Land Beyond Time, was the winner of the venue's "QC's Choice" citation during last year's Everyone's a Critic series, and for understandable reason: The movie is glorious. (Running a brisk 45 minutes, it's also a hell of a lot more entertaining than Baz Luhrmann's bloated, boring Australia epic from 2008.) Early in the film, narrator Alex Scott states that the land down under is "more like another planet than another continent," and director David Flatman wastes no time in successfully arguing that point; the cameras glide through treetops and scale mountains and coast across sand dunes covering hundreds of miles of terrain, and the images are somehow both wonderfully familiar and like nothing you've seen before. Sparing us the genre's frequently moralizing tone and stiffly "spontaneous" interactions -- I don't recall even one human making an appearance here -- Flatman's educational documentary focuses almost exclusively on the stunning, evocative beauty of the landscape, with special attention paid to Australia's animal inhabitants, who provide no end of on-screen enjoyment. (There's a great, tense desert battle between an enormous parenti lizard and a venomous king brown snake, and just try to avoid grinning whenever those adorable koala bears dominate the screen.) Australia: Land Beyond Time is a gorgeous, wholly engaging piece of work -- a "QC's Choice" vote well-cast, Putnam audiences! -- and one filled with fascinatingly informative tidbits, such as the news that "the availability of food prompts the kangaroo to reproduce." Amazing. In our culture, it's booze.