CLICK
A quick scan of Adam Sandler's screen credits reveals that - if you include his cameos in pal Rob Schneider's comedies - Click is the 13th Sandler film I've reviewed over the past decade-plus, and of this baker's dozen, it's easily my favorite. Mind you, I still didn't like it much. Yet despite Click's predictable story arc and the inability of its star to shake off the Sandler Movie staples that generally make his films so wretched, it isn't bad. With its script by Steve Coren and Mark O'Keefe, Click has more than a few moments of true invention, and director Frank Coraci provides some unexpectedly clever visuals. And, best of all, it has Christopher Walken.
Designed as It's a Wonderful Life for the TiVo generation, Click stars Sandler as a harried husband and father who finds himself the possessor of a magical universal remote that allows him to fast-forward, rewind, and pause his life at will, enabling this selfish suburbanite to weasel his way out of business meetings, arguments, and back rubs at will. (The film's screenwriters collaborated on 2003's Bruce Almighty - here, the remote is cast in the Jim Carrey role.) Good things happen, then bad things happen, then Sandler learns Life Lessons and Becomes a Better Person. The End.
You may think you know exactly what you're going to get from Click, and for most of the film's length - especially if you're familiar with Sandler's odious oeuvre - you won't be wrong. Yet you still might not be prepared for how spectacularly funny Christopher Walken is here. Playing the mysterious Bed Bath & Beyond employee who entrusts Sandler with the omnipotent gizmo - he works in the "Beyond" section of the store - Walken, at first, appears to be doing a demented take on Christopher Lloyd's already demented mad scientist in Back to the Future. But it quickly becomes clear that Walken isn't spoofing Lloyd; he's spoofing Walken.
Most people I know can do (or think they can do) a pretty good approximation of the actor's legendarily nutjob readings, with his unpredictable pauses and tendency to pop a word - the wrong word - into his higher register, so that he somehow sounds exasperated, insane, and completely logical all at the same time. (By now, Walken's readings are so wonderfully familiar that I can type out one of his lines from Click - "That junk food is gonna kill you." - and I bet that every single one of you can hear him saying it.) But no one parodies Walken like Walken. He appears to realize that he's being used solely for his built-in comic eccentricity here - Walken's dialogue, like that of the others, isn't very amusing on its own - yet the actor never treats Click like hack work. His buoyant grin indicates that Walken is having amazing fun, and while I smiled at nearly everything he did in Click, he's so gloriously Walken in this movie that, on a couple of occasions, I even did something I don't recall ever doing at a previous Sandler film - I laughed out loud. (For my money, Walken hasn't been this entertaining since rambling on about the Tooth Fairy and his Oompa-Loompas in The Rundown.)
Amazingly, a bunch of other performers in Click seem nearly as inspired. Kate Beckinsale - who has been treated horrifically in most of her Hollywood films - is radiant and focused as Sandler's spouse; Sean Astin - a Sandler co-star in 50 First Dates - again proves himself a wonderful sport; Jake Hoffman brings something touching and real to his role as Sandler's adult son; Nick Swardson provides a terrific cameo as a goofy Bed Bath & Beyond employee; and Henry Winkler and Julie Kavner are more than welcome as the star's sweetly needling parents (even though, during one '70s flashback, they're hindered by prosthetics - or maybe just a trick of the camera - that make them resemble the Wayans brothers in White Chicks).
With all of this going for it, what kept me from liking Click more than I did? Sandler. Or rather, the Sandler formula, which dictates that the film's gags - including the requisite, "funny" swats against women, gays, and the obese - remain sub-juvenile, that the inevitable, maudlin sentimentality makes you long for more asinine jokes, and that the relentless product placement actually makes Jennifer Coolidge's supporting role less substantial than the parts given to Wendy's, Twinkies, and Yodels.
And is there no one in Sandler's camp ballsy enough to tell the star that his mumbling, hostile, stunted-adolescent shtick isn't appropriate for every character he plays? Click's plot only works if Sandler gives the impression of having been an adult for far too long; here, as usual, he doesn't seem to have been introduced to the concept of adulthood. (Sandler's middle-aged family man winds up fast-forwarding through life, but he seems to have fast-forwarded through ages 10 through 40 before Click even starts.)
Still, as Sandler flicks go, Click is one of the better ones. Hell, it's the best one. The plot features some sensational curlicues - the remote's ability to "learn as it goes" provides a lot of fresh, original touches - and that supporting cast (David Hasselhoff - oy - excepted) could hardly be bettered. Plus, unless I missed it, Rob Schneider does not make a token appearance here. Trading Schneider for Walken. There may be hope for Sandler movies yet.
WAIST DEEP
In Waist Deep, Tyrese Gibson plays a security guard who spends 100 execrable minutes attempting to get his son back from the carjackers who've abducted him, and Vondie Curtis-Hall's movie is hateful, witless, and deeply offensive from minute one; Waist Deep's defining moment comes when Gibson beats the crap out of a guy for slapping a woman, and we're supposed to ignore the fact that, just two minutes beforehand, Gibson himself violently threatened the same woman with a gun to the face. (During the day-and-a-half search for his child, Gibson also takes a brief break from his anger and grief to have sex with her. Our hero, ladies and gentlemen!) With Gibson glowering and preening, the movie is like Guns & Ammo - The Playgirl Edition; switch the words in the film's actual title around, and you'll have an idea of what Waist Deep actually is.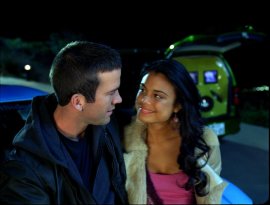 THE FAST & THE FURIOUS: TOKYO DRIFT
Some bad movies, such as Waist Deep, are barely worth the print space devoted to them. Some entertaining ones really aren't, either. Take The Fast & the Furious: Tokyo Drift. The movie, as stupid as it is, is joyously inconsequential. Director Justin Lin knows that no one's here for anything but the cars - even though it features fine performances by Sung Kang, Brian Tee, and Bow Wow, and lead Lucas Black is as charming an adult as he was as the Sling Blade kid - and so he gives us cars. A lot of cars. Moving really fast. The movie opens with a spectacular chase, closes with a spectacular chase, and there may be another spectacular chase in there somewhere, but details of the movie left my brain almost as soon as they entered it. Just as, I'm guessing, the filmmakers hoped. Mission accomplished.