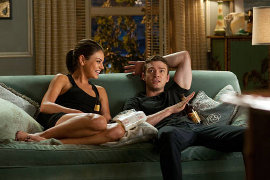 FRIENDS WITH BENEFITS
Modern romantic comedies are in such generally dismal shape that I feel ungrateful for wishing that Friends with Benefits were better than it actually is. But while it's impossible to fully dislike any movie that finds a nitwit shrieking "John Mayer is our generation's Sheryl Crow!" or features a couple making a solemn vow on the Bible app of the woman's iPad, I left director Will Gluck's latest thinking that the film had just missed its mark. And that, after two frequently hysterical features in a row (2009's Fired Up!, Gluck's directorial debut, and last year's Easy A), its helmer had just missed his trifecta. Damn it.
For about an hour, this tale of besties who attempt a sexual relationship without emotional attachment is knowing and funny, with Justin Timberlake and Mila Kunis swatting their genially raunchy dialogue about with such quick-witted ease and skill that their scenes almost appear to be filmed in fast-forward. (Timberlake is also given a scene that demonstrates his slapstick-clown gifts, when his character excuses himself mid-coitus for a bathroom break.) Yet considering that its leads are established as ironically cognizant of rom-com clichés - prior to their first hook-up, the pair watches a hilariously treacly Jason Segel/Rashida Jones vehicle called Love You, Love New York - damned if Friends with Benefits doesn't wind up embracing every hoary genre device it initially dissed.
With 45-ish minutes to go, all the initial sharpness in Gluck's outing starts going soft; the romantic anguish lands exactly on cue, the indie-pop acoustic numbers begin piling up, and the mildly maudlin detours become exceedingly maudlin. (It's always great to see him, but you know exactly what's in store when Richard Jenkins shows up as Timberlake's father, an Alzheimer's sufferer who, we're told, "is lost more often than he's not, but then has moments of real clarity." Those clear moments, it should go without saying, tend to arrive at exceptionally convenient times.) And for a movie that pokes such deserved fun at unimaginative, unconvincing tripe of the Katherine Heigl school - with Heigl herself (or rather, a poster of Heigl's The Ugly Truth) on the receiving end of an incensed Kunis rant - the screenplay by Gluck, Keith Merryman, and David A. Newman sure does take advantage of its rom-com trappings. Would you believe that the inevitable Major Crisis between our leading couple is the result of - wait for it - Kunis accidentally overhearing a conversation she wasn't meant to?
Thankfully, there are welcome contributions by Patricia Clarkson, Bryan Greenberg, Jenna Elfman, Modern Family scene-stealer Nolan Gould, and (for a too-brief cameo) Emma Stone to keep you amused even in the less inspired passages. Plus, while their plotting is perfunctory at best, at least the movie's trio of screenwriters comes up with an impressive amount of enjoyably snappy banter; I especially appreciated Timberlake's underlining of how he's fine if left alone ("I'm not a baby in a hot car"). Yet while there are random highs here, it becomes more and more evident that Friends with Benefits isn't nearly the movie it could've been. Beyond the formulaic script, the lighting is consistently atrocious, and the visuals' performance equivalent is found in Woody Harrelson's really unamusing gay caricature, and eventually it all collapses in a squishy display of flash-mobbing blandness. Love you, Timberlake and Kunis, and love your New York locales; I just don't love your movie.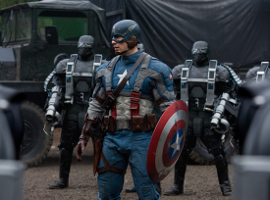 CAPTAIN AMERICA: THE FIRST AVENGER
In director Joe Johnston's Captain America: The First Avenger, there's a montage in which our titular World War II hero is seen performing on a USO tour, playing emcee to a troupe of dancing girls and making patriotic declarations before throngs of adoring fans. Stammering through his introductions, it's initially apparent just how badly Chris Evans' genetically enhanced Steve Rogers - whose recent acts of costumed derring-do have made him a national treasure - is embarrassed by the gig. But as the days pass and the tour rolls on, Rogers' repartee grows more polished and his aw-shucks demeanor grows more confident, and eventually, this gung-ho traveling show culminates with a gloriously gaudy performance spectacle at Radio City Music Hall. At that point, it's clear that Captain America is assuredly on top of the world ... until the tour takes him overseas, where his red, white, and blue braggadocio does not endear him to the soldiers actually doing the fighting, and he's forced to use his titanium shield against an onslaught of thrown tomatoes.
I mention this sequence because it's fantastically spirited, clever, and surprising - everything that most of this Marvel Comics adaptation isn't. A two-hour blast of superhero mediocrity, Captain America is nothing if not earnest, and at the screening I attended, the audience happily gobbled up the nationalism and cornball jokes and chaste romantic longing between Evans and the lovely Hayley Atwell. I, however, spent most of my time just trying to stay awake. After this summer of Thor, X-Men: First Class, and Green Lantern, is anyone else less tired than positively benumbed by the origin-of-a-gaudily-costumed-warrior storyline?
In truth, though, I doubt I'd have much cared for Captain America in any other summer, either. Excepting those wonderful moments of lightly abashed narcissism in the USO segment, Evans proves all too successful at playing this taciturn, square-jawed, exhaustingly sincere icon; thanks to the inventive effects, he's more likable in his early, 98-pound-weakling scenes, but even then Evans' low-pitched hero voice is devoid of mystery or power. And while the comic-book plot is your standard, world-domination gobbledygook, it certainly would have gone down a lot easier with an über-villain more engaging than Hugo Weaving's Red Skull, who, I'm sorry to say, isn't the least bit threatening. (Hugo Weaving in a dark alley would be scary; Hugo Weaving with a crimson cranium, hissing in an exaggerated German dialect, is just silly.) Plodding from one predictable narrative signpost to the next with little in the way of rhythmic diversity or excitement - though with an Alan Silvestri score that's working way too hard - the only truly invigorating moments in Captain America: The First Avenger belong to Tommy Lee Jones, whose brilliant dry-comic readings provide blessed nuance. Jones even manages to steal one scene here by doing little more than devouring a steak, maybe because that ribeye is one of the few elements of the movie with any real flavor.