MINIONS
The previews for the Despicable Me prequel-slash-spin-off Minions made me laugh out loud every single time I saw them ... the first dozen times I saw them. After the second dozen, though, I started to get a little nervous. By then, I had experienced roughly 72 collective minutes of these squat, yellow henchmen with their helium squawks and adorable bulging eyes (or, in some cases, eye), and my initially hearty laughter had been replaced by occasional grins and a smidge of irritation. Granted, I was only seeing three to five minutes of footage over and over, but would directors Kyle Balda's and Pierre Coffin's animated outing wind up feeling the same? Would a solid hour and a half of Minions, and Minions, be too much of a good thing? Answer: Not really. And also: Kind of.
Released from their second-banana ("Ba-na-na-a-a!!!") roles as assistants to Steve Carell's nefarious super-villain Gru, the Minions' origin story begins with their bona fide origin as single-celled organisms routinely devoured by larger, more threatening single-celled organisms - an opening-credits sequence that's the first in a series of wonderfully clever grace notes. As those previews revealed, these creatures then evolve into cooing weirdos with white-suburbia boys' names whose only goal is to serve the most threatening being they can find, be it a T rex, early man, or Dracula, all of whom meet hideous ends via the Minions' well-meaning incompetence. (Another of their masters, not given away in the previews, is Napoleon Bonaparte, and I can't tell if his dismissal proved the funniest because it simply was, or because it was the only one I hadn't been all-too-prepped for.)
Anyway, centuries pass, and with their depressed race on the brink of extinction, three Minions - Kevin, Stuart, and Bob - make their way to 1968 New York, while their fellow hundreds hold down the ice fort in Antarctica. Our immigrant Minions end up extending their travels to Orlando and London, and going gaga for the beautiful master criminal Scarlett Overkill (Sandra Bullock, sounding like she's having a ball). The rest, for a while, become underlings to a quartet of yeti, and eventually trek to Australia, India, and whichever studio was used to fake the moon landing (a grace note that isn't clever so much as genius). And what's left of Minions' narrative are jokes. Visual jokes. Verbal, or verbal-nonsense, jokes. Thematic jokes. Song-and-dance jokes. (In my Despicable Me 2 review, I asked for the franchise's next installment to be a Minions musical, and - given their garbled crooning of "Make 'Em Laugh," "Hair," and the Monkees' theme song - I practically got my wish.) Your enjoyment of Minions, then, is pretty much dependent on what percentage of those jokes work for you. For me, 60 percent seems about right.
Storyline necessities or not, I could've done without the pandering, suspiciously well-timed trip to Villain-Con, and the action-heavy finale that turned Kevin into a Minion version of the Stay-Puft Marshmallow Man, and the detour involving the station-wagon-filled family of psychopaths. (Allison Janney and Michael Keaton vocalize Mom and Pop Psycho, and their manically disconnected readings suggest, unfortunately, that the actors were never in the same room during the recording process.) And yes, when all is said and done, the Minions' babbling, fumbling shtick does grow overly repetitive and even somewhat dull without the interruptions of Gru and the like. You can smile at the good-natured silliness throughout and still find your mind wandering to questions such as "Is there a reason that most of the Minions' 'gibberish' is actually Spanish?" And "Was Jon Hamm's performance recorded right before his throat surgery?" (In his role as Scarlett's hippie hubby, Hamm's voice has that painfully reedy quality it did before the 2013 polyp removal, when we were worried that Don Draper's incessant smoking had given his portrayer cancer.)
Yet 60 percent, if just barely, is a passing grade. The period gags (especially the brief, brilliant satire of The Dating Game and the Minions' near-run-in with the Abbey Road Beatles) are dynamite, as is the soundtrack's collection of late-'60s pop tunes. The plot mechanics that lead to Bob being crowned the King of England must be seen to be believed, with Jennifer Saunders delivering deliriously haughty readings as Queen Elizabeth II. And all of the scenes with the Antarctic Minions are a hoot, primarily because, unlike the sequences involving our heroic trio, they give you so much to look at. Minions may, indeed, be too much of a good thing. But the thing itself is good, and for a spin-off, the movie gives you a lot to enjoy without making you second-guess what you enjoyed in the first place. To put it in TV-sitcom terms, it isn't Frasier, and it isn't Joey. It's more like Benson.
THE GALLOWS
Certainly the first horror movie geared specifically toward presently or formerly picked-on theatre geeks (making me the film's ideal audience), The Gallows might've been fun if so much of it - like, all but the last five minutes of it - weren't so resoundingly terrible. At the film's start, we learn that a Nebraska high school's production of a Crucible-esque drama led to the accidental, on-stage hanging of its leading man. Twenty years later, the school is staging a remount of the play ('cause that would ever happen). But the deceased kid's ghost clearly isn't happy about it, which we glean after a trio of students - one of them the production's new male lead - show up one night to trash the set, and wind up marauded by telekinetic mischief, nightmarish visions, and deafening booms. Consequently, for most of its length, writers/directors Travis Cluff's and Chris Lofing's offering is a protracted Revenge of the Unseen Nerd scare flick, and it could have been a great cheesy time had the filmmakers wholly ditched the movie's lazy, unimaginative, annoying "found footage" format. Or if The Gallows didn't employ that contrived device - repeated endlessly since the first Paranormal Activity - of having moments of supernatural quiet accompanied by rising baritone wails signaling, "Oooo ... something scary is gonna happen ... !" Or if the acting weren't so staggeringly inept. Long before that vengeful spirit caught up to him, I was praying for the death of the forced, unduly loud Kyle Shoos's Kyle, and would've been thrilled to see Reese Mishler's Reese and Cassidy Gifford's Cassidy next in line. (Yup, The Gallows' principal characters are all named after the actors playing them. Was this because these young hotties proved too dense to respond to any other names, like Homer Simpson, in the "Cape Feare" episode, staring blankly when he's called "Mr. Thompson"?)
Yet with only minutes to go in this boorish, boring effort that provides no genuine suspense or terror - with the repeated cries of "Reese!" so frequent that I may have now heard his name spoken aloud more times than I've heard my own - the damnedest thing happens: The Gallows gets good. Really good. It's almost axiomatic that modern horror movies, even the really effective ones, leave you disappointed with their finales. Cluff's and Lofing's is the first one in ages that made me scoot forward, rather than slouch back, in my theater seat as the end approached, with all of the previous silliness finally inching toward a raison d'être: The Gallows, it turns out, is all about a pissed-off thespian doing everything in his power to force crap actors into honest performances. (And Mishler and Pfeifer Brown, as events wrap up, deliver legitimately honest work.) While I loathed most of the film, I grinned and giggled at its ballsy narrative climax and evocatively creepy denouement, and even noticed another impressive accomplishment that Cluff and Lofing pull off, as this is quite possibly the first R-rated fright flick with largely improvised dialogue in which no one, ever, utters the "F" word. Granted, in frustration, I muttered it myself several times during the screening, but a feat is a feat.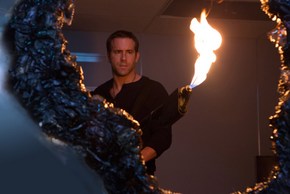 SELF/LESS
In the 2011 comedy The Change-Up, Ryan Reynolds plays a man whose soul is taken over by Jason Bateman. In the new thriller Self/less, Ryan Reynolds plays a man whose soul is taken over by Ben Kingsley. Why does Reynolds keep getting cast in these roles? Is it because he still doesn't suggest a soul of his own? Lord knows the actor is put through his paces in director Tarsem Singh's atypically generic effort, a vaguely sci-fi, sense/less endeavor that finds Kingsley's dying capitalist billionaire continuing life in Reynolds' gym-built frame, and slowly realizing that the means used to secure that frame weren't altogether moral. (Under what circumstances would they be?) Reynolds consequently does a lot of running, shooting, sweating, and chasing and/or being chased while trying to uncover the truth behind the potentially malevolent body switch, and the idea that it's really Ben Kinglsey performing all of Reynolds' he-man heroics is about the only true amusement offered. But the star of Self/less - the title of which, on two occasions now, I've relayed to friends as Stop/Loss - doesn't for an instant give the impression that it's actually Kingsley running his brain. Instead, he's every generic, "relatable" stud that Reynolds seemingly always plays, and our lack of interest in him is only compounded by there being nothing else of interest to focus on, given the routine action set pieces and stock montages and absentminded waste of fine supporting performers including Matthew Goode, Natalie Martinez, Victor Garber, Derek Luke, and Melora Hardin. (For no necessary reason, Downton Abbey's Michelle Dockery also shows up, American-ized like Kingsley and vacantly pissy.) And talk about a low-stakes narrative: From the start, we're told that if Kinglsey/Reynolds doesn't keep taking a special red pill once a day, the Kingsley part will forever vanish, and he'll just be Reynolds - the heroic war vet with the loving wife and daughter, spacious Missouri farmstead, Jason Bourne agility, and washboard abs. Um ... this is the worst-case scenario?!