50/50
Director Jonathan Levine's 50/50 casts Joseph Gordon-Levitt as a young man afflicted with a rare form of spinal cancer, and Seth Rogen as his loud, loutish, perpetually stoned best friend. Consequently, I expected the film's title and my chances of actually enjoying the movie to be one and the same. It's always great seeing Gordon-Levitt onscreen, but is there anyone left who isn't longing for a break from Rogen's braying, one-note shtick, even if, as he is here, the man isn't just presumably but damn near literally playing himself? (50/50's script is loosely autobiographical, and Rogen and author Will Reiser are real-life pals and frequent writing partners.)
In a wonderful surprise, though - and despite Rogen, for understandable reason, giving exactly the performance you'd expect from him - I found Levine's and Reiser's dramatic comedy to be mostly outstanding; rather than 50/50, I'd say my like-it to dislike-it ratio was closer to 90/10.
However close to real life they may be, the scenes between Gordon-Levitt's Adam and Rogen's Kyle - with the latter continually advocating a mood-lightening diet of sex and weed - don't quite work, mostly because you have no idea what connection this comedic odd couple may have shared even before Adam's cancer diagnosis. (They seem to be buddies merely because the law of Hollywood comedies dictates that every upstanding leading man have a raunchy, chubby, slacker sidekick.) In many ways, 50/50 really needs Rogen's brashness and grossness, but the relentless (over-)actor doesn't possess the subtlety to suggest there's anything to Kyle beneath his playfully vulgar surface, and you begin to think that with a support system like this, it's no wonder Adam's so depressed.
Yet Rogen's contributions here, however detrimental, are in no way destructive, especially with Reiser shrewdly giving him a lion's share of the film's choicest lines. (Attempting to score with a pair of potential hook-ups, Kyle tweaks every maudlin, disease-of-the-week TV movie you've ever seen by responding to one of Adam's jokes with, "Look at that! He's still got his sense of humor! He's inspirational!") And in Gordon-Levitt's thoughtful, haunted, beautifully selfless portrayal, 50/50 boasts considerable, unforced emotional pull. Appearing to enact each of Elisabeth Kübler-Ross's five stages of grief in nearly every reading and reaction shot, the performer is marvelously empathetic and ironically funny without straining for his effects, and his low-key excellence is matched by Levine's supremely controlled handling of pacing and mood.
He also proves expert with the rest of 50/50's cast, actors who (like Rogen) could have seemed utterly one-dimensional here yet (unlike Rogen) don't. Playing Adam's shrewish girlfriend, Bryce Dallas Howard brings a crisp, comic jolt to her scenes of meanness and self-centeredness; as in The Help, this typically bland performer makes for an enticingly entertaining bitch-on-wheels. Anjelica Huston invests her fretful mother with exquisite real pain, also displayed in the brief, memorable portrayals of the great Philip Baker Hall and Matt Frewer as fellow cancer patients. And in the role of Adam's psychologist-in-training, Anna Kendrick is an absolute marvel, her comic timing so astute and her eccentric adorableness so genuine that she singlehandedly brightens every scene she's in. Watching Kendrick in the impressive, gracefully executed 50/50, you imagine that weekly meetings with this kind, lovely, joyously human young woman would almost be worth getting sick for. Almost.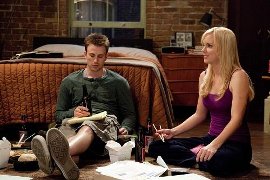 WHAT'S YOUR NUMBER?
In the romantic comedy What's Your Number?, Anna Faris stars as a woman who panics after realizing that she's somehow still single despite (or maybe because of) sleeping with 19 different partners. What Faris should actually be panicking about is whether she can continue her career after roles in 19 cruddy movies. That's an overstatement, of course, and doesn't include her appearances in such legitimately wonderful films as Lost in Translation and Brokeback Mountain. But if it wasn't for Faris' comic aplomb and game spirit, would this appealing actress still be cast-able with a résumé listing Take Me Home Tonight, Mama's Boy, and Yogi Bear? I'm happy to say that What's Your Number?, at least, is nowhere near those levels of debacle. Faris has a snappy, relaxed rapport with inevitable love interest Chris Evans, some of her readings - especially when trying on a series of mock-European accents - are agreeably goofy, and every few minutes, a gifted second banana shows up to give the movie a quick burst of personality. (Among the welcome guests are Blythe Danner, Ari Graynor, Zachary Quinto, Martin Freeman, Anthony Mackie, Thomas Lennon, Dave Annable, and the ever-awesome Chris Pratt, Faris' real-life hubby.) You could even say that director Mark Mylod's rom-com is an above-average entry in its genre ... which might actually mean something if that weren't such ridiculously faint praise. Obvious and predictable and shallow and generically crude, What's Your Number? is just a slightly better version of a film you've seen or successfully avoided plenty of times before, and it's really only worth watching if, like me, you still really enjoy Anna Faris on-screen, despite career choices that continually provide reasons why you really, really shouldn't.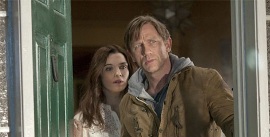 DREAM HOUSE
Discovering that the new Dream House hadn't been screened for critics prior to its release - this despite Oscar-nominated director Jim Sheridan at the helm and actors Daniel Craig, Rachel Weisz, and Naomi Watts headlining - I initially presumed that the movie was a serious dog. And having seen the film, it sort of is. But it turns out that the studio's refusal to give reviewers an advance look probably had less to do with Dream House's quality than its wholly misleading marketing: If you had known that this work that has been roundly promoted as a chilling haunted-house movie was actually a mundane (and, in the end, rather laughable) psychological drama, would you buy a ticket? A contrived "what's real and what's not?" rabbit hole that finds too many strong actors, among them Elias Koteas and Jane Alexander, uttering too many embarrassingly portentous lines, Sheridan's latest is a nicely photographed but dispiriting exercise in which an anguished Craig vacillates between his real and fantasy worlds, neither of which proves to be remotely interesting. In general, the cast members maintain their dignity (though the same can't be said for screenwriter David Loucka), but the whole of Dream House is so tonally confused and exasperatingly silly that, in the end, it'll likely only be remembered as that career choice that eventually led to Craig's and Weisz's marriage. So, unless you're Darren Aronofsky, at least some good came out of it.
DOLPHIN TALE
As I could barely remember anything about the movie an hour after seeing it, I was surprised to learn that the inspirational family flick Dolphin Tale earned a rare A-plus grade from audiences surveyed by the market-research firm CinemaScore. Then I took note of the two other 2011 films that received this highest of ratings - The Help and Soul Surfer - and was no longer surprised. Like those works, this true-life saga about a boy (the charming Nathan Gamble) and a tailless dolphin who learns to swim again is practically impossible to fully dislike, because you know that it's giving its target demographic exactly what it wants: a lightly touching, uncomplicated, affirmative message movie about perseverance in the face of seemingly hopeless odds. It's also, for me, an almost impossible film to embrace, because the hokey sentimentality, awkward slapstick (beware the pelican named Rufus), and eye-rollingly cornball dialogue kept pulling me out of the experience. (I think I finally reached my breaking point when our heroic tyke made an impromptu speech calling his damaged sea mammal "the most amazing friend I've ever known.") Still, readily accepting that Dolphin Tale is simply one of those releases that's just Not Meant for Me, I do thank director Charles Martin Smith - American Graffiti's Terry! - for making the sit a relatively painless one. His assembled cast, which includes Harry Connick Jr., Ashley Judd, Morgan Freeman, and Frances Sternhagen, lends more conviction and warmth to their roles than they surely needed to, and Smith should be applauded, in particular, for his inclusion of the documentary footage at the film's climax, which successfully condenses the 100 minutes that preceded it into a tidy two. It may have taken an awfully long time to get to a scene that was terrifically, and honestly, moving, but it was kind of worth the wait.
Follow Mike on Twitter at Twitter.com/MikeSchulzNow.