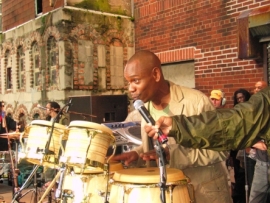 DAVE CHAPPELLE'S BLOCK PARTY
Dave Chappelle's Block Party is teeming with something that has been sorely absent from 2006's movie crop: joy. In the late summer of 2004, Chappelle, fresh from signing his now-legendary - and currently defunct - $50-million contract with Comedy Central, spontaneously decided to throw a block-wide bash, and recruited a batch of rap and R&B performers (including Mos Def, Erykah Badu, Kanye West, Jill Scott, and Lauryn Hill and the reunited Fugees) to perform a day-long gig in Brooklyn; the resulting concert doc features highlights from the concert interspersed with scenes of Chappelle kicking back with the stars and the block-party attendees, and the movie, directed by Michel Gondry, is a giddy, oftentimes exhilarating spectacle. It's hard to determine who's having more fun - the musicians, whose on-stage performances are heartfelt and vital; the Brooklyn masses, whose enjoyment of the show is palpable; or the movie's audience.
The answer, it seems, is None of the Above - it's Dave Chappelle. Although no big deal is made of the comedian's altruistic accomplishment here, the footage we're privy to suggests that Chappelle is ecstatic to have the means and cachet to pull this party off; in the film, he calls his sponsorship of this performance "the best thing I've ever done," and his sincerity - and the mystified delight at what his little "block party" becomes - appear genuine. (Talk about paying it forward.) The movie shows a great performer putting his money where his mouth is, and being humbled by the results; it's awash in generosity of spirit, and that spirit is infectious.
With its frequent cuts between the September 18 stage performance and sequences, shot earlier, of Chappelle handing out "golden tickets" to the show to fans, Dave Chappelle's Block Party doesn't quite get a rhythm going; we rarely see an artist perform an entire number straight through, so the concert scenes don't quite have the drive they should. But the movie has so many high points - the bone-chilling wail of Jill Scott, the ebullience of Ohio's Central State College Marching Band, invited to perform last-minute, Chappelle's hysterical usurping of James Brown's "Hit me!" which he turns into a priceless comedy routine - that its jerky tempo almost becomes part of the film's charm; Block Party is sprawling, messy, and, three days later, the thought of it still puts a smile on my face.
TYLER PERRY'S MADEA'S FAMILY REUNION
I weep for anyone who goes to Tyler Perry's Madea's Family Reunion expecting what its trailers suggest - a ribald, Big Momma's House-esque comedy featuring writer/director Tyler Perry as a sassy, elderly matriarch who dispenses home-spun homilies and withering sarcasm in equal measure. They'll get that - although not as frequently as they may think - but what are they to make of the rest of the film? What are any of us? The beating of women is frowned upon, but the beating of children is comedy fodder. Christian faith is espoused, but violent retribution is cheered. Maya Angelou makes pronouncements about dignity and respecting oneself, and the camera salivates over the asses of its (voiceless) female extras. Cicely Tyson delivers declarations on the preservation of black heritage, while Perry populates his script with every hoary character cliché in the book. And I haven't even mentioned the unbelievably lurid melodrama of its all; when Lisa Arrindell Anderson goes off on a lengthy, teary monologue about how mom Lynn Whitfield allowed her husband to rape the girl as a pre-teen - and we're eventually asked to find Whitfield's actions not only forgivable but understandable - you may feel you've completely lost your senses. (Not since Tennessee Williams' Suddenly, Last Summer has a movie climaxed with such an emotional howler.) Madea's Family Reunion is beyond schizophrenic; it seems stark-raving mad.
16 BLOCKS
And the exhuming of the '80s dinosaurs continues. Mere weeks after Harrison Ford lent his sour puss to Firewall, the first words we hear in Richard Donner's cop drama 16 Blocks come from a world-weary Bruce Willis, saying, in growly voice-over, "This is Detective Jack Mosley ... ," and you think: Of course he's playing Detective Jack Mosley. That's who Bruce Willis always plays. (Hollywood detectives are named either Jack or Frank; in this movie, David Morse plays the detective named Frank.) 16 Blocks is slightly more enjoyable than a first impression suggests - Mos Def, doing a Ratso Rizzo impersonation, has some likable comic bits - and the film's ticking-clock setup is moderately clever, but it's a mostly grim, dutiful, uninspired thriller, a throwback to the days when grim, dutiful, uninspired thrillers - many of them starring Bruce Willis - were all we got.
RUNNING SCARED
Even during its action set pieces, 16 Blocks feels exhausted. Wayne Kramer's Running Scared suffers from the opposite problem but exacts a similar effect - this movie is so amped-up and hyperactive that you tire of it long before it ends (which doesn't happen for more than two hours). It would be hard to argue, though, that the film isn't occasionally enjoyable in its deviance; if you have the constitution to stand bullet-ridden viscera at close range, hockey pucks being violently thwacked into our hero's teeth, and a bizarre, truly disturbing subplot involving a pair of borderline comical child molesters, this may be the movie for you. Paul Walker is more lively than he's been since ... well, ever, but the film is stolen by Vera Farmiga as his sensible, tough-minded wife, and by the ever-deadpan Cameron Bright (Nicole Kidman's pre-teen paramour in Birth), who, at one point, is described by Farmiga as, "10 years old, pale ... he never smiles." That's both succinct and really funny, qualities that Running Scared, despite its occasionally entertaining bursts of over-the-top decadence, could have used more of.
THE WORLD'S FASTEST INDIAN
Roger Donaldson's The World's Fastest Indian is like David Lynch's The Straight Story with a quicker means of transport. An aging New Zealander (Anthony Hopkins) travels to America to race his 1920 Indian Twin Scout motorcycle at the Bonneville Salt Flats; along the way, he encounters a series of American archetypes who cheer him on his mission, while the eccentric codger imparts to them wisdom and hard-won life lessons. The film doesn't have the comic stylization of Lynch's film, but in its lazier, more audience-pandering way, The World's Fastest Indian still works - it's aimless but pleasant - and Hopkins plays his role simply and truthfully; you can find yourself moved without necessarily feeling like a sap.
DOOGAL
I had heard that Jon Stewart was so embarrassed by his participation in the computer-animated family frolic Doogal that, on a recent episode of The Daily Show, he couldn't even describe the movie without collapsing into gales of self-loathing laughter. Figuring that this was the sort of bad movie I couldn't afford to miss, I went to see it. I now understand Stewart's reaction; after 80 minutes of the senseless, unfunny, and staggeringly incoherent Doogal, I loathe myself for being there.