SNATCH
First, the bad news: Guy Ritchie's latest crime thriller, Snatch, is nearly a carbon copy of his sizzling 1998 debut film, Lock, Stock, and Two Smoking Barrels. The good news: Who cares? Those who like their thrills fast, bloody, twisty, and awfully funny will be in B-movie paradise here; we're only three weeks into January, and we already have a movie that's more enjoyable than 90 percent of what was released last year.
Again, Ritchie presents us with a labyrinthine plot - this one details plans for a diamond heist, interconnected with a series of fixed boxing matches and the pissed-off bookie behind them - and a set of killers, stooges, and thieves, in which one character is a bigger scumbag than the next. And again, Ritchie plays maniacal, dizzying tricks with his camera and his editing, in an MTV-on-amphetamines style that could be dismissed as show-offy if it weren't so damned impressive.
Initially, you wonder if Ritchie will be able to pull off what he's attempting with Snatch, loaded as it is with about a half-dozen plotlines and twice as many major characters, but this phenomenally talented writer-director knows the layout of the Tarantino-esque landscape and plays it to the hilt. He makes his reprobates both physically and verbally unique and has a great flair for plot twists; I love a writer-director who has no qualms about killing off a major character - and a major character actor - halfway through his movie.
Among a terrific cast that includes Benicio Del Toro, Dennis Farina, Vinnie Jones, and Rade Serbedzija, the biggest winners are Jason Statham as our narrator Turkish, the most reasonable of the film's many bad guys; Alan Ford as the boxing promoter Brick Top, the most comically terrifying; and Brad Pitt as a bare-knuckle boxer whose impenetrable Irish brogue provides the biggest laughs in the movie.
Make no mistake: There's nothing deep about the film, and it's certainly not trying to be anything but an enjoyable time-waster. But for sheer throwaway entertainment it's better than just about anything else in current release, a vicious, nasty, and supremely confident good-time-with-the-bad-guys flick.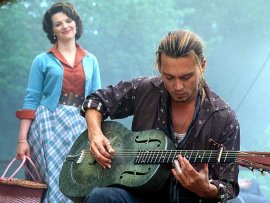 CHOCOLAT
Also worthwhile for sheer, mindless cineplex fun is Lasse Hallstrom's Chocolat, although Miramax's recent Oscar-baiting publicity might lead you into thinking the movie is good for you. But it's just like the candy treat of its title: smooth, tasty, and containing absolutely nothing of nutritional value. (That's what I liked about it.)
Set in the 1950s, it stars Juliette Binoche as Vianne, who, along with her young daughter (Victoire Thivisol), enters a strict, church-going European community under the leadership of the sanctimonious Comte de Reymand (Alfred Molina). Vianne opens a chocolate shop (at the beginning of Lent, heaven forbid!) and beams in satisfaction as the repressed members of the township, one by one, lose their inhibitions and begin to discover the joy in laughing, dancing, and wearing colors besides brown and gray.
The folks at Miramax's publicity department, God love 'em, would like you to believe that underneath this sweet, gentle fable is a tough-minded look at the evils of bigotry and the need for tolerance, but come on: It's just a lightweight, predictable, and utterly charming excuse to look at pretty scenery, drool over Vianne's chocolate confections, and watch as a whole slew of marvelous character actors bite into some hammy roles.
The radiant Juliette Binoche has never seemed this relaxed and assured; she's more of an emcee than a character here, but you'd still be completely happy watching her do much less. The great Judi Dench comes through with some astounding line readings as Vianne's grumpy landlady; Lena Olin strikes amazing notes of delicate madness as an abused housefrau; Johnny Depp is pitch-perfect as an Irish gypsy with eyes for Vianne (between him and Brad Pitt, it's a good week for Hollywood pretty boys scoring as Irish lads); Carrie-Anne Moss, so forced in The Matrix, has a tremulousness that's very affecting; and wonderful work is also contributed by the likes of John Wood, Hugh O'Conor, and Peter Stormare. (Molina is a rather predictably cast as the town heavy, but he gives it a fine effort.)
Director Hallstrom's lightness of touch was offensive in last year's The Cider House Rules - though not to Oscar voters - but it's exactly what's called for here, as he gives Chocolat a fairy-tale ambiance that's entrancing, and while screenwriter Robert Nelson Jacobs' contribution is rather pedestrian (he's working from a novel by Joanne Harris), the obviousness of the script doesn't seriously deter from your enjoyment of the work as a whole. Don't let the foreignness of the locale and title fool you: Compared with witless, stupefying works like Miss Congeniality, What Women Want, and The Family Man, this is what lighthearted Hollywood fare should be.
SAVE THE LAST DANCE
Somewhere in the vacuity of Save the Last Dance is a tougher movie trying to get out, and it's fascinating, in a car-accident kind of way, to watch as the movie keeps reigning in its darker impulses for a feel-good, Dirty Dancing on the South Side atmosphere.
As most every teenage girl in America can tell you, the movie is about a young dancer (Julia Stiles) whose dreams of attending an Ivy League school to become a professional ballerina are shattered when her mother dies and she's left with her jazzman dad (Terry Kinney) in his Chicago apartment; the only things getting her through are a few friendships she makes at her African-American-dominated school and a potential romance with her best friend's brother (Sean Patrick Thomas). Save the Last Dance asks if she can sustain an interracial relationship while pursuing her dancing dreams - it's Romeo & Juilliard.
Bubbling under this trite setup are a series of Issues beyond racial ones: absentee parents, unwed mothers, drug addictions, drive-by shootings, and of course, the importance of Following Your Dream at Any Cost. But each of these is handled so ineptly by director Thomas Carter and screenwriter Duane Adler that the movie starts to seem rather schizophrenic; it's a series of after-school specials chopped up and pasted together in a very messy way, and the actors - some of whom are quite fine - become nothing more than pawns in the film's schematic design.
The movie is hardly worth discussing, but the fact that it's a smash hit with the under-20 set is a little troubling; it used to be that goofy dance flicks for teens at least had some enjoyable dancing in them, but there's so little dance on display here that it appears youths are lining up for it for its messages, in all their over-simplified glory. That might or might not be a good thing, but when presented with the air of condescension of Save the Last Dance, it's still kinda sad.