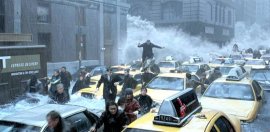 THE DAY AFTER TOMORROW
Despite all the hullabaloo about the film re-opening vociferous debate about global warming and its possible effects, Roland Emmerich's disaster saga The Day After Tomorrow winds up begging exactly one question: Just how much stupidity are mass audiences willing to accept in their summer blockbusters? In any disaster movie, rolling your eyes at the ridiculous onscreen events comes with the territory, but the enjoyable ones temper that reaction with speed and laughs; Emmerich's cheeky, entertaining Independence Day managed the feat of making the end of the world look like an absolute hoot, and that film, within its sci-fi format, is probably the most sheerly pleasurable disaster flick of the past 20 years.
But, despite a few moments of quasi-comic relief, laughs aren't what Tomorrow is aiming for. The movie is trying, God help us, to educate its audience, and so the disaster scenes have a dour, cynical feel, and the moments of Human Drama are so squarely sincere that they result in the audience giggling derisively.
Whether you buy into the film's premise or not - sped-up global warming results in a new ice age for the earth's Northern Hemisphere - I can't see how any audience member could react to Tomorrow's presentation with anything other than bewilderment bordering on astonishment: Is Dennis Quaid's climatologist really able to walk from Washington D.C. to Manhattan in weather that we are repeatedly told will kill within seconds? Couldn't Sela Ward's doctor have been given anything better to do than play nursie to a bald, doe-eyed kid suffering from leukemia? Is the film really so devoid of viable disaster situations that the filmmakers have to throw a pack of escaped timber wolves into the mix? Emmerich treats these asinine scenarios with a seriousness that makes him look quite loopy, and his relentless earnestness kills all traces of comic irony inherent in the script: Surely there's something amusing, in a schadenfreude kind of way, about half of America illegally crossing the Mexican border to look for jobs? Not in Emmerich's vision. Though there are a couple of satisfying disaster sequences sprinkled throughout the movie - the flooding of Manhattan gets your pulse racing a tad - The Day After Tomorrow is a moronic mess; we expect movies of this ilk to be laughable, but laughable mixed with Deadly Serious is a sickly combination.
RAISING HELEN
Why on earth don't Joan Cusack's talents earn her more acclaim? In the inoffensive yet pallid Raising Helen, Cusack gives a definitive portrayal of an uptight adult still feeling the brunt of being the middle child, a woman who has tried so hard to be measured and responsible that she's inadvertently alienated everyone around her. Cusack's character, Jenny, has unconsciously turned herself into the family stick-in-the-mud, and with every gesture, facial expression, and line reading, Cusack lets you feel the pain of Jenny's predicament, but also makes you understand that she accepts that pain with only minimal resentment; if Jenny weren't as grounded and controlling as she is, her family could fall apart, and Jenny knows it. This role could easily be played for dreary, maudlin effects, yet Cusack's genius lies in her ability to make Jenny's anguish comic. When Jenny shrieks at her teenaged niece's randy boyfriend, for instance, the uninhibited vehemence of her outburst is startling, and Cusack throws herself into the tirade with such raw, focused aggression that the scene pays off with huge laughs; this is a woman, as the boyfriend discovers, that you simply don't mess with. Joan Cusack is positively marvelous in Raising Helen, and it's a shame that the only way to see this performance is by sitting through yet another uninspired Kate Hudson vehicle.
Garry Marshall's movie, featuring Hudson as a club-hopping modeling guru who becomes the foster mother to her late sister's three kids, is exactly what you think it'll be - another extended sitcom in which a fabulously hip and happy urbanite eventually appreciates Deeper Values through her relationships with Real (i.e. Poorer) People; Raising Helen is so nakedly designed as a two-hour pilot for ABC's TGIF roster that the cineplex should hand you a remote-control along with your admission ticket. It's all obvious and predictable, with John Corbett stuck in a half-hearted romantic subplot as a Lutheran pastor who falls for Hudson's Helen, and the film features too many cheap lump-in-the-throat moments involving Helen's youngest niece being unable to tie her shoes. (At first, the audience sniffles at the mere sight of this kid's moon face, yet becomes inured to her weeping awfully quickly.) Still, as mediocre Kate Hudson flicks go, Raising Helen is far more engaging than Le Divorce or Alex & Emma, and Hudson tones down the cuddlebug narcissism of her How to Lose a Guy in 10 Days performance. She displays more gravitas here than she has of late, which is refreshing, and although Garry Marshall will probably never be an inventive director, at least he adores actors, casting pros like Helen Mirren, Felicity Huffman, and, as always, Hector Elizondo, and letting them shine. And, as in his Runaway Bride, Marshall has the good sense to give Joan Cusack as much of the spotlight as he can despite the limited nature of her role; if he ever finds a way to make her his lead, there's no telling the comic (and dramatic) heights his movie could achieve.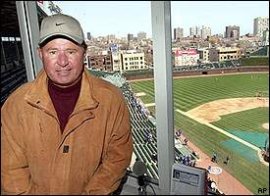 THIS OLD CUB
This Old Cub, now playing at the Brew & View, is an unabashed love letter to legendary third baseman Ron Santo by his son, the film's director Jeff Santo, and what the film lacks in complexity is more than made up for in sheer sweetness. Over the course of 90 minutes, not a disparaging word is said about Santo, and aside from biographical information, we don't really learn much about what makes Ron tick; he experiences heartbreaking personal hardships and tragedies - his continually thwarted desire to enter baseball's Hall of Fame, the loss of his mother and step-father in an automobile accident, the loss of his legs below the knees from diabetic complications - yet always faces these events with rugged grace and good humor, and the film itself would have benefited from a more insightful delving into Santo's life: Isn't this man even occasionally pissed off? But Jeff Santo isn't interested in making a great documentary; he merely wants to show the world what an amazing guy his dad is (and, implicitly, make sure Ron does get into the Hall of Fame), and after viewing This Old Cub, only the sourest of souls would dare argue. The film is brimming with wonderful baseball anecdotes and numerous touching sequences, and Jeff Santo has certainly pulled off his goal: He makes his father look like the most wonderful man on earth, and This Old Cub, a movie truly borne of love, gives off a warm, effusive glow.