THE GIRL WITH THE DRAGON TATTOO
Although I haven't read the book and now have no desire to, my guess is that those who love author Stieg Larsson's The Girl with the Dragon Tattoo will likely love the new film version, which boasts exceptional style and (as I understand it) doesn't significantly veer from the novel's narrative. Similarly, those who genuflect at the altar of David Fincher - and I'm occasionally one of them - will find plenty to adore here, as the director's signature imprint is on every seedy, suggestive, sepia-toned image.
But seriously, for those of us experiencing Dragon Tattoo for the first time: Is this what all the hoopla is about? A generically decadent serial-killer story featuring buried family secrets and yellowing newspaper clippings and a monologue-ing psychopath and an adorable kitty that you just know is gonna wind up dead? For a long while, perhaps as much as 90 minutes of the movie's two-and-a-half-hour running length, Fincher and his outstanding cast and production team convince you that something special might be happening here - and in Rooney Mara's performance as Lisbeth Salander, something frequently is. Yet in the end, this Dragon Tattoo is awfully dispiriting, and not because it was proudly touted in its trailers as "the feel-bad movie of Christmas." The experience of Fincher's latest is like discovering an enormous, exquisitely wrapped package under the tree, opening it up, and finding a tie inside. A pretty ugly tie.
If you, too, have been out of the loop regarding Larsson's tale - the first entry in the author's "Millennium trilogy," previously filmed (in 2009) by Danish director Niels Arden Oplev - it concerns the re-opening of an unsolved, 40-year-old case, in which a teenaged member of an über-wealthy Swedish family went missing and was presumed murdered. Hired to investigate is recently disgraced journalist Mikael Blomkvist (Daniel Craig) who, in turn, hires the heavily pierced and tattooed computer whiz Salander as his assistant. And through interviews and intensive research, Blomkvist and Salander attempt to determine what happened to the missing teen while contending with a bitter Swedish winter, limited cell-phone reception, even more limited cooperation from the girl's family, and that epitome of Nordic untrustworthiness known as Stellan Skarsgård.
Actually, Skarsgård is introduced here as an incredibly hospitable and genial fellow ... which should be your first clue that Dragon Tattoo's mystery, at least as presented here, might not wind up much of a mystery at all. (He's a splendid actor who I'm sure has considerable range, but come on: No one casts Stellan Skarsgård as Mr. Nice Guy.) But even with Fincher's team delivering expert editing and design, and Trent Reznor & Atticus Ross' score adding significantly to the overall air of menace, the material itself feels depressingly shopworn.
Admittedly, there's built-in novelty in the leads' roles being effectively gender-swapped; as is made painstakingly clear following her brutal rape and subsequent act of vengeance, Rooney's waifish cyber-punk is not going to be the character in need of a last-minute rescue. (Craig, for his part, gives a warm yet unexpectedly recessive performance as a smart, capable man who's also a bit of a weakling.) Beyond the singular figure of Salander, though, too much of Dragon Tattoo - adapted by Oscar winner and Moneyball co-writer Steven Zaillian - has a "been there, watched them investigate that" quality. The film's hushed interrogations and frantic Internet searches and high-speed treks on icy roads are handled with supreme skill. Yet what we're left with, in the end, feels like little more than a highbrow episode of Law & Order: Special Victims Unit; you can easily imagine Fincher's film being adapted into a gritty series for FX and just sweeping the Emmys.
Still, given its mostly sensational presentation, it's tough to argue against seeing the movie, and in any event, I'm not sure I'd want to. Mara, who develops a lovely, tentative rapport with Craig, delivers a fantastically fierce and haunting portrayal, her superbly rendered Salander very nearly compensating for the paucity of depth and suspense in her material. In addition to Skarsgård, who can hardly be blamed for his too-obvious casting, the film's dazzling supporting actors include Christopher Plummer, Geraldine James, Joely Richardson, The Way sweetheart Yorick van Wageninger (definitely not a sweetheart here), and an utterly terrific Robin Wright.
And, of course, there's Fincher, who - as in Panic Room and The Curious Case of Benjamin Button - appears to be doing his damnedest to keep us from noticing that the film he's giving his all to isn't really worthy of him. In truth, few films are, but with  The Girl with the Dragon Tattoo, there was at least reason for hope. Now I'm just hoping that when it comes time for Hollywood to tackle The Girl Who Played with Fire and The Girl Who Kicked the Hornet's Nest, Fincher is booked with other projects, and a helmer is found who's a more appropriate match for the material. I wonder what Joel Schumacher is up to these days.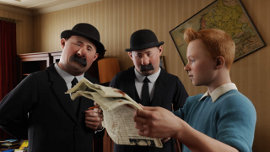 THE ADVENTURES OF TINTIN and ALVIN & THE CHIPMUNKS: CHIPWRECKED
I saw Alvin & the Chipmunks: Chipwrecked prior to the publication of my last set of movie reviews, but held off on writing about director Mike Mitchell's hee-lar-iously titled follow-up because I thought it'd make a refreshing counterpoint to my Dragon Tattoo critique. I had forgotten, though, that Steven Spielberg's motion-capture-animated The Adventures of Tintin was being released on the same day as Fincher's film, and now I'm in a bit of a bind. How, exactly, am I supposed to argue that of the two family-friendly outings, Chipwrecked - at least for this childless adult - is actually the preferable one?
God knows that no one in his right mind could argue for the second Alvin sequel being, on nearly any conceivable level, a better film than Spielberg's; the former is a typically hyperactive, under-plotted slapstick featuring an excess of tired pop hits reinterpreted by helium-voiced rodents, and the latter is a painstakingly detailed, spectacularly well-choreographed adventure in the vein of Indiana Jones. Yet for all of Tintin's formal brilliance, the experience left me absolutely cold. Based on an apparently beloved comic strip that I had never heard of before 2011 began, the movie finds an intrepid boy reporter (voiced by Jamie Bell) and his mildly anthropomorphic dog searching for hidden treasure with the inebriated aid of a surly sea captain (Andy Serkis). However, despite its occasionally jaw-dropping set pieces, the movie proves positively exhausting, because there's precious little to capture your interest beyond the frenetic action sequences. The story is dull, the characters are devoid of personality (or, in the case of Serkis' hideously obnoxious captain, devoid of appealing personality), and ultimately it all blends into a vague haze of sword fights and chases and triumphant John Williams music cues. Excepting the predictably dead-eyed motion-capture faces, there's a lot worth looking at in The Adventures of Tintin, but the movie remains a hollow, unengaging endeavor, perhaps notable only for partnering Simon Pegg with Nick Frost - the Shaun of the Dead, Hot Fuzz, and Paul co-stars voice a pair of identical, squabbling constables - and giving them nothing funny to say or do. That's got to be a first.
By contrast, just about everything David Cross does in Alvin & the Chipmunks: Chipwrecked is funny. Returning to his role as the comically threatening record producer Ian, Cross - for reasons not worth explaining - spends the entire movie in an oversize pelican costume. And if that's humiliation we're sensing in his readings and reactions (and it probably is), it's exquisite humiliation; the actor's sarcastic throwaways and biting, seemingly improvised non sequiturs manage to provide endless amusement here. ("Hate, anger, regret ... they're not just members of a girl group I once signed ... .") Sure, most of the movie is overly broad and loud and juvenile; it is, after all, an Alvin outing. But through the whole of Tintin, I didn't encounter anything as enjoyably silly as Chipwrecked's spoofing of Tom Hanks in Cast Away - the friends of feisty castaway Jenny Slate here include a basketball named Spalding and a golf ball named Callaway - or as surprisingly sweet as the a cappella rendition of Rhianna's "SOS." Alvin & the Chipmunks: Chipwrecked may, on many levels, be a joke, but at least it connects with its audience; Tintin is so relentlessly manic that it doesn't have time to connect with anyone.
Follow Mike on Twitter at Twitter.com/MikeSchulzNow.