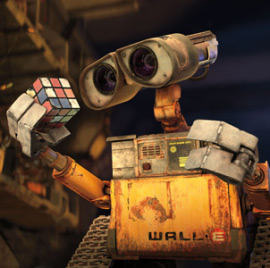 With the Golden Globes behind us and the Screen Actors Guild (SAG) telecast not taking place until January 25, there's nothing for movie-award hounds to do now but wait for the announcement of this year's Oscar nominations on Thursday, January 22.
Oh, wait, there is one thing we can do: We can make seemingly knowledgeable predictions that, in all likelihood, will eventually bite us in the ass!
BEST PICTURE
The Curious Case of Benjamin Button
The Dark Knight
Milk
Slumdog Millionaire
WALL·E
Honestly? Slumdog is the only title I'm 100 percent confident about. I should probably be feeling equally secure about a Benjamin Button nod, as the movie's been nominated for all the Oscar precursors that Slumdog has: the Producers Guild Award, the Directors Guild Award, the Golden Globe, the Critics' Choice Award, SAG's Best Ensemble Award ... . But I dunno. It's an easy film to admire yet (I think) a tough one to love, and it's got a bit of that Dreamgirls stigma to it; the movie has been considered a front-runner for so long that few seem to be questioning whether it still deserves to be one.
I'm also not feeling completely certain about a Milk nomination here. The film is beautifully done and actually is easy to love, but, to be blunt, it's really gay - far gayer, in terms of its sensibility, than Brokeback Mountain, the Best Picture "shoo-in" that wound up losing to Crash. Never underestimate the Academy's unwillingness to fully embrace divisive fare. Frost/Nixon is probably a safer, and definitely more traditional, choice, as it's the only other 2008 movie to rack up all the pre-Oscar nods that Slumdog and Benjamin Button have. But it doesn't appear as widely adored as Milk, and Gus Van Sant's film has the added benefit of being a politically themed work that's actually still politically relevant. (Proposition 8, anyone?)
Personally, I think The Dark Knight has a better shot at making the lineup than any movie outside of Slumdog; comic-book adaptation or not, it easily ranks among the year's most impressive, and certainly beloved, achievements. (Staggering box office plus technical acumen and smarts is generally a safe bet in this category - see the Lord of the Rings trilogy and The Sixth Sense. Staggering box office is sometimes enough even without much technical acumen or smarts - see Ghost.) And for the fifth slot, I'm bypassing the prototypical Oscar bait of The Reader, Revolutionary Road, and Doubt in favor of another box-office behemoth that critics loved, too ... although my backing of WALL·E here, when it's already the de facto winner for Best Animated Feature, will probably prove to be a really stupid decision.
Two things, though, are convincing me to predict this admitted longshot beyond my own bias toward the film: (1) While WALL·E wasn't nominated by the Producers, Directors, Screen Actors, or Writers guilds, the film wasn't actually eligible for these accolades, so we have no way of gauging just how respected/loved it might be, and (2) The movie was named Best Picture by the Los Angeles, Chicago, and Boston film critics' associations - that's not only unprecedented for an animated movie, that's cross-country support, baby! (If not WALL·E for the fifth slot, keep your eyes on The Wrestler or Gran Torino, two movies that seem to be gaining considerable momentum.)
BEST DIRECTOR
Darren Aronofsky, The Wrestler
Danny Boyle, Slumdog Millionaire
David Fincher, The Curious Case of Benjamin Button
Christopher Nolan, The Dark Knight
Gus Van Sant, Milk
Can we just take a moment to stare at that line-up and contemplate the mind-blowing coolness of this possibility? Every one of these directors has been doing smart, personal, visually stunning, incredibly distinctive work for years - with only Van Sant being nominated previously, for Good Will Hunting - and the argument that this year might offer the best Best Director lineup in Academy history is further augmented when you consider the other names that might make their way into the mix: Mike Leigh for Happy-Go-Lucky, Woody Allen for Vicky Cristina Barcelona, Jonathan Demme for Rachel Getting Married, and Andrew Stanton for WALL·E.
There is, though, a coolness spoiler waiting in the wings, in the form of Ron Howard. (Such a seemingly nice guy; such a relentlessly middlebrow director.) It was Howard, and not Aronofsy, who joined Boyle, Fincher, Nolan, and Van Sant on the Directors Guild's short list, but I'm hoping the directors' branch of the Academy opts against Frost/Nixon's helmer when there are so many more interesting choices to cull from. (And despite my adoration for Gran Torino, I'm hoping we're also given a respite from the near-annual nomination for Clint Eastwood in this category.)
BEST ACTOR
Clint Eastwood, Gran Torino
Richard Jenkins, The Visitor
Frank Langella, Frost/Nixon
Sean Penn, Milk
Mickey Rourke, The Wrestler
I'm thinking it's a done deal for Penn, Rourke, and Langella, probably in that order. I'm feeling reasonably confident about Jenkins because he was nominated for SAG and Critics' Choice Awards, and because, you know, who doesn't love Richard Jenkins? (Answer: the Hollywood Foreign Press, apparently.) And while Eastwood wasn't nominated for a SAG Award, Critics' Choice Award, or Golden Globe, he did score a Best Actor Oscar nomination for Million Dollar Baby after being passed over by all three groups, and Gran Torino's kinda got Career-Capping Performance written all over it.
Brad Pitt was nominated by all three groups, so it's probably not the best idea to bet against him here. But while Pitt was awfully adorable when buried under prosthetics and CGI enhancements, I didn't notice him doing much acting in Benjamin Button - he was a perfectly satisfactory, perfectly bland receptacle for the movie's visuals - and judged solely on his performance, I don't see how he merits a nomination over Jenkins or Eastwood. The only other serious contenders, it would appear, are Globe-nominated Leonardo DiCaprio for Revolutionary Road, a movie few people seem to like very much, and - a huge longshot - Cannes Film Festival Best Actor recipient Benicio del Toro, for either Part I or Part II of Steven Soderbergh's Che movies. But which part? And why bother if hardly anyone's going to see either part?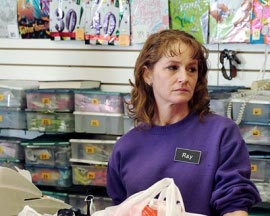 BEST ACTRESS
Anne Hathaway, Rachel Getting Married
Sally Hawkins, Happy-Go-Lucky
Melissa Leo, Frozen River
Meryl Streep, Doubt
Kate Winslet, Revolutionary Road
Hathaway and Streep, I think, are shoo-ins ... and after that, I truly don't have a clue. I've always been pretty sure that Winslet would make it in, but until her rather surprising win at the Golden Globes, I'd been thinking she would be nominated here for The Reader; despite her supporting-actress campaign for that film, she is most definitely the movie's lead, and Academy members are allowed to place performers in the lead or supporting categories as they see fit. (Five years ago, Whale Rider's Keisha Castle-Hughes was nominated as a supporting actress at SAG and a lead at the Oscars.) I'm going on the assumption, though, that people would rather see Winslet nominated twice than not at all due to vote-splitting, so - grudgingly - Revolutionary Road it is.
Like Brad Pitt, Changeling's Angelina Jolie has been nominated by every organization under the sun, and as with Pitt, it's probably not wise to expect a dissing here. Then again, it wasn't wise to expect Jolie to be ignored for her (far superior) performance in A Mighty Heart last year when she faced considerably less competition that she does this year. I'm thinking she might be left out again, as will Benjamin Button's Cate Blanchett (no nominations from the Golden Globes or SAG) and I've Loved You So Long's Kristin Scott Thomas (no nominations from SAG or the Critics' Choice Awards). In their place, I'm going with Hawkins, who just won a Golden Globe after more than a half-dozen critics' prizes, and Leo, a SAG nominee who could be the year's annual "Who the hell is that?" nominee.
BEST SUPPORTING ACTOR
Josh Brolin, Milk
Robert Downey Jr., Tropic Thunder
Ralph Fiennes, The Duchess
Philip Seymour Hoffman, Doubt
Heath Ledger, The Dark Knight
The trick for voters, I think, is to nominate four actors who absolutely, positively won't be disappointed about losing to Heath Ledger. (Although, come to think of it, I can't think of an actor in or out of Hollywood who would be disappointed about that.) So I'm going with the year's Golden Globe nominees for Best Supporting Actor, but with Brolin replacing Tropic Thunder's Tom Cruise because ... well, there doesn't even have to be a "because" there ... . Other possibilities for this category's runner-up positions: Dev Patel for Slumdog Millionaire (nominated by SAG), Michael Shannon for Revolutionary Road, Bill Irwin for Rachel Getting Married, and - giving a performance he actually does deserve a nomination for - Brad Pitt for Burn After Reading.
BEST SUPPORTING ACTRESS
Amy Adams, Doubt
Penélope Cruz, Vicky Cristina Barcelona
Viola Davis, Doubt
Marisa Tomei, The Wrestler
Kate Winslet, The Reader
Smart decision though it might be, Winslet really is screwing things up by going supporting for her leading role in The Reader, because someone else is inevitably going to get the shaft here, and doesn't deserve to. Cruz and Davis appear totally safe, and Tomei seems a fair bet, even though she didn't receive SAG notice for The Wrestler. (Of course, she didn't get SAG's attention for 2001's In the Bedroom, either, yet did receive an Oscar nod.) For the fifth slot, I'm torn between Adams and Benjamin Button's Taraji P. Henson, but I'm thinking the tremulous novice might sneak in over the salt-of-the-earth mom; you should also never underestimate the Academy's bias against TV actors, and Henson did just complete a run on Boston Legal. If anyone beyond these six sneaks in, it'll likely be either Rosemarie DeWitt or Debra Winger for Rachel Getting Married, or Lena Olin, who actually was a supporting actress in The Reader.
BEST ORIGINAL SCREENPLAY
Woody Allen, Vicky Cristina Barcelona
Dustin Lance Black, Milk
Mike Leigh, Happy-Go-Lucky
Robert D. Siegel, The Wrestler
Andrew Stanton, Jim Reardon, Pete Docter, WALL·E
You could, however, make a more-than-reasonable case for five completely different options: Joel and Ethan Coen for Burn After Reading, Charlie Kaufman for Synecdoche, New York, Jenny Lumet for Rachel Getting Married, Thomas McCarthy for The Visitor, and Nick Schenk for Gran Torino.
BEST SCREENPLAY ADAPTATION
Simon Beaufoy, Slumdog Millionaire
David Hare, The Reader
Peter Morgan, Frost/Nixon
Christopher Nolan, Jonathan Nolan, David S. Goyer, The Dark Knight
Eric Roth, The Curious Case of Benjamin Button
An omission I might regret: John Patrick Shanley for Doubt. But considering just how little "adaptation" seemed to be involved in the material's transfer from stage to screen, maybe I'm on safe ground.
BEST ANIMATED FEATURE
Bolt
WALL·E
Waltz with Bashir
Either Bolt and Kung Fu Panda. But I liked Bolt better.
BEST ORIGINAL SONG
"Down to Earth," WALL·E
"I Thought I Lost You," Bolt
"I Want It All," High School Musical 3: Senior Year
"Jai Ho," Slumdog Millionaire
"The Wrestler," The Wrestler
Though I'd give anything - quite literally anything - for the nominees to include "Dracula's Lament" from Forgetting Sarah Marshall. Or Hamlet 2's "Rock Me Sexy Jesus." Whichever.
And the other categories ...
BEST FOREIGN-LANGUAGE FILM
The Baader Meinhof Complex, Germany
The Class, France
Everlasting Moments, Sweden
3 Monkeys, Turkey
Waltz with Bashir, Israel
BEST DOCUMENTARY FEATURE
I.O.U.S.A.
Made in America
Man on Wire
Standard Operating Procedure
Trouble the Water
BEST ORIGINAL SCORE
Australia
The Curious Case of Benjamin Button
The Dark Knight
Slumdog Millionaire
WALL·E
BEST CINEMATOGRAPHY
The Curious Case of Benjamin Button
The Dark Knight
The Reader
Revolutionary Road
Slumdog Millionaire
BEST FILM EDITING
The Curious Case of Benjamin Button
The Dark Knight
Frost/Nixon
Milk
Slumdog Millionaire
BEST ART DIRECTION
The Curious Case of Benjamin Button
The Dark Knight
The Fall
Hellboy II: The Golden Army
Slumdog Millionaire
BEST COSTUME DESIGN
Australia
The Curious Case of Benjamin Button
The Duchess
The Other Boleyn Girl
Sex & the City
BEST SOUND EDITING
The Dark Knight
Hellboy II: The Golden Army
Indiana Jones & the Kingdom of the Crystal Skull
Iron Man
WALL·E
BEST SOUND MIXING
The Dark Knight
High School Musical 3: Senior Year
Indiana Jones & the Kingdom of the Crystal Skull
Iron Man
WALL·E
BEST VISUAL EFFECTS
The Curious Case of Benjamin Button
The Dark Knight
Iron Man
BEST MAKEUP
The Curious Case of Benjamin Button
The Dark Knight
Hellboy II: The Golden Army