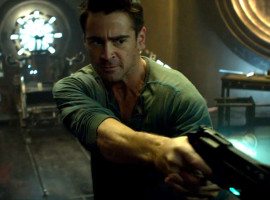 TOTAL RECALL
Beyond its rather stunning scenic design, the best thing about director Len Wiseman's new Total Recall update is Kate Beckinsale, which is pretty surprising, considering that this admittedly capable, inarguably gorgeous performer really hasn't been the best thing about any of her previous movies.
Though sleek and efficient as a vengeful vampire in her continuing Underworld saga - and giving perhaps her finest series performance yet in this year's mostly worthless Underworld: Awakening - Beckinsale is a great-looking but generally uninteresting screen presence, her air of unapproachable patrician reserve preventing us from ever fully connecting with her characters. (In Pearl Harbor, Beckinsale's love-triangle co-stars Ben Affleck and Josh Hartnett displayed far more chemistry with each other than they did with their mutual girlfriend.) Yet playing our hero's aggressively untrustworthy spouse in Total Recall - a role famously assumed by Sharon Stone in Paul Verhoeven's 1990 version of the tale - Beckinsale employs her signature look-but-don't-touch quality to sensational effect. Attacking her adversaries (principally screen husband Colin Farrell) with shocking ferocity and speed, and striding through hallways as if knowing that the bullets whizzing by wouldn't dare touch her, Beckinsale is joyously, radiantly dangerous in (real-life husband) Wiseman's sci-fi-thriller, and in a nice touch, the film even allows for pointed, funny recognition of the British actress' aptitude for American accents. Beckinsale, here, is truly something to see. Whether you should see her in this eventually exhausting, mostly forgettable endeavor is another matter entirely.
Had I left my screening at the movie's halfway mark, I no doubt would've been all for it. Inspired, like its cinematic predecessor, by the Philip K. Dick short story "We Can Remember It for You Wholesale," Total Recall casts Farrell as Douglas Quaid, a worker drone in a warfare-demolished world that separates, by several continents, the haves (in the United Federation of Britain) from the have-nots (in the former Australia now called the Colony). Longing for relief from his daily grind, Farrell's assembly-line laborer visits Rekall - a scuzzily chic venue that loads one's brain with artificial experience - and asks to be given the memories of a secret agent, a process that will only go well if Quaid has not, in fact, ever been a secret agent. Suffice it to say, the process doesn't go well. But Total Recall's first hour sure does.
With its exemplary art direction and visual effects, especially in the Colony scenes that suggest a futuristic Bangkok by way of Blade Runner, the movie is fascinating to look at, its throwaway details (such as the refrigerator door that sports erasable photos) as eye-catching and evocative as its vertical neighborhoods and multi-tiered streets. And with Total Recall's narrative conceit already awfully enticing, and Wiseman's pacing topnotch, Farrell lends the film considerable gravitas; he expresses Quaid's bewilderment, panic, gradual awareness, and heroism with admirable understatement yet deep emotionalism. (Farrell's most enjoyable bit finds Quaid "conversing" with a holographic rendering of himself recorded years prior, a sequence that brings to mind that awesome YouTube video of 12-year-old Jeremiah McDonald's "interview" with the 32-year-old he'd eventually become.) True, I yawned during a few of the less inventive action scenes, but by Total Recall's midway point, there was still hope that the movie - like last year's Rise of the Planet of the Apes - would emerge as the rare August reboot worth the time and money spent rebooting it.
I'd forgotten, however, that August of 2011 also gave us that Fright Night remake starring Colin Farrell, which probably should've been a warning sign. For once the actor goes on the run with co-star Jessica Biel halfway through the picture, and Bryan Cranston keeps showing up as a malevolent head of state growling generic invective, Total Recall turns into a blandly serviceable, depressingly uninspired conglomeration of genre tropes, its endlessly repetitive shoot-outs and chases and predictable turnarounds not even leavened by humor. (Even though the line has undeniable camp appeal, I never thought I'd miss the sound of Arnold Schwarzenegger droning, "Conseedah dat a deevawce.") It all looks terrific and, despite the film's PG-13 rating, that three-breasted hooker does indeed make an appearance here, but Wiseman's Total Recall still pales in comparison to its forebear, offering precious little that amuses aside from the visuals and Beckinsale's winning nastiness. Well, precious little that intentionally amuses, as I did giggle when Quaid was told that his real name was Karl Hauser, and Farrell muttered, "Oh, shit." Come on, man. Being of German ancestry ain't that bad.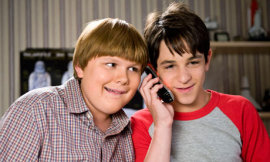 DIARY OF A WIMPY KID: DOG DAYS
The perils of early adolescence are explored, kind of, in Diary of a Wimpy Kid: Dog Days, the third-annual entry in the humiliation-themed slapstick-comedy series based on Jeff Kinney's much-adored books. Fear not: As director David Bowers' outing is a family-friendly entertainment, there won't be any gags involving unfortunate protuberances at the chalkboard or daily experiments held behind locked bathroom doors. Instead, the movie finds Zachary Gordon's pre-eighth-grade protagonist Greg on summer vacation, and enmeshed in narratives involving scouting camp, a country club, a comically nauseating public pool, an amusement park, a Civil War re-enactment, a sweet-16 party, a book club, tennis lessons, an unrequited crush, nerdy friends, a repellent older brother, an incorrigible younger one, a misbehaving dog, and an unfunny, Family Circus-esque comic strip that Greg hates himself for reading every day. (The film's animated presentation of those daily strips, though, is quite funny.) That's a lot to throw into the mix, so maybe it's exhaustion, and not laziness, that's making the Wimpy Kid cast look so unmotivated and listless in this third go-around; even the usually dynamic Gordon and Robert Capron (as Greg's best pal Rowley) seem to be going through the motions, and Steve Zahn, as Greg's frazzled dad, seems to have his eyes vacantly set to auto-pop. Still, the series' spirited grossness remains modestly winning in Dog Days, even the weaker plotlines (sadly, the majority of them) yield their share of smiles, and Devon Bostick continues to be hilariously forthright as Greg's sadistic older brother Rodrick. I'm not sure how much longer our newly teenaged heroes can keep up their Wimpy Kid shtick, but if Hollywood wants to take Rodrick and his Löded Diper band to the Viper Room and beyond, you won't hear me complain.