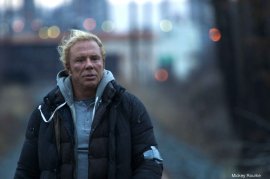 If you're looking to win your workplace's annual Oscar pool, you'll likely do pretty well this year just by going with Slumdog Millionaire for nearly everything, by picking The Curious Case of Benjamin Button for the tech awards Slumdog isn't nominated for, and by not making wild-card predictions in the gimme categories. Heath Ledger is winning Best Supporting Actor and WALL?E is winning Animated Feature. Just accept it. Don't try to be a hero.
But for the first time since 2003, both Best Actor and Actress seem completely up in the air, and while I'm still hesitant about a bunch of my choices - particularly in the Foreign-Language, Documentary Feature, and notoriously unpredictable Short Film lineups - the following are my final guesses in the two Oscar categories that have been keeping me up nights. (That's an overstatement. I'm sleeping fine. I'm just really anxious to see how they play out.)
BEST ACTOR
Richard Jenkins, The Visitor
Frank Langella, Frost/Nixon
Sean Penn, Milk
Brad Pitt, The Curious Case of Benjamin Button
Mickey Rourke, The Wrestler
You can generally determine a competitor's status in the Oscar race based on the number of pre-Oscar accolades received, and in recent years, Daniel Day-Lewis, Javier Bardem, Helen Mirren, and Forest Whitaker all won so many precursor awards that their eventual Academy victories were practically faits accomplis. (This year, frontrunner Slumdog has racked up 17 Best Picture citations from guild and critics organizations, compared to Milk's five, Benjamin Button's two, Frost/Nixon's one, and The Reader's zero.) But in trying to predict the victor of 2009's Best Actor race, how do you determine a favorite when Sean Penn has 17 such victories, and Mickey Rourke has 16? You don't, and given their Oscar-caliber portrayals, you probably won't hear much bitching about an undeserved win regardless of who gets the statuette. All you can do, then, is rely on specificity - exactly which precursor awards did the actors receive? - and momentum and that indefinable "buzz" ... and then you go with Rourke.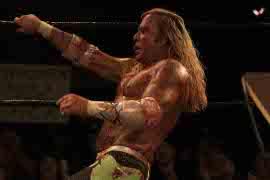 Yes, Penn won Best Actor at the Critics Choice and Screen Actors Guild (SAG) Awards, and with eight total nominations, Milk obviously has far-reaching Academy support. Yet since the film never became the breakout hit many thought it might be (despite its Proposition 8 relevance), it's hard not to acknowledge that Milk's time has arguably passed, it hasn't been that long since Penn's previous win in this category (for 2003's Mystic River), and while the actor is beyond brilliant as Harvey Milk, he's frequently beyond brilliant; chances are excellent that he'll be up for this award again soon.
But has there ever been a better, stronger symbiosis between comeback role and comeback performance than Rourke's turn in The Wrestler? I mean... ever? Penn is sublime in Milk, but Rourke is his movie - director Darren Aronofsky's film is unimaginable without his subtlety, sensitivity, and raw power - and the performer has handled his return to the spotlight with humility and grace; a win here would be wish-fulfillment for everyone in Hollywood who ever messed up big time and only dreamed of being welcomed back to the club. Add to this the actor's triumphs at the Golden Globes and the British Academy of Film & Television Arts (BAFTA) - two of the few organizations that correctly forecast Marion Cotillard's Oscar victory last year - and Rourke seems like a no-contest choice.
Unless, you know, Penn wins it.
BEST ACTRESS
Anne Hathaway, Rachel Getting Married
Angelina Jolie, Changeling
Melissa Leo, Frozen River
Meryl Streep, Doubt
Kate Winslet, The Reader
Despite some confusion over which category her performance belongs in, Kate Winslet should have this in the bag. Her Reader turn has already won Best Actress laurels from BAFTA, plus Golden Globe, SAG, and Critics Choice Awards - albeit all as Best Supporting Actress. And, as if anyone needed to be reminded, 2008 was the unofficial Year of Kate. She might just as easily have received a nod here (and should have) for Revolutionary Road, her previous trophies were accepted with lovely and (usually) composed exuberance, and with a half-dozen Oscar nominations to date, she's certainly due; if Winslet loses, she'll tie the late Deborah Kerr and Thelma Ritter as the only actresses with six or more competitive performance nods and no wins. (In December's Vanity Fair interview, Winslet was also charmingly up-front about her desire for the award: "Do I want it? You bet your fucking ass I do!")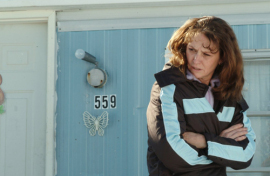 One living actress, though, has lost more than six in a row - 10, in fact - and is probably Winslet's chief Oscar rival: Meryl Streep. Granted, the star has two Oscars already, but it's hard to argue that she isn't just as deserving as Winslet; putting things in perspective, the last time Steep won, for 1982's Sophie's Choice, fellow nominee and Devil Wears Prada co-star Anne Hathaway was four months old. Besides, as much as 2008 was The Year of Kate, it was nearly as much The Year of Meryl. The actress was also a SAG and Critics Choice victor, and let's not forget that Mamma Mia! grossed, domestically, more than four times what The Reader and Revolutionary Road have combined. (Doubt itself has earned more than Winslet's two films combined.) These days, Streep isn't just a star; she's practically a box-office behemoth. So who'd be the more deserving winner?
I truly can't decide, and I'm betting a lot of voters can't either. So I'm backing third option Melissa Leo for a simple reason: She actually would be the most deserving winner. As great as Streep is in Doubt, and as great as (many people believe) Winslet is in The Reader, I think you could name a good half-dozen actresses who could have pulled off either role equally well. But give writer/director Courtney Hunt's domestic thriller a look, and tell me if any actress last year was more heartbreaking, more fearless, more wholly believable than Leo's financially strapped mother, or if anyone - even Streep and Winslet at their best - could have pulled it off with such unobtrusive skill. The Oscars, as we all know, are never determined solely on quality. But when quality of Melissa Leo's magnitude stares you in the face, it's impossible to imagine voters not responding by taking their ballots and marking a confident "X."
The 81st Annual Academy Awards ceremony will be broadcast on WQAD-TV beginning at 7 p.m. on Sunday, February 22, and for Mike's predictions in the other 22 Oscar races, see "Slam Dunk, Millionaire."