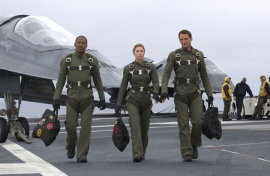 STEALTH
If you can love a movie, and hate a movie, I guess there's no reason you can't feel sorry for a movie, and boy, does my heart go out to Stealth. It's the kind of dear, sad little flick that makes you want to pat it on the head and whisper, "It's okay, it'll all be over soon ... They'll make fun of you for two weeks and then no one will even remember your name."
This action-blockbuster wannabe about a computerized fighter plane, nicknamed EDI, that decides to follow its own commands is so retrograde, so weakly written and plotted, that it leaves you practically open-mouthed with disbelief. Director Rob Cohen comes through with a couple of admittedly thrilling action scenes, but whenever anyone is forced to speak, you're beside yourself. Scene for scene, this movie recycles every hoary subplot and stock character from the Action Blockbuster Bible; pity a sci-fi Top Gun in the aftermath of Team America: World Police. (They obviously know their clichés, but Stealth makes Trey Parker and Matt Stone look damn near prescient.) It's like the movie arrived about 15 years late to a party. I wanted to buy it a sympathy card.
There are plenty of humans to feel sorry for, too, including Brandon Boyd and his Incubus bandmates, whose music is used like the Jaws anthem every time EDI goes off the ranch (this has the unintended effect of making Incubus look like dorks), and co-star Jessica Biel, who is so achingly wrong for her tough-gal role that you spend all of her scenes fighting the giggles; Biehl makes you long for the depth and nuance of Denise Richards in Starship Troopers. Jamie Foxx is certainly an injured party, especially in light of his Ray and Collateral successes; no one in the audience wants to see Foxx play Goose to Josh Lucas' top gun. (Lucas, meanwhile, could almost be doing a Tom Cruise parody here.) I felt terribly for the actor who assumed the voice of EDI, and whose nelly line readings - in a feeble attempt at the slyly sinister tones of 2001's HAL - make him sound like the first artificial intelligence to get routinely beaten up after gym class.
Yet who should we feel the most sorry for? You guessed it. The film's merchandisers. I can't imagine any kid so uncool as to ask his parents for a Stealth lunchbox.
BAD NEWS BEARS
Aside from the fact that it feels like the 83rd unnecessary remake we've had to endure in 2005, there's nothing wrong with Richard Linklater's updating of Bad News Bears, and there's actually quite a bit right with it. The movie has the graceful flow and sharp editing we expect from Linklater - there's a lovely shot of a baseball being hit, and you watch it as it sails through overcast skies, enters clear skies, and lands in the mitt of an outfielder in another game the following day - and, best of all, it's often really funny. Billy Bob Thornton, reunited with his Bad Santa screenwriters (Glenn Ficara and John Requa), again gets laughs with his casually contempt-driven inebriation, Greg Kinnear and Marcia Gay Harden really connect with their broad sketch-characters, and many of the movie's jokes hit you like curveballs; you have to take a moment to be sure to just heard what you think you just heard. You leave the movie pleased enough, but nothing more, due to the built-in limitation behind all remakes - they're stale goods.
Having last seen the original Bad News Bears about 20 years ago, I don't recall much of it. I remember liking it, I remember Tatum O'Neal, I remember Lupus catching the baseball, I remember the "Carmen" music ... and that's about it. So unlike the Charlie & the Chocolate Factory reworking, I didn't feel like Linklater's film was either sullying my memories or trying to cynically show up the original. But what are you left with if you don't look at the new Bad News Bears as a remake? The Mighty Ducks. With baseball. And more cursing. Bad News Bears, well-filmed and entertaining though it often is, is still a remake of a movie that has already been remade repeatedly since 1976, and a movie that, itself, has a lot to apologize for - without The Bad News Bears, we wouldn't have had to endure Rebound.
MAD HOT BALLROOM
The Bears themselves are cute and funny and all, but they don't hold a candle to the incredible kids we get to meet in Mad Hot Ballroom. Marilyn Agrelo's movie documents the lead-up to an annual youth-oriented, New York-based dance competition, where children in 60 elementary schools perform the ballroom dances they've learned in school - the waltz, the tango, the rumba - and attempt to snag the Grail-like trophy that passes from winning school to winning school (and which stands a good two feet taller than the kids themselves).
Children are such wonderful, natural documentary subjects that it's amazing that more docs aren't devoted to them, especially since, as we all know, they can also be effortless comedians. (Kids say the darnedest things, indeed.) But a genuinely lighthearted documentary about them is unusual, which makes Mad Hot Ballroom even more welcome than we may anticipate. The movie's sweetness and gentleness of spirit allows the kids we meet to just be kids, in a way they can't be in something like Spellbound, where a kind of forced precociousness almost comes with the territory, or the documentaries Streetwise and Born Into Brothels, in which the fates of the children are emblematic of larger, worldwide concerns. You enjoy the kids' playful banter, but also their charming awkwardness on the dance floor, and by mid-film, you even wind up feeling almost protective of Agrelo's subjects; as one teacher explains, you want everyone to go home with the trophy. (In the film, that teacher then breaks down in sobs.) By the time the big dance-off arrives, you may feel like cheering right along with the schools' boisterous fans. Audiences who complain that "it's all the same" at the cineplex have no excuse to miss Mad Hot Ballroom at the Brew & View; it's more original, and far more fun, than anything else out there.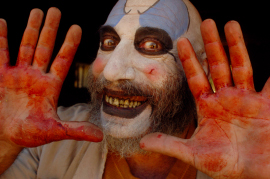 THE DEVIL'S REJECTS
There's a lot of hatred out there for Rob Zombie's The Devil's Rejects, and for understandable reason: Zombie is unapologetically on the side of the movie's killers. He loves the killers, in all their hateful, obscenely violent glory. Take from that what you will. But I'm not Zombie's psychiatrist, I'm his audience, and the movie itself, psychopathic though it may be, is frightening as hell, sometimes funny as hell, and doesn't play by any traditional scare-flick rules. (Characters keep getting killed - in horrific fashion - when you don't expect them to.) I can't quite say I enjoyed The Devil's Rejects, but it's certainly an achievement of some kind, and, at this point, it's one of the only 2005 releases I have any desire to see again.