NEVER BACK DOWN
Watching the so-silly-it's-almost-fun mixed-martial-arts melodrama Never Back Down, I felt instantly transported to the summer of 1984, when my friends and I saw The Karate Kid the first time around. Fight Club was still 15 years away, so we weren't yet treated to this film's bone-crunchingly "kinetic" violence, nor to the sight of shirtless brawlers pummeling each other with their pants buttoned 12 inches below their navels. (Nor, for that matter, to topless teenage lesbians making out in a jacuzzi.) But Never Back Down is still pretty much Karate Kid redux, and the experience of watching it felt like time-travel for another reason: The movie's high-schooler lead is played by Tom Cruise.
Okay, that's not true. He's really an actor named Sean Faris - playing a character named Jake Tyler (as in Durden?) - and a visit to the Internet Movie Database reveals that he's amassed quite a list of credits. A question for those who remember seeing Faris previously: Is he always this much of a Tom Cruise doppelgänger? Sure, he looks uncannily like him, but Faris bears an eerie resemblance to Cruise in ways that go way beyond cosmetics - the cocksure half-grin that escapes whenever he's in a flattering close-up; the clench-jawed earnestness whenever his character is Hurting and Tormented; the voice that hits a shrieky soprano whenever its owner yells ... . The similarities are overwhelming. But it's because of Faris, and the entire movie's combination of phoniness and self-awareness, that Never Back Down isn't as awful as it easily could've been.
If there's a cliché missed in writer/director Jeff Wadlow's revenge-of-the-underdog saga, it's not for lack of trying, but when I was a teenager, I don't remember being terribly annoyed by Karate Kid-esque clichés. So it's easy to see how, for a new generation, no one will be much bothered by Faris' crush on the soulful blonde (Amber Heard) who just happens to be dating the high-school bully (Cam Gigandet), or by the stubborn, tear-filled kinship that develops between Faris and his trainer (Djimon Hounsou), or by the climactic showdown that ends with the ass-kicking we expect, followed by the real ending (which we also expect) wherein the vanquished foe nods at our hero as if to say, "You are the better man."
Given a realistic presentation, this could all be unbearable. But Wadlow and his performers smartly treat the material as if they, too, had seen The Karate Kid and Fight Club dozens of times over, and their implied quotation marks give the film an unexpected, guilty-pleasure kick; Never Back Down may be a total crock, but you can't say that it doesn't know what it's doing.
THE BANK JOB
Jason Statham is a fantastically entertaining action-flick star, but he has a weapon in his actor's arsenal that none of his bad-ass contemporaries can claim: a killer smile. Every once in a while, without warning, Statham flashes it at the audience, and for a brief moment, he's goofy and charming and surprisingly empathetic; immediately afterwards, of course, he'd just as soon blow your brains out as look at you.
Roger Donaldson's crime thriller The Bank Job is much like Statham's smile. A partly factual, mostly fictionalized account of a legendary 1971 British heist, the movie is a sturdy, engrossing thriller; all of the predictable-bordering-on-tired genre tropes are accounted for, but they're established and carried through with clear-eyed, admirable professionalism. Yet amidst the tough-guy (and -gal) banter and the elaborate complexities, the director and his excellent ensemble create vivid, recognizable human beings, and their personalities add both depth and levity to the proceedings. In a welcome surprise, The Bank Job gets more and more gripping as it progresses, mostly because its supremely entertaining actors - among them Saffron Burrows, Richard Lintern, Stephen Campbell Moore, and David Suchet - are giving you more and more reason to care about their characters' fates. The movie is the rarest kind of action-thriller - a human one.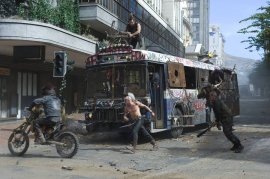 DOOMSDAY
In a spectacularly repellent, mid-film set piece for the futuristic horror show Doomsday, the most psychopathic of the movie's many psychopaths acts as host for the public execution (and subsequent devouring) of one of the film's heroes, and as the madman strides on-stage in full punk regalia, he enters accompanied by a Fine Young Cannibals song. Man, how the movie could have used more of that kind of wit.
Unfortunately, what we're mostly stuck with is writer/director Neil Marshall's brutal, and brutally uninteresting, amalgam of Escape from New York, Aliens, and the Mad Max series, with Rhona Mitra (like a more buff, equally glum Kate Beckinsale in the Underworld flicks) acting as Savior to Us All from bands of infected mutants, pissed-off goth rockers, and snaky politicians. It's all too grim and incoherent to take, but at least Craig Conway, as that nut-job with the heavy eyeliner, looks like he's having fun, and allows us to have some, too. He's so sociopathically over the top that you can either laugh at or recoil from him; more often than not, he makes you do both. Too bad Doomsday itself doesn't.