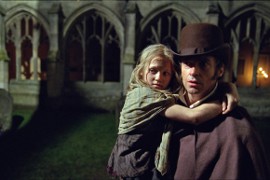 LES MISÉRABLES
Director Tom Hooper's take on the über-beloved musical Les Misérables is, in numerous regards, a maddeningly weak stage-to-screen transfer. Scenes have been bluntly presented with no discernible invention or style. The incessant employment of closeups creates stagnancy in sequences and numbers that beg for breathing room. The movie's two most prominent actors are cast in roles for which they can't nearly do vocal justice. And, so help me, I ravenously gobbled up every last, unsubtle, frequently disappointing morsel of the thing.
In truth, I kinda knew this was going to happen. (The gobbling part, not the part about being disappointed.) By no means am I blind to the flaws in this sung-through adaptation of Victor Hugo's 19th Century tale of Jean Valjean, the repentant Frenchman who unwittingly alters fate by stealing a loaf of bread; I'll readily acknowledge the thinly drawn characters and repetitiveness and occasional compositional blandness and what have you. But while there are stage musicals that I admire more than Les Mis - to use the show's commonly accepted nickname - there is literally none that I have greater affection for. After committing most of Claude-Michel Schonberg's and Alain Boublil's operatic opus to memory in the winter of 1986, seeing the Tony-winning Broadway smash in 1988, and catching four touring productions of this hugely satisfying epic weepie in the years since, I consider myself less a Les Mis devotee than an obsessive. I'd even go so far as to say that, over the past 25 years, a potential screen version has been the one film project I've anticipated more than any other. When one finally landed, damned if I was going to let any set of circumstances get in the way of my tear-drenched fun.
That being said, I did leave Hooper's film rather amazed at how many sets of circumstances were to be found here. If, like me, you consider yourself a mad Les Mis fan, the waterworks will likely start flowing with the opening strains of the score - or, at the very least, with the early appearance of Colm Wilkinson (who originated the role of Jean Valjean on the West End and on Broadway) as the forgiving bishop of the show's prelude. Yet at regular intervals throughout the movie, you might find yourself wanting to cry for entirely different reasons, most of them having to do with opportunities lost or goodwill squandered. I am grateful to no end for Hooper, in the wake of his Oscar win for The King's Speech, having the clout to finally get Les Mis on the big screen. If only its mere existence were enough.
Unfortunately, though, Hooper's staging is so routinely garish and under-imagined that it practically defies belief. After the staggering bloat (and too-obvious CGI) of the opener, which introduces us to the tortured Valjean (Hugh Jackman) and his officious nemesis Javert (Russell Crowe), Hooper somehow finds ways to waylay song after song in his two-and-a-half-hour presentation, a feat accomplished, more often than not, by his insistence on oppressively shoving the musical numbers in our faces. By now, everyone likely knows that Hooper opted to have Les Mis' cast members sing live during production, a gamble that does yield occasional marvels and instills a welcome sense of immediacy. (The publicity regarding this "Look - they're really singing!" hook is, however, a bit disingenuous, as there's some pretty obvious lip-synching going on during large crowd scenes.) Yet while Hooper's approach, for the purposes of recording sound, may have made endless closeups a necessary evil, it also kills the movie's visual life; actors' faces completely fill the screen, and beyond one crucial exception involving Anne Hathaway, there's little sense of any world beyond their expressions. And although this may not have proven terribly damaging had Hooper excelled in other aspects of production, I'm sorry to say that directorial facility isn't much in evidence. Numbers such as Valjean's "What Have I Done?" prologue, Valjean's and Javert's "The Confrontation," and any song involving the students behind the thwarted June Rebellion of 1832 are undone by static, borderline-lifeless compositions, and Hooper's fondness for severe camera angles and theme-enhancing tableaux, evidenced in The King's Speech, makes almost every scene here less about its characters than its director.
Then, too, there's the inherent problem of the central casting. Crowe cuts a commanding figure as the imperious and vengeance-minded Javert - the Wile E. Coyote to Jean Valjean's Road Runner - and his single-minded intensity in the part is admirable. But whenever Crowe sings (which, of course, is all the time), he gets that glazed expression you see on musical performers who are valiantly struggling with roles that are obviously beyond their reach. Seemingly uncomfortable with his high notes, his low notes, and the tenets behind balls-out musical theatre in general, Crowe frequently looks as though he'd rather be anywhere but Les Mis, and sadly, the vocally gifted Jackman - an intensely charming actor with loads of theatre cred and two Tony Awards of his own - doesn't possess the full register necessary for Valjean. On intimidating show-stoppers such as "One Day More" and, especially, "Bring Him Home," Jackman, with his reedy tenor, comes dangerously close to being off-key, and you're always aware of the strain on his top notes; there's actually more legitimate drama in listening to Jackman almost losing pitch than there is in Hooper's numerous scenes of street revolution.
But what this Les Mis has in its favor, seemingly above all else, is audience empathy - you desperately want the movie's hard-working performers to pull off the demanding requirements of singing live - and no one here engenders more empathy than Jackman. He's so clearly, beautifully invested in Valjean's plight, and so moving in his connection with the orphaned Cosette (played, as her age progresses, by Isabelle Allen and Amanda Seyfried), that even his occasional performance inadequacies prove enormously touching, and Jackman's unveiled desire to get the role right leads to some startlingly effective moments. (Quite frankly, and despite being a big fan of him, I never thought I'd see Jackman hit the levels of emotional honesty he reaches in Les Mis' final 10 minutes.) In the end, this Les Mis succeeds, and sometimes succeeds fantastically well, because of the fervor with which Jackman and his equally committed fellow actors make it succeed, even when their director isn't doing much, or really anything, to assist them.
Sacha Baron Cohen and Helena Bonham Carter, for instance, seem pretty much left to their own devices as the villainous innkeepers the Thénardiers, playing low-comic grotesques not unlike the ones they portrayed in Tim Burton's Sweeney Todd. But the offhanded, vulgar wit with which they enact these caricatures is as refreshing as a tonic - Cohen, amusingly, is the only one on-screen to play a French character with a French accent - and you can get a similar thrill from the vocals of Aaron Tveit's Enjolras and Samantha Barks' Éponine, despite the strange, throwaway nature of their (Tony-lauded) roles here. The Cosettes played by Allen and Seyfried, with their matching light sopranos and gorgeous wide eyes, are thoroughly beguiling, and Eddie Redmayne is awfully marvelous as the lovestruck Marius; Redmayne's grief-stricken, splendidly sung rendition of "Empty Chairs at Empty Tables," with his throat aquiver and his cheeks stained with tears, would likely be Les Misérables' signature gut-wrencher if Anne Hathaway didn't deliver an early one that tops it. That tops everything, really.
As the film's previews have been playing since early summer, you've probably heard at least a few snippets from Hathaway's "I Dreamed a Dream," the solo that finds her factory worker Fantine - a beaten-down single mother forced into a grim fate as a prostitute - at her most tragically misérable. Yet in Hathaway's extraordinary, uninterrupted wail of pain and anger, what's unbearable for the character is soul-cleansing amazement for the audience. To say that cineplex crowds haven't heard or seen anything like it since Jennifer Hudson's instantly legendary take on Dreamgirls' "And I Am Telling You" is true, but also insufficient; with her fearless acting and vocals summoning up entire worlds of unspeakable anguish, Hathaway manages to suggest everything that's glorious and thrilling and unforgettable about the experience of Les Misérables in a tidy three minutes. For a quarter-century, I'd dreamed a dream about a satisfying movie adaptation of this musical powerhouse, and for all of its flaws, I got one. But thanks to Anne Hathaway, it occasionally turned into an even more wondrous dream than the one I'd dared imagine - a full-bodied, full-throated expression of misery that feels a lot closer to bliss.
CIRQUE DU SOLEIL: WORLDS AWAY
I feel about the miraculous stage spectacles of Cirque du Soleil much the way I feel about Les Mis - it's a love that transcends portentousness and corniness - and was consequently jazzed to see the world-renowned circus troupe's first big-screen endeavor Cirque du Soleil: Worlds Away. Leaving director Andrew Adamson's 3D film, I would've been more jazzed had fewer scenes, like nearly all of them, not employed quite so much slow-motion photography. The images of acrobats leaping through the air and diving underwater at half-tempo are aesthetically stunning, to be sure, but also more than a tad enervating; where's the excitement in watching the Cirque's feats of death-defying skill when individual routines start and you could conceivably hit the restroom and the concession stand and return to your seat before they finish? Yet audiences looking for a dreamy, New Age-y (and mostly dialogue-free) blast of color and movement should still find plenty to enjoy here, from the astonishing human pyramids to the awesome trampoline act involving makeshift superheroes to the aural montage of tunes from the Beatles' Sgt. Pepper days. Cirque du Soleil: Worlds Away may be a lightweight, unapologetically meaningless diversion, but happily, it is a diversion, and might be an even better one once you're able to watch the movie from the comfort of your home, where you'll feel no guilt about augmenting the pleasant experience with the occasional nap.