THE INFORMANT!
The film's madcap trailers -- to say nothing of the exclamation point in the title -- don't accurately capture the tone of Steven Soderbergh's The Informant! But I'll be damned if I know what kind of trailers would suggest the feel of this altogether remarkable corporate comedy, which starts off amusingly arch, becomes more funny and fascinating as it progresses, and winds up flat-out hysterical, with your laughter tempered by righteous anger, unanticipated pity, and stunned disbelief.
As the film embarks on its real-life story of whistle-blower Mark Whitacre (Matt Damon), a Decatur, Illinois-based biochemist and serious doofus who assisted the FBI in exposing a global price-gouging conspiracy, you may think you know exactly where events are leading -- The Insider by way of Homer Simpson. (To be sure, Damon's non sequitur-ridden interior monologues and Marvin Hamlisch's aggressively jaunty score suggest as much.) But reel by reel, you feel the rug being subtly pulled out from under you. The FBI starts to uncover deeper and deeper depths of chicanery, and you start to realize that the deceptions extend to the film's purported hero, whose initially endearing idiocy begins to seem willfully obtuse, and then dangerous, and then utterly flabbergasting. By its end, The Informant! emerges as nothing less than a bitterly comedic, vibrantly incensed, yet happily unforced metaphor for America's current financial crisis, and Damon's turn as the most untrustworthy of narrators is a glorious marvel of mixed signals. From Scott Z. Burns' graceful and adroit script (based on Kurt Eichenwald's exclamation-point-less nonfiction) to Soderbergh's dazzling narrative drive to the performances of a top-tier cast that includes Scott Bakula, Joel McHale, Melanie Lynskey, and Tony Hale, The Informant! is a brilliantly involving, layered, and deeply surprising comedy, and I can't wait to see it again.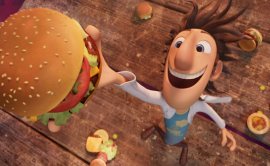 CLOUDY WITH A CHANCE OF MEATBALLS
If you don't have kids, and don't have access to friends' and relatives' kids whom you can employ as chaperones, you probably won't be terribly inclined to catch Cloudy with a Chance of Meatballs. Would you change your minds if I told you that, to date, the movie is not only the animated comedy of the year, but quite possibly the slapstick comedy of the year? Based on Judi & Ron Barrett's beloved children's book, this 'toon by directors Phil Lord and Chris Miller (being shown, on some screens, in 3D) is about the initially exhilarating, eventually destructive results of an invention that turns water into food. It's also like a Pixar adventure on crack -- amazingly inventive, stunningly well-animated, and so consistently, quotably funny that, two days after seeing it, I'm still giggling at its endless stream of visual gags and one-liners. ("That spaghetti twister was just an amuse-bouche compared to what's on the way!") Like the city-sized "Vegas-style all-you-can-eat buffet" that threatens to annihilate Meatballs' citizenry, this film has it all: brainy wit, gorgeous colors, a touching romance, subtle morals for the kids, and huge, rolling laughs for the kid in all of us, plus inspired vocal work by what might be the most eccentrically eclectic cast ever assembled for an animated feature. (With performers including Bill Hader, Anna Faris, James Caan, Bruce Campbell, Neil Patrick Harris, Benjamin Bratt, and Al Roker, Mr. T might earn the biggest roars, as a barking cop fed up with all the "shenaniganizing.") Bring the kids or don't; Cloudy with a Chance of Meatballs is a ridiculously fun time. Who could resist a movie in which humanity can only be saved if the hero's computer-illiterate father sends his son an e-mail, and realizes that "drag the mouse across the desktop" isn't to be taken literally?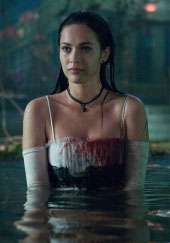 JENNIFER'S BODY
In the horror comedy Jennifer's Body, Megan Fox stars as a high-school hottie who transforms into a bile-spewing succubus that eats her victims' innards, and I can't believe I'm going to write this, but the performer, here, is actually more interesting than her character. Scripted by Oscar-winning Juno scribe Diablo Cody, director Karyn Kusama's gross-out lark is riddled with plot contrivances and absurdities -- worse still, it isn't at all scary -- and Fox's Jennifer, when in possessed mode, never begins to make sense. (If, as we're shown, she can teleport and hypnotize, why doesn't she employ those talents when they could actually be of some use?) Against all expectation, though, Fox herself is quite good in the role; she isn't really required to "act," but this ambulatory pin-up girl is clearly in on the in-joke of her casting, and plays her vapid vamp with tongue gloriously in cheek. (Plus, on occasion, the cheeks of her co-stars.) And against further expectation, Jennifer's Body makes up for in laughs what it's missing in scares. Even after only two movies, Cody's incessant pop-culture name-dropping and hipster phraseology ("You're freaktarded!") are starting to wear thin. But the film's cast members -- among them Amanda Seyfried, Johnny Simmons, Adam Brody, Kyle Gallner, and Chris Pratt -- spit out Cody's über-witty trash talk with sensational comic force, and every so often, the screenwriter delivers a zinger so brutally funny that it takes two or three beats to ascertain just how funny it is. At Jennifer's Body's climax, Seyfried has her long-awaited smackdown with Fox, and threatens her with a seemingly unthreatening tool available at any hardware store. "You know what this is used for?" Seyfried asks, holding the weapon aloft. "It's used to cut boxes." At first I thought, "Well, duh." And then I thought, "Damn ... that's cold."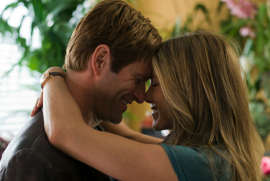 LOVE HAPPENS
You may have seen the previews for director/co-writer Brandon Camp's Love Happens, in which Aaron Eckhart plays a self-help guru who has a gift for healing others but finds himself unable to heal his own broken heart and blah blah blah. And if you've seen them, you may have presumed that the movie itself will offer absolutely no surprises. Well, that wasn't my experience at all. For instance, I didn't expect the movie to be funny, and yet I laughed several times. Granted, they were during moments in which I was probably meant to be crying, but still ... . (The film's tear-jerking pièce de résistance occurs when Eckhart convinces a grieving father to accompany him to ... The Home Depot.) I didn't expect Eckhart to be tormented by flashbacks of his wife's death, or a climax in which, one person after another, a captive audience stood and applauded our hero's personal breakthrough, or Judy Greer to be cast as a wisecracking best friend -- I thought all that was retired to the Cliché Hall of Fame years ago. I didn't expect Across the Universe's Joe Anderson and Six Feet Under's Frances Conroy to get solo billing in the opening credits, and then to only appear in one scene each for less than two minutes. I didn't expect Eckhart to have more chemistry with Conroy than he does with co-star Jennifer Aniston. And I really didn't expect Aniston to be portraying flower-shop owner Eloise Chandler, the sad-eyed, improbably single, impossibly perfect love interest. Sure, Love Happens is exactly the sort of blandly formulaic (and mostly insufferable) entertainment that the actress seems to naturally gravitate toward. But check out that character name, folks: Jennifer Aniston's playing Chandler! I thought she only plays Rachel!