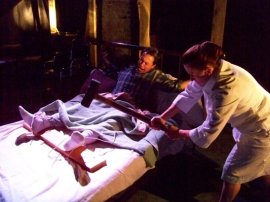 There was no lack of spectacular work done in area theatre this year, and the following list is hardly exhaustive. But if you were fortunate, you caught at least a few of these 12 performances in 2008; whether taking on a leading role, a supporting role, or (in one case here) the only role, these gifted artists commanded the stage. And, hopefully, your attention.
Sydney Crumbleholme, Anne of Green Gables. And a little child shall lead us. Granted, this Moline High School freshman isn't exactly a little child, but Crumbleholme still led Playcrafters' exceptional family play with a mature command well beyond her years. Deeply empathetic, fiercely expressive, and oftentimes laugh-out-loud funny, Crumbleholme even managed the considerable feat of believably aging from 11 to 16, which - if you're remembering those years the way I am - couldn't have been easy.
Pat Flaherty, Angels in America: Millennium Approaches and Perestroika. The year's finest local-theatre portrayal. Both of them. Playwright Tony Kushner's Roy Cohn is a monster for the ages, and in this two-part Green Room production, Flaherty gave a performance for the ages, one so frightening, insinuating, vigorous, and hilarious that Cohn exploded with life even while dying. Bonus points for the line reading of the year, after Flaherty's Cohn, in Perestroika, says he never killed anyone, and notices the ghost of Ethel Rosenberg sitting near him. "Present company excepted," he hisses. "And you deserved it."
Ashley Hoskins, Crimes of the Heart. Over the past few years, Hoskins has taken on such upright, wholesome roles as Mary in It's a Wonderful Life and Alice in You Can't Take It with You. Her Babe Botrelle in this Playcrafters comedy would've eaten those characters for breakfast. Attacking both her dialogue and her slapstick with delirious comic force, Hoskins was fearlessly, spectacularly unhinged in Beth Henley's Pulitzer Prize-winner; you never knew what she'd say or do next, but whatever it was, it was always inspired, and really, really funny.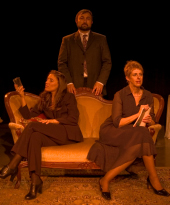 Corinne Johnson, Three Viewings. Dave Bonde and Kimberly Furness were marvelous in this debut area presentation by co-founder Furness' Curtainbox Theatre Company. But in rounding out this trio of Jeffrey Hatcher monologues, not only was St. Ambrose University Professor Johnson miraculously candid, endearing, and delicately emotional as a dazed widow, but kept you completely gripped without once leaving her seated position. I'm not sure if she even shifted once. If Johnson's St. Ambrose courses are even a 10th as hypnotic as her performance here, I'm totally enrolling.
Mark McGinn and Jenny Winn, My Fair Lady. I'd never seen Lerner & Loewe's stage classic before attending Music Guild's presentation of the show, and after witnessing McGinn's and Winn's Henry Higgins and Eliza Doolittle portrayals, I'm not sure I ever need to see it again. The entire production was sublime, yet these two - exquisite both as singers and actors - were as glorious a pairing as you could possibly hope for; McGinn managed to be hugely entertaining (and satisfyingly mean) without sacrificing subtlety, and Winn was the spirited, argumentative, divine Cockney flower girl of your dreams. I caught their work on the night of a violent thunderstorm, and the outdoor sounds suggested that the angels themselves were applauding the performers' work. If they weren't, they should've been.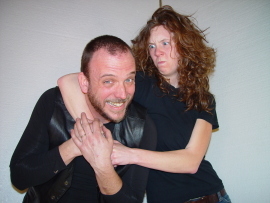 Chris Moore, The Taming of the Shrew. This Prenzie Players offering was the only 2008 play I saw twice, which makes me doubly floored by Moore's superbly crafted, devastatingly funny Petruchio; boasting an exquisitely relaxed command of Shakespearean language, the actor was authoritative and sincere, and his offhanded wit had me laughing 'til I cried. Unfortunately, Moore's brilliant turn was our one and only chance to catch the actor in theatrical action this year. Would asking for at least twice as much theatrical output in 2009 be asking too much?
Greg O'Neill, The Odd Couple. What O'Neill did as the lovably sloppy grouch Oscar Madison for Harrison Hilltop was really quite extraordinary. By underplaying his shtick and delivering Neil Simon's predictable punchlines from under his breath, this adventurous, imaginative actor located the honesty beneath the playwright's one-joke conceit, and fashioned an Oscar who was specific, observational, clever, and unexpectedly complex. It was perhaps the richest portrayal of a Simon character I've yet seen on a stage, which is a far greater compliment than it might seem.
Erin O'Shea, Little Women. "It's just a wedding." With four words, this beautifully poised and exciting performer not only elicited the biggest, best surprise laugh of the theatre year, but succinctly - and magnificently - encapsulated her entire performance as Music Guild's Jo March. O'Shea's power ballads were superbly rendered and she knocked humor and sentiment out of the park, but the key to her greatness always lay in her simplicity; the actress made forthrightness and sensibility feel like states of grace.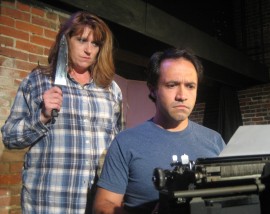 Jason Platt and Angela Rathman, Misery. In the Green Room's two-character Stephen King adaptation, Platt and Rathman - portraying novelist Paul Sheldon and tormentor Annie Wilkes - were stuck with a somewhat unfortunate script, but still set off the kinds of acting fireworks that made you giggle even during the most nightmarish scenarios: Platt with his aching desperation and mordant drollness; Rathman with her terrifying fury and star-struck girlishness (which somehow made her more terrifying). Theirs was the definitive match made in hell, and a godsend for fans of performance; two-and-a-half months later, I can still hear Rathman's tortured muttering as Annie ascended the staircase, and can still see Platt's incensed grimace as Paul defiantly flipped her off.
Ashley Catherine Schmitt, Empty Nest. Portraying a vivacious, celibate coed who folds napkins with a series of karate chops, Schmitt didn't have the largest role in Circa '21's comedy, and might've had the strangest. Yet her dreamy, inventive dizziness and comic assuredness stole the show from several master show-stealers; Schmitt entered late in the play and vanished long before you were ready to say goodbye to her. Feel free, though, to say hello to the performer in Circa '21's current A Wonderful Life and the fabulously funny Snow White; you'll see she was hardly a one-hit wonder.