Director Jennifer Popple's decision to set her Augustana College production of As You Like It in the 1960s is one of the most appropriate changes in time-setting for theatrical material I've yet witnessed. Such shifts sometimes seem gimmicky, or are better in concept than execution, but here it works, and works well.
William Shakespeare's play compares and contrasts highly-civilized life in the court of Duke Frederick (a condescendingly stately, unsympathetic John D'Aversa) with the freer rural sanctuary of the usurped and exiled Duke Senior (also D'Aversa, though more amiable and open-minded in this role) known as the Forest of Arden. It is the latter locale, in particular, that lends itself to Popple's 1960s setting.
While the actors provide a deliciously appropriate hippie vibe to the story of Rosalind (Rowan Crow, who gives a charming performance with particularly funny facial expressions) and her banishment by her uncle Frederick, it's scenic designer Susan Holgersson, lighting designer Andy Gutshall, and costume designer Ellen Dixon who drive the time period home. Dixon's highly commendable (as usual) contributions are the colorful clothes worn by the residents of the Forest of Arden, who are adorned with bell bottoms, fringed vests, and headbands - everything a true hippie would want to wear. But Dixon also manages to bring a 1960s sensibility to Frederick's court, particularly in regard to the Duke's Nehru jacket, chained medallion, and circular-lensed sunglasses.
What's even more remarkable, though, is how the designers work together to differentiate the two locales without using any set changes. Duke Frederick's court is colored entirely in shades of gray, with marble floors, pillars, and accents, as are Dixon's costumes for the court's characters. To change the scene to the rural setting, Holgersson and Gutshall employ the use of black lights to reveal trees and flowers covering almost the entirety of the set in glowing, psychedelic colors. The cleverest set pieces are the curtains draped between the pillars that surround Frederick's circular court. For the forest scenes, the cloth is painted green on the draped curves along the top, while the vertical pleats that hang beneath are brown, so that the black light, in revealing the colors, effectively turns the curtains into trees.
As You Like It is also noteworthy for the incidental music selected by sound designer Andrew Skalak. Any music of the 1960s would obviously work to further drive home the production's time period, but Skalak makes smart choices regarding which songs are used and when they're played. For the wrestling scene, the Kinks' "You Really Got Me" plays as Gary Miller's cocky, heavily-muscled wrestler Charles enters to compete with - and seriously hurt - Rosalind's eventual love interest Orlando (a determined, upstanding Keenan Odenkirk), having been influenced to do so by Orlando's malicious brother Oliver (Josh Pride). It's Skalak's music for the curtain call that fits best, though, with the Beatles' "All You Need Is Love" encapsulating the true theme of Shakespeare's play.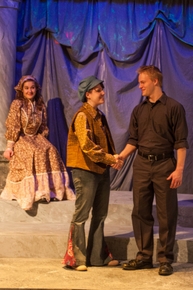 Each cast member offers a commendable performance, but I enjoyed the characterizations of four actors in particular: Debo Balogun, Luke Currie, Jessica Holzknecht, and perhaps especially Josh Pride. I've been a fan of Pride's presence on stage ever since his highly hilarious turn as the titular character in Augustana's 2013 Figaro; he's one of the rare college actors who has me lamenting his graduation for fear that I won't get to see him perform again. Here, he displays a beautiful growth in Oliver as the royal heir matures from arrogant jerk to a wholly-changed, regretful, loving man. (Unfortunately, the character's realizations take place off-stage, denying us the opportunity to see Pride depict Oliver's blossoming perspective on life.)
Balogun couldn't be more amusingly too-cool-for-school as the pessimistic observer Jaques, who has little good to say about the pastoral life even as he lives with the residents of the Forest of Arden. Currie absolutely delights as the funny philosopher and "natural" fool Touchstone, who accompanies Rosalind in her banishment, what with his free-spirited body movements accentuating his sharply funny delivery of such witticisms as "For my part, I had rather bear with you than bear you; yet I should bear no cross if I did bear you; for I think you have no money in your purse." Holzeknecht, meanwhile, plays Celia, who joins Rosalind in her life in exile yet exudes continual optimism, emanating joy whenever she's on stage. Celia's ray of sunshine permeates the darkest of moments, and elicited cheer in my heart at every turn.
So, too, did Augustana's As You Like It, which is my first exposure to this work. I left Saturday's performance with admiration for its staging and performances, a joy that reached to the depths of my soul, and a longing to listen to more music from the 1960s.
As You Like It runs at Augustana College's Potter Theatre (3701 Seventh Avenue, Rock Island) through May 10, and more information and tickets are available at (309)794-7306 or Augustana.edu.