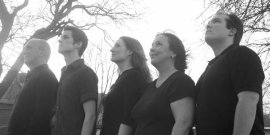 From the opening minutes of Elegies: A Song Cycle, the debut presentation by the Riverbend Theatre Collective, it's clear that the production is going to be beautifully performed. An uninterrupted, 90-minute collection of reminiscences by composer William Finn, the revue finds Allison Collins-Elfline, Patrick Gimm, Jackie Madunic, Dana Joel Nicholson, and Bryan J. Tank offering musical tributes to people (and pets) that Finn loved and lost, and they form an intimidatingly strong vocal ensemble, excellent in their solos and even finer in harmony.
A good thing, too, because the work itself has been so specifically designed for an upscale, theatre-going New York audience that Riverbend's presentation oftentimes runs the risk of alienating its attendees. The theme of death is, of course, universal, and there are songs and individual lyrics here that can't help but be affecting. But Elegies seems an incredibly tricky piece to pull off effectively, and the overall delight of this production lies in just how well the performers (also credited as co-directors) navigate around considerable obstacles.
Musical revues don't get any more personal than Elegies. Instead of generic odes to the departed, Finn presents twenty-odd songs that are most emphatically about individuals, among them the composer's mother, his favorite teacher, numerous colleagues, and friends lost in the terrorist attacks of September 11, 2001. The experience may sound wrenching, but while a few numbers do aim for the jugular - and there were audible sniffles heard at Saturday night's performance - Finn's playful lyrics and wonderfully clever rhyme schemes keep the spirit of the show remarkably upbeat. If Elegies is at all funereal, it's in the spirit of a New Orleans funeral; the songs here don't lament death so much as celebrate life.
What makes its area presentation problematic, though, is that its musical celebrations are of people that most audiences, I'm guessing, won't know anything about. This certainly isn't a requirement for the enjoyment of Finn's compositions, and I'm hardly suggesting that the Quad Cities are too provincial for Elegies. But references to the late greats of New York's theatre community - the focus of the majority of songs here - simply can't have the same effect when performed outside of a New York setting.
Riverbend has done a first-rate job of transforming the Village Theatre space into a makeshift Manhattan cabaret, with audiences seated at tables facing the bar area where the singers (and the exceptional pianist Robert Elfline) perform, and the program features a helpful glossary of people and terms referenced. Yet even if you're familiar with such figures as Joseph Papp, Bill Sherwood, and Peggy Hewitt, it's unlikely that you'll have the emotional connection to them that theatre-savvy New Yorkers might, and without an understanding of their place in Finn's world - beyond, as is easily gleaned, his great affection for them - they become nearly interchangeable, and consequently, the songs start sounding vaguely the same. Elegies is a show by a New Yorker, for New Yorkers, and no amount of cosmetics or program notes can fully disguise that. (Even the 9/11 attacks, which affected everyone, affected Manhattanites very differently from the rest of us.)
Although any opportunity to hear William Finn's compositions is a good one, I'd argue that (financial restrictions aside) A New Brain or The 25th Annual Putnam County Spelling Bee or even the New York-centric Falsettos might have made for a more appropriate local introduction. Yet if I have reservations about its selection, I have almost none about Elegies' execution; from first moment to last, the show exudes tenderness, enthusiasm, and an abundance of talent.
I'm officially kicking myself for starting my theatre-critic tenure too late to catch Tank's much raved-about performances in Quad City Music Guild's Jekyll & Hyde and The Scarlet Pimpernel; the man has a gorgeous, soaring tenor and takes on Finn's lyrically complex workouts (especially during his "Joe Papp" scats) with thrilling panache and deeply felt emotion. Collins-Elfline - Riverbend's producing artistic director - reveals enormous affinity for her material with her elegant phrasing and passionate delivery, and shows a feisty, funky sense of humor in Finn's "Passover" number. Gimm, despite a tendency to go flat on his solos, is a commanding yet affable presence whose vocals are suffused with richness and warmth.
Nicholson and Madunic, meanwhile, are either given the best numbers in the show, or their performances just make it seem that way. Effortlessly truthful and always note-perfect, Nicholson is as marvelous offering a lightheartedly poignant farewell to his dogs as he is conveying unutterable grief at the loss of his mother. And Madunic, here, is a singer-storyteller of astonishing range and conviction, so immersed in her characters that she could almost be the physical embodiment of Finn's lyrics. The actress has the ability to make you laugh and well up in the same breath, and kudos to the Riverbend Theatre Collective's Elegies: A Song Cycle for granting audiences the opportunity to do both. It would be hard to imagine a livelier hymn to the deceased.
For tickets, call (309) 757-1387.