Describing the Countryside Community Theatre's Children of Eden as a first-rate Sunday-school pageant may sound like a backhanded compliment, if not an actual insult. But that's exactly what this presentation of the Stephen Schwartz and John Caird musical feels like, and the description isn't meant to be the least bit insulting.
Like many pageants, director Mark Hurty's show boasts a sizable cast, with 27 participants enacting the Biblical tales of Adam and Eve, Cain and Abel, and Noah's Ark. (The program lists 17 of them as high-school age or younger.) Also like many pageants, the ensemble numbers are sometimes a bit spotty: Saturday's presentation featured a few uncertain harmonies, some high notes that were noticeably, though not damagingly, off-pitch, and choreography that could've been more polished (keeping in mind that one of the performers is a first-grader).
Yet in the end, Children of Eden's shakier elements don't matter in the slightest, and they don't really matter before the end, either. Countryside's offering exudes so much heart and positive energy that it's all but irresistible, and what it lacks in elegance is more than made up for in passion, commitment, and no small amount of talent. Church pageants should be so lucky as to be performed with Children of Eden's vigor; Hurty's production has spirit in both lowercase and capital letters.
Brian Nelson performs the show's lead, and considering its lead is God, could there be a better choice? (Maybe Morgan Freeman, but I doubt he was available, and he wouldn't have sung it as well.) His introduction is so thrilling you may want to giggle, as he's first heard singing in total darkness, with that awe-inspiring baritone making Stephen Schwartz sound like grand opera. Nelson's character - called Father here - demands, "Let there be light!", and then there is light, and the lighting effect is good, and from then on, the performer is utterly captivating even when not singing: jovial, anguished, meditative, and unexpectedly funny. (When Brent W. Behrens' Noah reveals that he hasn't finished the ark's construction yet, Nelson harrumphs, "It's taking a long time ... .")
Much of composer Schwartz's and book-writer Caird's musical, it turns out, is unexpected. As someone who hadn't experienced Children of Eden before, I was happily surprised at some of its more lighthearted Biblical imaginings - Eve tempting Adam with apple cider was a nice touch - while less happily surprised at some of its attitudes; appropriately or not, the show displays a very Old Testament regard for women, who exist primarily to get men in trouble. (The Garden of Eden's serpent is so evil it's played by five women.)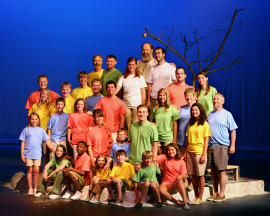 And I was rather baffled by some of the musical's messages. Eve (Allison Scherer) and Cain (Nicholas Nolte) elicit disappointment and wrath for venturing where they were ordered not to, but as presented here, their reasons for doing so are perfectly sensible, and Father and Adam (also played by Behrens) seem like closed-minded despots for arguing otherwise; the rationale for their orders appears to be "Because I said so, damn it," which is also very Old Testament, but which doesn't engender a whole lot of empathy.
Though Children of Eden itself is of questionable quality - I find it over-stuffed with those generically maudlin ballads that Schwartz appears to like so much - Countryside has at least rounded up unquestionably gifted performers to tackle it. Behrens has an off-handed, easygoing appeal, garnering numerous laughs through his nonchalant throwaways, and his tenor is superb, while Nolte, double-cast as Cain and Noah's son Japheth, has scenes of impressive fire and fury. The staging of Cain's killing of Abel, touchingly played by Sam Wagner, is a real shocker here, and actually made one of the kids in Saturday's audience cry.
The lovely Beth Hayman provides beautiful vocals as the servant girl Yonah, Seth Bacon is an admirably forthright Shem, and Scherer is absolutely marvelous as both Eve and Noah's wife (referred to in the program as "Mama Noah," which I'd love to believe is Biblical). If anyone steals the show away from Nelson, it's Scherer; an engaging stage presence with a gorgeous voice - one that gets a thoroughly satisfying workout on Schwartz's gospel-fueled "Ain't It Good?" number - she delivers piquant comedy, naturalistic grace, and true heartbreak. (During Scherer's plaintive, climactic Act I monologue, it wasn't just kids in the audience who were crying.)
Hurty guides his cast with aplomb, offering some imaginative staging in the process - the gathering of the animals, in both acts, is especially delightful - and wife Anna Hurty's choreography is dynamic enough to be visually pleasing while also uncomplicated enough for the adorable first-grader Madalyn Wagner to pull off. But even when the ensemble doesn't appear totally show-ready, their mostly beaming grins indicate that they're having exceptional fun trying to be, and they do plenty of wonderful work for music director Marcia Renaud (whose five-person orchestra is similarly outstanding). Countryside's Children of Eden is a true theatrical treat, and very smartly bookended, to boot: It starts with the cast's colorful shirts suggesting a rainbow, and thanks to the inventive lighting designer Andy Lia, ends with an actual rainbow. And everyone knows what you find underneath a rainbow. A pot of gold.
For tickets, call (563)285-6228.