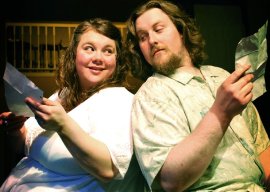 With the current Much Ado About Nothing, I've now attended 10 presentations by the classical-theatre troupe the Prenzie Players, and perhaps fittingly, it's maybe the most sheerly Prenzie Prenzie production I've yet seen.
A theatre-in-the-(near)-round seating arrangement? Check. An in-character, pre-show prelude? Check. Double and reverse-gender casting? Check. Audience interaction and stage combat and modern-day ad libs and anachronistic diversions and slapstick and singing and complimentary sweets and a solo trombone performance of Billie Holiday's "Summertime"? A check on all counts.
In short, Much Ado About Nothing - directed by Reader employee Stephanie Burrough - is just about the ultimate Prenzie primer, all but guaranteed to delight the organization's fans, and to annoy the hell out of those put off by the group's methods and techniques. (For those who have yet to experience a Prenzie Players offering, this one should be a superb litmus test to determine which category you fall into.) Yet if you strip away all of its stylistic flourishes, you'll discover, in Much Ado, that the heart of Prenzie Players endeavors lies in the company's fiercely honest emotional commitment - an impassioned search for truth that reveals itself both grandly and subtly.
Two temperamentally opposite scenes here seem fairly emblematic of the group's forthrightness. The first is this Shakespearen comedy's most dramatic sequence, in which the young count Claudio (a touching Charlie Saddoris), duped into believing that his bride-to-be, Hero (Stephanie Moeller, never finer), has been unfaithful, ends their nuptials at the altar. Accusing her of infidelity and hurling invectives, Claudio's verbal attack is brutal, but it leads to more severe emotional brutality, as Hero's father, Leonato (a blazingly expert Adam Michael Lewis) - believing the accusation to be true - assaults her with even greater vehemence, rushing toward Hero as if to strangle her, and leaving the broken, sobbing girl with an anguished "Let her die."
It's a wrenching, nearly operatic encounter, but what makes this sequence truly resonate is its unutterable sense of heartbreak: Just how shattered must a father be to so thoroughly annihilate the daughter he loves? And just how crippled by the ambush must the daughter be to offer so little in her defense? Lewis, Moeller, and the other cast members - reacting to the spectacle with varying degrees of terror, grief, and stupefaction - dig so deeply into the devastating emotional truth behind the Bard's text here that the scene transcends its purpose as an Elizabethan comedy's prototypical, fourth-act ordeal before the eventual Happy Ending; for a few minutes, it's Shakespeare that feels torn from the inside out.
The second sequence that, for me, underscores the Prenzies' inspiring emotional acuity is a much lighter, quieter, and comedic one. Much of Much Ado is dedicated to the burgeoning romance between Benedick and Beatrice, the playfully sparring pair (played here by Aaron E. Sullivan and Cait Bodenbender) whose surface irritation masks their deep infatuation, and at one point, Hero and her ladies-in-waiting (the lovely and exuberant Anne Javaherian and Denise Yoder) coyly attempt to unite the couple by professing Benedick's love for Beatrice while Beatrice eavesdrops. (In a priceless Prenzie touch, the women's discussion takes place during a yoga workout.) As the trio leaves the scene, giggling at their ruse, Beatrice emerges from hiding to take measure of the conversation, and over the next two minutes, what Bodenbender does constitutes a minor miracle of acting.
Until this moment, the actress' Beatrice has been full of bonhomie and wit, cheerful in her unmarried life and blithely, though unconvincingly, indifferent to Benedick. Yet after hearing of his feelings for her, Beatrice undergoes a thorough yet delicate transformation; dropping her character's defenses and opening herself up to a newfound possibility of happiness, Bodenbender radiates a poignant and funny mixture of disbelief, confusion, giddiness, and joy, and seems 10 years younger at the end of the scene than she did at its start. (This magnificently charming sequence is also graced with one of the show's best punchlines - the flushed and flustered Beatrice absconding with a bottle of Scotch.)
I've chosen to highlight just two of Much Ado's pleasures, but there are dozens that I could've opted for, scenes and characters that brim with life - oftentimes hilarious life - through intellect, instinct, and ingenuity: Sullivan's Benedick loquaciously talking himself out of and in love; Tracy Skaggs' Don Pedro attempting a straight face while engaging in comic duplicity; Andy Lord's Friar Francis offering serenity in the midst of panic; Jake Walker (the aforementioned - and excellent - trombone player) delivering Dogberry's malapropisms with thick-headed obliviousness; Billy Marquess' Verges sucking up with odious panache; Lewis and Matt Moody providing a peerless goofball team as Shakespearean watchmen; Beth Woolley kicking literal ass as the nefarious Doña Jane. (The changing of Shakespeare's Don John from male to female doesn't do much for the script, but any excuse to get Woolley on stage is a good one.)
And the perks don't end with the portrayals; Jennifer Kingry's mood-enhancing lighting designs - especially the rich blues in the moonlit sequences - are about as strong as I've yet seen in a Prenzie production, and Burrough choreographs the tentative romances, buffoonery, and continually shifting points of focus with supreme inventiveness. (Only in the masked-ball sequence, where there's so much going on that the effect is more alienating than enveloping, does the show lapse into incoherence.) As the group's second outing in the Village Theatre, Much Ado About Nothing finds the Prenzie Players adapting to their new digs - and adapting their new digs to the show's intimate presentation - quite nicely, and the locale, on Friday night, even offered a wonderful sight before the doors ever opened: a line of theatre-goers awaiting entry that stretched out to the sidewalk. How inspiring to see a queue for watchmen that didn't form at the cineplex.
For more information, visit PrenziePlayers.com.