Quad City Music Guild's Cabaret is at its most entertaining whenever Bryan Tank's Emcee graces the stage - "graces" being a somewhat incorrect term, as it's the actor's unflinching commitment to his character's blatantly sexual nature that's so engaging. With his impressive German accent and convincing characterization of unabashed debauchery, Tank punctuates the beguilement of his Emcee by way of sexual gestures that seemed to titillate Thursday's preview-performance audience, at least judging by the large amounts of laughter mixed with amused shock. (This was most notable during the threesome pelvic thrusts and other dance steps in Cabaret's "Two Ladies" number, one of several deliciously bawdy pieces choreographed by Emma Williams.)
Director Bob Williams' take on this classic musical about an American author's move to Berlin and his experiences with a nightclub songstress plays up the delightful vulgarity of the story's literal and metaphorical nightclub portions, while also presenting the "real life" plotlines with sincerity and depth of emotion. His is an appropriate take on playwright Joe Masteroff's book and the songs by composer John Kander and lyricist Fred Ebb, delivered without much toning down of the sexuality. And designer Mark Holmes plays up Cabaret's self-awareness by way of sets that intentionally look like sets, and don't match the polish of most Music Guild productions. The Kit Kat Club's multi-leveled playing area includes an impressive, open-mouthed sort of Tiki head with a curtain of shiny, metallic streamers in the orifice through which the Emcee makes his entrances. However, the painting scheme for the rest of the purple room looks decidedly amateurish, with only simple, black curlicues as embellishments, and the look befits the obvious illusion behind the darkly symbolic motto "life is a cabaret."
Music Guild's production comes across as two shows in one, with the seedy nightclub scenes - some of them unrelated to the narrative - blended with the story of Tristan Tapscott's endearingly sincere, cautious Cliff Bradshaw moving to Berlin and meeting Melissa Anderson-Clark's Sally Bowles, who pulls Cliff out of his shell after unexpectedly moving in with him. While Tank is bold and bawdy in his role, Tapscott is nicely understated and relatable. Anderson-Clark, though - who was stunningly nuanced as Maureen in New Ground Theatre's The Beauty Queen of Leenane last year and Squeaky Fromme in the Green Room Theatre's 2008 Assassins - seems rather two-dimensional here. She's inarguably dynamic, but her Sally tends to be little more than generically buoyant ... until, that is, her performance of the title song, where Anderson-Clark's strength as an actress shines through Sally's heartfelt, failed attempts at suppressing her realization of the darkness of life. (Abbey Donohoe's turn as Fräulein Kost is similar to Anderson-Clark's performance in that Donohoe has proved capable of offering layered characterizations in past productions, but here offers a relatively flat take on her character, who emerges as merely dour and slightly bitter.)
This Kander & Ebb classic also includes a subplot in which Nancy Teerlinck's boarding house owner Fräulein Schneider is courted by Mark McGinn's Jewish fruit vendor Herr Schultz. Teerlinck's charm goes a long way to cover her inconsistent accent, while McGinn's gentility and humility make him easy to sympathize with, especially when Eugene Pavinato's unfalteringly accented, notably self-important German Ernst Ludwig starts picking on him.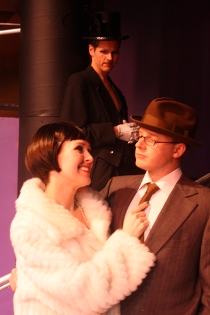 Also of note are Joe Maubach's enrapturing vocal talents, which are on full display in his role as the German Tenor, and the show's Kit Kat Girls - each one of them delightful for her clearly individual nature, with Sara Nicole Wegener's Helga standing out for her amusingly stiff-limbed, masculine-tinged take on the character. Costume designer Deb Holmes' ensembles, among them the various corsets and skirts worn by the Kit Kat Girls, are also fancy ticklers, with the Emcee's layered suit mildly reminiscent of a circus ringleader, given its coat-tailed tuxedo jacket adorned with metallic adornments along the lapels, suspenders, sleeveless mesh shirt, and matching mesh arm sleeve extending from wrist to elbow.
If there are notable faults to Quad City Music Guild's Cabaret, among them would be the chorus members' energy levels, which were fine on Thursday, but didn't match the Emcee's level of excitement and commitment. Were the cast to take their cues from Tank for the run of the production, this presentation would be nothing short of dazzling.
Cabaret runs at the Prospect Park Auditorium (1584 34th Avenue, Moline) through June 23, and more information and tickets are available by calling (309)762-6610 or visiting QCMusicGuild.com.