See How They Run, currently being staged at the Playcrafters Barn Theatre, is described on the venue's Web site as "a classic farce of mistaken identity and slamming doors." But in actuality, only two parts of that three-part statement turn out to be accurate.
Yes, the show is a classic farce. First produced in 1944, British author Philip King's beloved slapstick ran for a year and a half in London's legendary Comedy Theatre, has enjoyed numerous revivals since its debut, and routinely pops up in community-, regional-, and educational-theatre seasons on both sides of the Atlantic. (Playcrafters itself last produced the show in 1981).
Yes, this farce involves mistaken identities. Hoo boy, does it involve mistaken identities.
But for its new incarnation by director Tom Swegle, who also helmed Playcrafters' 1981 version, See How They Run doesn't feature slamming doors, but rather slamming door. Of the five ground-floor doors on Chuck Walters' imaginatively designed set, only one - the closet's - shuts with the satisfying smack! you'd expect from a farce of this type. The two center-stage doors at the rear of the set open and close with a delicate click!, and the two positioned at the theatre's side aisles not only don't slam; they don't latch. They're swinging doors that make no sound whatsoever. (And, in truth, they're not even doors; they're suggested doors, built approximately waist-high - like silent subway turnstiles that turn both ways.)
Yet if the response to Friday's performance is to be trusted, it's doubtful that many will miss the anticipated crash and clatter, because the audience was frequently laughing so hard it likely wouldn't have heard the slamming doors even if there were doors to be slammed. As with most farces, it takes a while for See How They Run to get rolling; I'd say at least 40 minutes of (mostly necessary) exposition pass before the show begins to find its groove. Eventually, though, the crowd's gleeful cackling proved well worth the wait. And even if, like me, much of King's shtick and wordplay leave you feeling a little empty, there's great enjoyment to be had from Swegle's performers, all of whom look to be having a blast, and some of whom have been long overdue for the chance to act this joyously, rambunctiously silly.
In a nutshell (because out of the nutshell would take too damned long), See How They Run concerns the British vicar Lionel Toop (Mike Kelly), his American wife Penelope (Jaci Weigandt), and the confusion that results when a few too many individuals begin appearing in the reverend's home dressed in clerical robes. By the climax, characters have been liquored up, knocked unconscious, stashed in closets, threatened by a vicious Russian, and chased through the house in their underwear, and the play's title has proved completely fitting: When these folks run, they run. (Before Friday's show, Swegle instructed our audience to avoid using the aisles mid-performance, as we could easily be mowed down. He wasn't kidding.)
As I've repeated ad nauseam, I'm not the ideal audience for this sort of thing. Much as I'm practiced in the suspension of disbelief, it still drives me absolutely batty when farcical characters can't see or hear people standing three feet away from them, or recover from massive head injuries and falling-down-drunkenness in mere minutes, or engage in flippant witticisms at gunpoint - genre details you're forced to accept for full enjoyment of King's outing.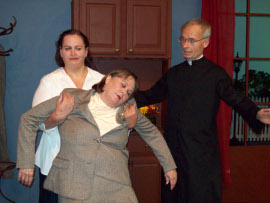 Happily, however, Swegle tackles the frequent oppressiveness with the lightest of touches. There are lovely bits of throwaway wit - Paul Workman's American G.I. angrily crawling on his knees, Tom Betts' preacher spinning as Penelope removes his scarf - and the escalating chaos and manic chases are impeccably timed; See How They Run runs 140 minutes, which is at least 30 too long, but the fault is hardly the director's. (King's excessively talky script, though, does yield plenty of clever lines. When Don Hazen's Bishop described an event as "tantamount to slaughter," Workman, without missing a beat, replied, "Oh, it can't amount to tantamount to slaughter." Nice.)
Best of all, See How They Run finds a bunch of Playcrafters veterans - among them Kelly (reprising his 1981 role with infectious relish), Weigandt, Betts, Hazen (performing exquisite double-takes), Vicki Deusinger, Kevin Brake, and Greg Cripple (more assured, and funnier, than I've yet seen him) - having a marvelous time playing an assortment of eccentrics and dipsticks. Their committed, endearingly goofy portrayals elicited the biggest laughs I've heard in the venue since ... jeez, I can't even think since when. And particular praise is due to Workman, whose fearless comic bravado and impressive singing voice make you immediately eager for his next stage appearance (in a musical comedy, hopefully?), and to the beaming Lisa Kahn, whose Cockney maid Ida delivers a wonderful blend of sensibility, flightiness, and hilarious asides. Addressing herself in the mirror, Kahn's servant says, "The trouble wiv you, Ida, is you 'aven't got no oomph." She's such a liar.
For tickets and information, call (309)762-0330 or visit Playcrafters.com.