Describing composer William Finn's Elegies: A Song Cycle, the first presentation by the Quad Cities' new theatrical company the Riverbend Theatre Collective, artistic director Allison Collins-Elfline says of the show, "It's quirky, it's fun, it's upbeat ... ."
Yet it's also a considerable risk for a fledgling theatrical organization's first outing, as the subject of the Tony-winning composer's quirky, fun, upbeat musical revue is, as its title suggests, death. "An elegy is a hymn of praise for someone who has passed on," states Collins-Elfline, "and Elegies is about all the people William Finn knew that he's lost."
First produced at New York's Lincoln Center in 2003, and premiering locally at the Village of East Davenport's Village Theatre on May 16, Elegies is Finn's ode to deceased friends and family members, and Collins-Elfline - a Moline native who also directs and co-stars in the production - concedes that "a lot of the songs are really heartbreaking.
"William Finn is a gay composer with many, many friends who passed away from AIDS," continues Collins-Elfline, who is donating 10 percent of Elegies' profits to the area not-for-profit AIDS Project Quad Cities. "But the show also deals with his mother, who passed away from lung cancer, and Peggy Hewitt, an actress in New York who passed away from ovarian cancer, and there's one section at the end - maybe four songs or so - that deals with losing people in 9/11."
Despite its subject matter, Riverbend's artistic director insists that Elegies - acclaimed by the New York Times for its "playful lyrics bursting with internal rhymes" - is anything but morbid. "The really great thing about it," says Collins-Elfline, "is that you think,'Oh my gosh, it's a show about people dying ... ,' but some of the songs are just so hysterically funny." (Which shouldn't surprise those familiar with Finn's work in The 25th Annual Putnam County Spelling Bee, or his witty Broadway musical Falsettos, for which he won 1992 Tonys for Best Original Score and Book of a Musical.)
Still, a production that invites audiences to laugh while presenting musical meditations on death isn't exactly the norm for area audiences, and venturing beyond the norm, says Collins-Elfline, is her goal for the Riverbend Theatre Collective. "We want to be able to give the Quad Cities a type of theatre that people maybe haven't seen yet. We don't want to do the big, Music Guild-type of huge hits. We want to do contemporary, intimate shows, with, like, a piano and a cello and a violin, you know?"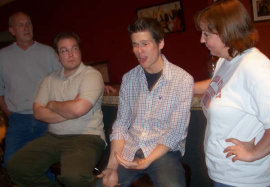 Though the 30-year-old Collins-Elfline was involved in productions at Moline High School and Genesius Guild, and earned a vocal-performance degree from Dubuque's Clark College, the idea for forming a Quad Cities-based theatrical company came during her 2003 to 2007 stay in Cincinnati, where husband Robert Elfline was working on his doctorate at the city's College-Conservatory of Music.
"I was working there with a brand-new theatre company called the New Stage Collective," she says, "and they were doing these really amazing, contemporary works," citing such titles as Stephen Sondheim's Sunday in the Park with George and the Siamese-twin musical Side Show. "I got to get my feet wet in a lot of good shows."
She also found a mentor in New Stage Collective Artistic Director Alan Patrick Kenny, whose work inspired Collins-Elfline to consider running a theatre company of her own, "never thinking I would really do it," she says with a laugh. "But he [Kenny] kind of took me under his wing, and I read so many books, and I took grant-writing classes, and small-business classes ... and eventually I was like, 'Okay. I'm ready.'"
Upon receiving his doctorate, her husband - himself a native of Morrison, Illinois - accepted a position as assistant professor of piano at Augustana College, and Collins-Elfline says that when the couple returned to the area last July, "we were just so thrilled to see these new, young theatre companies emerging. We were gone for so long, and so I was excited to see the Prenzie Players, and the Green Room. ... It was like a good sign that we should try it, too."
In October, Collins-Elfline and her husband (who serves as Riverbend's musical director) incorporated their nascent company as a 501(c)(3) not-for-profit, and within weeks, Chris Jansen, artistic director of Davenport's New Ground Theatre, suggested that Riverbend stage its forthcoming productions - in conjunction with New Ground and My Verona Productions - at Jansen's newly refurbished Village Theatre. "I just wanted to chat about grant-writing," says Collins-Elfline of their first conversation, "and how she got her company going, and that's when she said, 'Hey, I've got this space ... .'
"I can't believe the good fortune of her mentioning it to me," she adds. "Because, honestly, I wouldn't have known where to look for a space."
The Village Theatre proved to be an especially ideal locale for Riverbend's debut, says Collins-Elfline, "because it's got that gorgeous bar" off-stage left of the stage area, "and we wanted Elegies to have a very lounge-y, cabaret, late-night-at-Manhattan-bar feeling."
Consequently, the stage action will actually occur off-stage, in front of the bar, with the show's cast of five - Patrick Gimm, Jackie Madunic, Dana Joel Nicholson, Bryan Tank, and Collins-Elfline - performing Finn's song cycle to Robert Elfline's piano accompaniment. "We've got this beautiful grand ... that's way too loud," she admits, laughing. "We've got a little balance problem right now, because my husband really likes to rock out, but it'll be fixed - we're gonna tack a little felt under the lid and through the bottom to suck up some of the sound."
(Regarding her own presence in the show, Collins-Elfline says, "We didn't get a real big group for the musical auditions, to be quite honest. The only people who came to audition were Jackie, Dana, and Patrick. So I kind of made the game-time decision that while I would like to direct - I mean really direct - the show, I'm a singer, I'm an actor ... . I plugged myself in.")
Following Elegies, Riverbend will stage two contemporary, non-musical comedies at the Village Theatre: Pulitzer prize-winning playwright David Lindsay-Abaire's Kimberly Akimbo in June, and Tony nominee Douglas Carter Beane's As Bees in Honey Drown in July.
But Collins-Elfline already has plans for more musical works after her company's debut season - listing Side Show and the Stephen Sondehim revue Company as titles on her wish list - and says that whichever shows are produced, the Riverbend Theatre Collective will dedicate itself to contemporary, small-scale pieces, such as Elegies, "that deal with human emotion and the human condition.
"I don't want to say that the old [musical] warhorses don't have their place," she adds, "because obviously they do; they're so important, and musical theatre wouldn't be what it is without them. But we want to show the Quad Cities a different type of musical. Not better. Just different."
Elegies: A Song Cycle will be performed at the Village Theatre (2113 East 11th Street in the Village of East Davenport) May 16 through 24, and more information on the Riverbend Theatre Collective is available at (http://www.riverbendtheatrecollective.com).