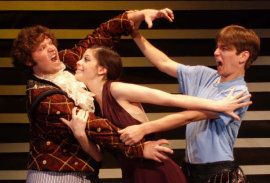 There are nights during the run of a happily manic, door-slamming farce when everything seems to go magically right: The actors hit their marks exactly on cue, the dialogue lands with almost inhuman accuracy, and the set's many doors open and shut with razor-sharp precision. The audience, meanwhile, barely has time in between laughs to catch its collective breath.
And then there are nights like Saturday evening's performance of the happily manic, door-slamming farce Lend Me a Tenor at the Timber Lake Playhouse, in which everything seemed ... just a little off. Not bad off, just off off. The hard-working cast members portrayed their stock figures with zest, and there were no noticeable conversational flubs - an impressive feat, considering how speedily the characters speak. But all throughout the show, lines and routines that should've scored major guffaws were instead met with lightly amused chuckles, and the audience's reticence was compounded by a series of occasionally awkward stylistic choices and mildly distracting technical snafus - including, sadly, a much-used door that did not open and shut with razor-sharp precision. What we were left with was a perfectly pleasant production of Lend Me a Tenor, yet Ken Ludwig's comedy isn't necessarily meant to be "perfectly pleasant."
As with most farces, the crowd's initial quiet can be partly attributed to their needing some time to take in the setup, and in Lend Me a Tenor, there's a hell of a lot of setup to take in. Set in the suite of an Ohio hotel, circa 1934, the play opens with Saunders (Justin Verstraete) - the general manager of the Cleveland Grand Opera Company - and his jittery assistant, Max (Phillip Newman), in a pickle: It's less than seven hours before the curtain rises on the city's lavish presentation of Otello, and the opera's temperamental Italian star, Tito Merelli, has yet to arrive. Max unhelpfully suggests that he take over the role himself, but before the bespectacled young nebbish's proposal can be properly laughed off, Merelli (David Herr) does indeed show up, entering with severe gas pains and a nagging wife (Jamie Finkenthal), who offers agita of a different sort.
Saunders instructs his aide to give the insatiable singer anything he wants "except liquor and women" before Otello's debut, and what follows are the results of Max failing in that task; in short order, Lend Me a Tenor's farcical complications involve Max's thrill-seeking girlfriend (Eli Pauley), a ladder-climbing soprano (Sainty Reed), a randy patron of the arts (Amanda Hendricks), a pushy bellhop (Rod Lawrence), an operatic duet, an apparent suicide, an impostor in blackface, and a dead body that springs to life. And then it's time for intermission.
For all of my frequent complaining about the empty-headedness of most farcical comedies - it's hardly my favorite theatrical genre - Ludwig's farce is one that I actually really like, and I'm sure I would've laughed at director Chuck Smith's production more if it wasn't the third stage version of Lend Me a Tenor I'd seen. (Even the funniest gags get a little stale after you've committed them to memory.) Still, there was just enough that was bothersome or just plain odd about Saturday's performance to make my fellow theatre-goers' own silence relatable.
For one thing, there seemed to be a problem with focus, and not on part of the actors. Split into two playing areas of roughly equal size - a sitting area and a bedroom, each outfitted with their own doors for slamming - designer Stephen D. English's hotel-suite set was gorgeous, but the theatrical "rules" behind the split locations, on Saturday, were never clear. When characters entered one room from the other, sometimes the lights would rise on the new locale and sometimes they wouldn't, and at one point, when Max read a letter from Tito's wife, the lights rose during the scene, and for no apparent reason.
You could chalk this up to mere technical snafus, but there were other problems. In the scene in which Max and Tito perform a brief (and, I must say, beautiful) duet in the sitting room, they suddenly stopped singing and froze positions while the focus shifted to Tito's wife composing her letter in the bedroom, and this was the only moment in the show when this type of interruption of the space-time continuum occurred. (It almost occurred in an earlier moment, when Saunders appeared caught in a freeze, but Tito's wife, sitting two feet away from him, wasn't.) Sometimes, when characters answered the phone, we could hear people speaking on the other end of the line, but we'd only hear part of their conversations; the first couple of sentences would be audible, the rest wouldn't. (When the bellhop called, it was actually the first and last sentences we heard, but nothing in between.)
And while I'm on the subject of show elements that only worked intermittently, it's too bad that the sound flickered in and out during Act I's climactic aria, damaging both the momentum and the act's punchline. And it's really too bad that the center-stage door, at inopportune moments, didn't open properly. The first time a character (Max) had trouble - a lot of trouble - with the knob, I assumed it was because of slippery gloves, but by the end of the show, it was clear that the knob itself was too loose to function effectively, leading to an unintentionally hilarious bit in Lend Me a Tenor's final seconds when a quartet of actors bumped into each other like Keystone Cops. (Hendricks finally chose to exit the scene through one of the bedroom's doors ... which didn't open, either.)
As you might have gathered, Saturday night's production was something of a mess, and with the audience not offering a lot in the way of vocal support, that's all the more reason to commend the cast for maintaining such high spirits. Newman's Max, his high-strung voice popping into the ether, and Verstraete's Saunders, gritting his teeth to avoid a nervous breakdown, are delightfully matched opposites, and Herr is fantastically funny as Tito, his exaggerated, mock-Italian accent making even a line as simple as "No" an exercise in three-syllable comedy.
Pauley, who has grown into a radiantly confident performer over the five summers I've seen her at Timber Lake, is sweetly, almost accidentally lascivious - she has a killer bit of miniature slapstick here where she attempts a sexy pose against a swiveling chair - and Finkenthal, Reid, and Hendricks are vibrantly, intentionally lascivious, completely convincing as powerful women with only one thing, really, on their minds, and it ain't opera. And Lawrence, after his stellar Teen Angel in Timber Lake's Grease, again proves himself a masterful comic and grade-A smart-ass; he has less time to make an impression here than the others, but he definitely makes an enjoyable one.
These eight form an exceedingly gifted and comically adventurous ensemble, and were never more likable than during Saturday's curtain call, when their previously reluctant patrons rewarded them with a standing ovation. The looks on the performers' faces at this moment were priceless; you could tell that not one of them expected such a response, and the actors' surprised laughter and obvious relief at the gesture were the evening's most joyous, most memorable sights. It turns out that this crowd was looking for a perfectly pleasant Lend Me a Tenor. Who knew?
For information and tickets, call (815)244-2035 or visit TimberLakePlayhouse.org.