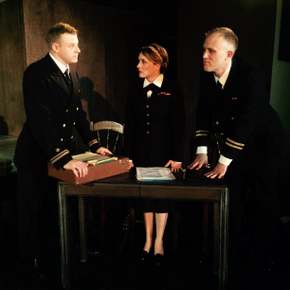 With its ornate ceiling and fascinating, borderline-gaudy hanging light fixtures in the District Theatre's new home in the former Rock Island Argus building, A Few Good Men seems an appropriate inaugural production, in that the space looks like a courtroom - at least while you're looking up. Following the company's sometimes uncomfortable (for patrons) stint in its previous, rather cramped venue, this open area with the ceiling rising two stories above the floor is a much welcome relief, allowing director Lora Adams' staging of Aaron Sorkin's courtroom drama to breathe in ways that, for the District Theatre, it otherwise couldn't have.
While there's an intimacy to Sorkin's plot about lawyers and defendants involved in the case of a Marine's fatal hazing, there's also a sense that the crime is part of a much larger picture (making the District Theatre's newly grand space all the more appropriate). The issue in question is a practice called a Code Red, in which Marines haze each other as a form of punishment for unbecoming conduct. Consequently, in Sorkin's script, the stalwart Lance Corporal Harold Dawson (Jordan McGinnis) and the naïve Southerner Private First Class Louden Downey (Anthony Natarelli) aren't so much defendants as they are scapegoats representing an entire abhorrent practice.
Lieutenant Junior Grade Daniel Kaffee (Tristan Layne Tapscott) is assigned to defend the two Marines, with Lieutenant Commander Joanne Galloway (Sara Tubbs) eager to help out, believing the young men to be innocent. Together, they take on military powerhouses as they search for the truth, and Tapscott and Tubbs share an electric chemistry as this initially brusque pair, with Galloway holding a disdain for Kaffee's nonchalance and Kaffee not caring for Galloway's by-the-book approach. Tapscott's mildly annoying arrogance almost makes his Kaffee unlikeable, but the actor's charming undertones keep that from happening. Tubbs, meanwhile, allows us glimpses of Galloway's sympathetic nature, as her poised, rule-abiding exterior crumbles under the need to follow her instincts.
A Few Good Men's lawyers are primarily up against James Driscoll's haughty man's-man Lieutenant Colonel Nathan Jessep, the Marine who may have ordered the Code Red. Among the performances of his that I've seen, Driscoll - taking on the role made iconic by Jack Nicholson in the 1992 film - hasn't offered a more impressive one ... though he may have previously matched this one. The actor keeps layering Jessep's layers, choosing an almost violent anger when giving orders, but forsaking rage when his character is actually angry. And this Jessep is never more in control of himself than when he's angry. Instead of yelling, Driscoll calms his voice and gets into the faces of his objects of wrath, and speaks with authority in a way that suggests his military rank is enough to instill fear.
While it's interesting to watch the production's five aforementioned cast members work hard at creating fully realized characters, several others display an ease in their acting. The smooth Mike Kelly seems to not over-think his prosecuting attorney Lieutenant Jack Ross, and Doug Kutzli - in the finest performance I've yet seen from him - subtly reveals Captain Matthew Markinson's change of heart regarding whether to cover up the truth behind the Code Red. Matt Stoltz offers an appropriately emotionless portrayal as the victim's commanding officer Lieutenant Jonathan James Kendrick. Kevin Babbitt and Jacob Kendall, however, both seem particularly effortless and sincere in their roles, the former as Captain Isaac Whitaker, who assigns the lawyers to their case, and the latter as Lieutenant Junior Grade Sam Weinberg, the military attorney assisting Kaffee and Galloway.
Adams makes smart employment of her minimalist set, with two white curtains and a pair of American flags proving enough to signify "military," while several chairs and a few small wooden desks change the locations of scenes with simplicity. (I can't help but think, though, that she missed an opportunity by not arranging the seating to make it appear as though the audience was watching the proceedings from a courtroom gallery.) And with the show's military costumes adding visual believability, A Few Good Men proves an exceptional way to introduce the District Theatre's new space.
A Few Good Men runs at the District Theatre (1724 Fourth Avenue, Rock Island) through July 12, and more information and tickets are available by calling (309)235-1654 or visiting DistrictTheatre.com.