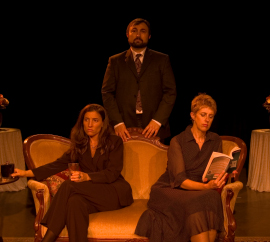 Just because Three Viewings - the area debut by the Curtainbox Theater Company, previously based in Los Angeles - is being staged at St. Ambrose University, and features St. Ambrose theatre professor Corinne Johnson among its cast, don't assume that this trio of Jeffrey Hatcher monologues will be any sort of academic exercise.
Having said that, any student of performance would be badly remiss in skipping this production, since Johnson, Dave Bonde, and Kimberly Furness (the latter two among the Curtainbox's five founders) are pretty much giving master classes in the art of stage acting.
Having said that, anyone who's not a student of performance would be badly remiss in skipping this production, because Three Viewings is about as enjoyable a stage presentation as you're likely to find anywhere. For 90 breathless, intermission-less minutes, the show's cast and director Daniel D.P. Sheridan fashion entire worlds of hilarity and heartache out of Hatcher's solo pieces, and at Friday night's performance, did so without a hint of strain (though, given the minimal air circulation in St. Ambrose's black-box space, just a little sweat). During the rapturous audience response that greeted the curtain call, I'm sure I wasn't alone in wishing the performance had lasted twice as long as it did.
Hatcher's work finds three characters, in three separate playlets, alone in a funeral parlor's visitation room, and their monologues include frequently funny, occasionally horrific reminiscences that startle you into laughter, and deep sadness that consequently startles you out of it. In outline, the routines have much in common, especially in regard to Hatcher's fondness for a narrative twist that changes the scope of everything you'd understood previously. (The playwright seems heavily influenced by Rod Serling.) Yet Sheridan, in a superlative piece of direction, ensures that none of the monologues feels at all like the others.
In the play's first, titled "Tell-Tale," Bonde is the mild-mannered funeral director Emil, achingly (and secretly) in love with a real-estate agent who frequents his viewings. (He expresses his hidden crush by telling her who, among his future clientele, is quickly fading, and might be leaving behind an available property.) Designed as a series of blackout scenes, the offering follows Emil on his torturous attempts at winning her heart, and Bonde's shy smiles and muted comic anguish are spectacularly fine. This charming, albeit slightly grim, monologue eventually takes a turn toward the heartbreaking, and then the ghastly, and finally the transcendently sweet, yet somehow, Bonde's devastatingly empathetic portrayal never alienates us; it's a thrillingly tricky piece pulled off with marvelous tact.
Stylistically, the second monologue, "The Thief of Hearts," is vastly different from Three Viewings' first: no blackouts, more movement, and a character who, through her storytelling, assumes other voices and personalities. It also features, for our part, a less willingly complicit audience, as Furness' character, Mac, is a ne'er-do-well who makes her living by attending strangers' funerals and, when no one's looking, swiping earrings and necklaces during fits of mock grief. She is, in short, a monster - the monologue concerns Mac's plan for snatching her recently deceased grandmother's ring - and Furness attacks the role with monstrous enthusiasm. (When she flashes a beaming smile while recounting Mac's hatefulness, Furness hits notes of bone-chilling evil.) Yet she and Sheridan pace the quest for the jewel, and Mac's gradual explanation for her behavior, with such escalating force that "The Thief of Hearts" emerges as both thriller and Greek tragedy, and Furness performs this shattering piece with splendidly understated skill.
Yet I don't think it would hurt either Bonde's or Furness' feelings to say that Three Viewings saves its coup de grâce for the finale, as Johnson, in "Thirteen Things About Ed Carpolotti," gives the kind of performance you want to talk about for weeks after seeing it, offering irrevocable proof against the maxim that "those who can't do, teach." She plays Virginia, a friendly, good-natured woman who finds herself facing hundreds of thousands of dollars in unpaid loans after her husband passes, and it may not be until the piece ends that you realize that Johnson never once leaves her seated position on the set's couch; with her slightly daffy calm giving way to utter terror, she holds your attention as if in a vise.
All of Three Viewings' segments feature huge laughs, and "Thirteen Things" is no exception; Virginia is particularly hysterical when relaying the dry wit of her daughter, whose jokes she never gets. But it's also the one most likely to make you well up, and Johnson's ferocious honesty in her role makes both the laughs and tears feel more than well-earned. With its beautiful, spare set and lighting effects (also by Sheridan), the Curtainbox's Three Viewings is a minor miracle of a stage work, but there's nothing minor about the passion with which it's being produced and performed. After Friday's show, a friend turned to me and immediately said, "I could see that again." I urge you all to see it at least once.
For tickets, call (563) 650-8121.