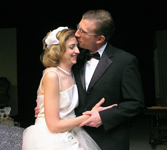 You can tell that the Playcrafters Barn Theatre's production of Strangers on a Train is doing its job, and doing it quite well, because - at Friday's opening-night performance, at any rate - the show appears to be making a large segment of its audience really uncomfortable.
Based on the classic thriller by Patricia Highsmith, Craig Warner's 1996 stage adaptation opens with a wonderfully simple set-up. Guy Haines (Chris Zayner) and Charlie Bruno (Bryan Lopez) meet on a train, have drinks, and share the names of those making their lives hell - for Bruno, it's his wealthy father, who won't grant his son his inheritance; for Haines, it's his unfaithful wife, who is carrying another man's child. Then Bruno has an inspiration: Why don't they each murder the nemesis of the other?
It's a great, scary-and-funny premise, but the premise isn't what seems to be causing the crowd's discomfort.
In Alfred Hitchcock's 1951 movie version of Highsmith's tale, the tension was heightened by Strangers' gay subtext; Bruno - jealous of his father and pathologically devoted to his mother - appears to want Haines for far more than a swapping of homicides. (Within minutes of their first meeting, Bruno has invited his new acquaintance to disembark the train with him for what he promises will be "a wild time.")
Yet in Playcrafters' production, there's nothing "sub" about this text. As delivered by Lopez with a fixed stare and a kind of sociopathic sweetness, Bruno's coded come-ons to Haines are determinedly heartfelt, so much so that many in the crowd react to them with nervous giggles; you could practically hear the "uh-oh" in their laughter. (The last time I heard this kind of vocal unease was at the cineplex last year when Heath Ledger and Jake Gyllenhaal had their pup-tent encounter in Brokeback Mountain.)
As the play progressed, audience members got significantly more rattled. When Bruno gave Haines a wrapped present (a tie with his initials embroidered in it!) and again asked that they run away together, there was a noticeable shifting in the Barn Theatre seats. And when Bruno's monologue about the pair's imagined future caused him to break down in sobs - with Bruno hoping they'd "sail the world" and "teach other people how to live" - the laughter stopped and a whole new sign of viewer discomfort began: The coughing. While Lopez gave an alternately creepy and oddly sympathetic portrait of an unstable man losing his cool, audience members - one after another, almost as if on cue - began to audibly clear their throats, and only stopped once the scene ended. (Audiences cough when they're uncomfortable or bored, and on Friday, it was quite clear that whatever the crowd was feeling, it wasn't boredom.)
Maybe this momentary outbreak of consumption stemmed from Bruno's monologue, or maybe it was just an audience's natural response after spending so much of the show on edge. Director Donna N. Weeks, you see, doesn't just push the envelope in the Bruno/Haines scenes; she shows a knack for making nearly every moment in Strangers on a Train vibrate with unexpected, chancy flourishes.
The first scene after Haines' and Bruno's initial meeting is one between Bruno and his mother (Pamela Crouch), and the pair's flirtation is so overt that the audience's laughter sticks in their throats; Lopez and Crouch, bantering and touching one another with undue familiarity, go way beyond the bounds of mother-son propriety. (Later, when Bruno curls up in his mother's lap while she strokes his chest, we seem to be in an enjoyably devious take on Oedipus Rex.) Following that scene, we join Haines and his lover, Anne (Alexa Florence), during an illicit rendezvous, and we watch as Haines backs Anne over the arm of a couch, begins kissing her kneecaps, and then begins heading slightly north of them. We were only twenty minutes into Strangers on a Train, and there were already more moments designed to make an audience blanch than anything seen at Playcrafters since Altar Call in 2005. Didn't the Barn just produce Our Town, for heaven's sake?
Needless to say, I adored nearly every minute of this, and it's apparent that Weeks, her cast members, and a bunch of my fellow patrons did, too. With big risks oftentimes come big rewards, and the joy of this production lies in its fearlessness - Strangers on a Train is an unapologetically nasty entertainment (its first fatality, after all, is a pregnant woman), and Weeks, making her directorial debut at Playcrafters, clearly relishes the nastiness. She also displays a great deal of imagination in her staging, especially when, late in Act I, she has the figure of Bruno wander among three separate playing areas, invisibly orchestrating the entanglements to come. And her stage treatment of an inevitable gunshot was terrifically inspired - it made more than a few of us jump, and then laugh at ourselves for jumping.
Chris Zayner is stuck with the show's most thankless role - while the other actors get to play it either lighthearted or loopy, he exists mostly to be uptight and anguished - but his sincerity as Haines is touching, and he's well-matched with the delightfully feisty Florence; their connection feels true. Brief, likable turns are delivered by Mike Skiles and Fred Harris, Jr., and Christopher Tracy - who appears in only one scene - displays an engaging naturalism; you wish he had more to do. Crouch's suffocating mama is deeply disturbing, and I was more than impressed by Lopez's subtle, focused work and thoughtful line readings - as the play progresses, Bruno's boyish madness becomes more and more unsettling. Playcrafters' Strangers on a Train is enormous fun, and I hope that its performers aren't put off by any nervous titters and hacking they might hear from the crowd - considering the context, those are actually sounds to be relished.
For tickets, call (309) 762-0330.