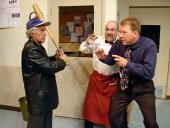 On Friday night, I attended a comedic farce that featured slamming doors, mistaken identities, gunshots, an unhelpful cop, a heavily accented mobster, an attractive woman getting sloppy drunk, and a finale that found characters staring with amazement at a briefcase filled with cash.
And on Saturday, I attended another one.
Saturday's comedy was the Playcrafters Barn Theatre's production of Tom Rooney's Flaming Idiots, which concerns a pair of budding restauranteurs (played by Scott Naumann and the show's director, Craig Michaels) who hope to pique public interest in their establishment by staging a murder during the dinner hour. Need I mention that complications ensue?
By the play's end, their plot will have involved a money-laundering Mexican busboy (Beau Smith), a flamboyant actor/waiter (Les Etheridge), a deaf chef (Jackie Madunic), a nourishment-and-sex-starved mounted policeman (Gary Baker), a flirtatious journalist (Mary Jean Sedlock), a senile hit man (Spiro Bruskas), and an uncooperative dead body, and I wish I could report that the results are as hilarious as the playwright obviously intends them to be.
Too many of Rooney's comic inspirations, however, fall flat. Routines involving the assassin rehearsing his killing, and the cop yakking at characters who can't hear him, run on longer than our enjoyment of them, and the sequence that finds Michaels having to shave the corpse (please don't ask me why) does nothing but mark time. Plus, if you're hoping for the play's divergent plotlines to explode in a side-splitting finale, you'll likely be disappointed; the slapstick madness peters out just when it threatens to peak, and Rooney's secondary figures are blithely discarded - characters seem to vanish before they're given a proper exit.
Thankfully, the Playcrafters ensemble is so exceedingly likable that they make up for the frequent script holes; Flaming Idiots' humor stems more from the actors' inventiveness than from what they're given to do or say. (It's telling, I think, that the play's funniest scenes are in Act I, when the characters are still being introduced.) Madunic has a hysterical bit in which her hearing-impaired Bernadette pretends to converse on the phone - the role, and Madunic's portrayal, feel inspired by Nancy Walker in Murder by Death - while Smith and Bruskas perform their silly shtick with great gusto. Etheridge provides a standout turn, his oblivious, untalented thespian a source of constant amusement. (The actor's ridiculous "warm up" routine is the rare running gag here that does get funnier with repetition.)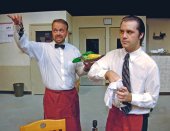 And Naumann and Michaels - who, after the production's loss of two cast members, assumed their roles late in the rehearsal process - provide the show with a more-than-solid anchor. Naumann has little to do but act the straight man, yet he does it admirably, and Michaels is a sweetly dense nebbish; when he replies to his partner's gonzo plan with a confounded "There must be something wrong with this," Michaels convinces you that the character really, truly can't imagine what that "something" might be. (In look, voice, and presence, Michaels here is uncannily reminiscent of David Cross.) A daffy, relatively fast-paced endeavor with some marvelous in-jokes - kudos for the use of the Godfather and Sopranos themes, because the plot was reminding us of those gangster sagas anyway - Flaming Idiots may not deliver as many laughs you'd hope for, but occasional laughter amidst two hours of smiling is nothing to sniff at.
Meanwhile, Friday's farce was Ray Cooney's Funny Money at the Timber Lake Playhouse. (Yeah, I know. Tom Rooney, Ray Cooney ... even their names are similar. And, incredibly, Funny Money also features two actors - Tanner Bollinger and Jay Reynolds, Jr. - who wound up assuming others' roles well into the rehearsal process.) This one involves a proper British gent (Ben Mason) who finds a suitcase stuffed with nearly a million pounds, and - despite indications that killers will come looking for it - decides to take the dough, and his hesitant wife (Cassandra Marie Nuss), to Barcelona. Need I mention that complications ensue?
These complications, however, are more frenzied than those in Flaming Idiots, as Ray Cooney is like Tom Rooney on crack. The show, with its rat-a-tat dialogue and wildly aggressive physical humor, moves like a bat out of hell in its first seconds and rarely slows down; the playwright, and director Brad Lyons, don't give you the opportunity to be bothered by the frequently easy jokes and convenient plotting. It's a beautifully engineered, thrillingly convoluted farcical contraption, and it's being acted with go-for-broke fearlessness.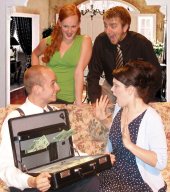 I've enjoyed Nuss in more than a half-dozen productions since last June, but had no idea that she possessed this kind of maniacal comic confidence. Throwing herself into fits of drunken apoplexy with astonishing vigor, the actress is, quite literally, fall-down funny, and she's nearly matched by Mason, who earns as many laughs through his inspired physicality as through his continually unpredictable readings. (And that's a lot.) Jeremy Day finds more variety in a stupefied deadpan than you'd ever think possible, and the timing on both his and Sarah Dothage's punchlines is oftentimes remarkable - their zingers occasionally hit their marks like bullets. And while they have less to do than the others, Bollinger, Reynolds, Zack Powell, and Samantha Joy Dubina add significantly to the mayhem and merriment; while you may not necessarily like Cooney's venal and corrupt characters, it's impossible not to fall in love with this cast.
Timber Lake's comedy also earns bonus points for bravery: A notice on the theatre's doors insists that the first act will run 52 minutes and the second act 47 minutes, and you can check the show's progress for yourself on the sizable, functional clock positioned nearly center-stage. It takes guts to put a working clock - which, in a bum production, could be a considerable distraction - on a set. It's a measure of Funny Money's success that we barely notice it.
Both productions run through July 22. For tickets to Flaming Idiots, call (309) 762-0330. For tickets to Funny Money, call (815) 244-2035.